Commanders!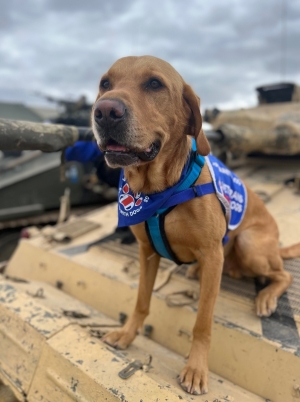 Ferris the Dog
This year, World of Tanks proudly joins forces with Veterans With Dogs, the first organization in the U.K. to pioneer the use of assistance dogs for current and former members of the British Armed Forces with service-related mental health conditions.
Raise awareness and support these brave veterans through our unique collaboration, which includes exclusive brand-new customizations. A noteworthy representative of this program is Ferris, an extraordinary service dog who, with his captivating charm, has won the affection of many. We're also excited to announce that Ferris himself will be present at Tankfest during the three-day event from June 23 through June 25 and will make a star appearance in our Tankfest Online historical livestream on June 25 at 14:30 CEST (UTC+2). It will also feature incredible Twitch Drops!
Dive deeper to explore the bundle specifics and truly grasp the profound impact your contributions can make. Every contribution breathes life into the mission of Veterans With Dogs: transforming lives, one veteran at a time.
The Power of Assistance Dogs
Veterans With Dogs harnesses the power of assistance dogs to improve the lives of those who have served. These remarkable dogs provide valuable assistance tasks, companionship, and emotional support to veterans facing mental health challenges.
In collaboration with Veterans With Dogs, World of Tanks proudly introduces Ferris to the game! With an exclusive 2D style, emblem, and decal, Ferris symbolizes the special bond between dogs and humans while raising awareness and funds for the cause. Join us in supporting this noble endeavor by contributing with one of the available packs.
Charity Customization Offers
Available from June 20 at 07:00 CEST through June 30 at 07:00 CEST (UTC+2)
In the EU, a part of the proceeds from the sales of these items will go directly to the charity. Unfortunately, we can't extend the same gesture to other regions. Nonetheless, the styles will still be available to raise awareness, and we will still make the donation. You can also make a donation to the charity yourself should you prefer to make a direct contribution.
Tankfest Specials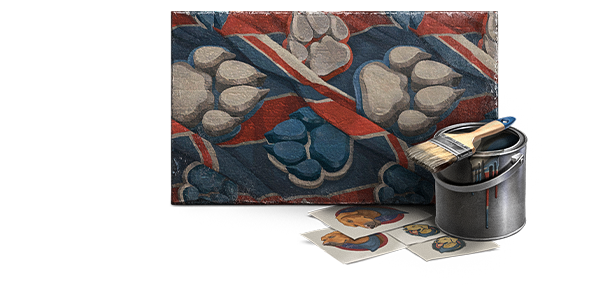 Bundle Contents:
Pawesome 2D style
6 Labrador emblems
3 Top Dog decals
In-Game Price
Full Collection
Special Emblem
Special Decal
Special Style
Supporting Veterans With Dogs
Veterans With Dogs is a charity that conducts various activities to help veterans suffering from mental health conditions. Your contributions will directly support these invaluable initiatives:
Comprehensive Training Programs:

The PALS Program trains dogs to assist veterans in recognizing and managing symptoms of their mental health difficulties.

Providing Exceptional Assistance Dog Partnerships:

Dogs are trained to perform specific tasks, such as initiating daily routines; responding to anxieties; and interrupting signs of anxiety, panic attacks, and nightmares.

Health and Wellbeing of Dogs:

Policies, procedures, and standards of practice are in place to guarantee the health and well-being of the assistance dogs.

Assistance in Public Spaces:

An assistance dog for mental health allows a veteran to lead a more independent life and can help with traveling on public transport and entering public places, such as shops and restaurants.

Lifetime Support:

The charity commits to providing quality follow-up services for the entire working life of the assistance dog partnership.
Your donations will directly contribute to these initiatives, playing a pivotal role in aiding veterans' mental health and their journey towards an improved quality of life and regained independence.
---
Join us in supporting this worthy cause! Together, we can unleash the power of compassion, unity, and the bond between humans and their canine companions.
Roll Out!
Road to Tankfest
Road to Tankfest
From June 5 through July 10, join us for two of the biggest live tank events of the year—Aquino Tank Weekend and Tankfest—and watch both our special livestreams on June 11 and June 25 to win a free Premium tank!