OBJECT 252U OFFERS | OBJECT 252U DEFENDER OFFERS
Commanders!
When under siege, defend your honor and hold your own in battle with the perfect allies.
Two of the best defenders in-game, the fearsome

VIII
Object 252U and it's decorated brother, the

VIII
Object 252U Defender , are here to hold their ground and fight to the bitter end. Both boasting the same in-game stats, they can repel enemy attacks with their bouncy frontal armor. Each tank's tiny cupola makes it incredibly difficult to hit. You can also take the fight to the enemy and take advantage of the amazing alpha damage, 1,760 DPM, and great penetration from a hard-hitting 122 mm gun
Don't miss the chance to make these Soviet powerhouses yours!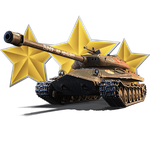 Object 252U Defender
---
Object 252U Offers
Available from February 22 at 06:00 CET through March 1 at 06:00 CET (UTC+1)
Object 252U
VIII
---
Object 252U Defender Offers
Available from February 22 at 06:00 CET through March 1 at 06:00 CET (UTC+1)
Object 252U Defender
VIII