Commanders!
The

VIII
Kanonenjagdpanzer 105 is a rather unusual tank destroyer. Instead of focusing on armor and firepower, the KJP combines high camouflage values and the mobility of a light tank, with good penetration, high shell velocity, and outstanding precision of a tank destroyer. The top speed of 70 km/h in combination with a fantastic power-to-weight ratio allows you to quickly take positions that are usually reserved for light tanks. Find a spot that utilizes the 8 degrees of gun depression and let shells rain down on opponents from positions where they don't expect a tank destroyer.
This break with conventions might not be for everyone, but it makes for a versatile vehicle that requires creativity and new tactics. If you prefer more conventional offers, make sure to check out the additional bundles in the Premium Shop.
Kanonenjagdpanzer 105 Offers
Available from January 20 at 06:00 CET through January 27 at 06:00 CET (UTC+1)
Package Contents

Kanonenjagdpanzer 105

100% Trained Crew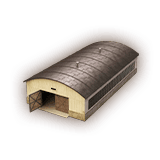 Garage Slot

World of Tanks Premium Account

x5 XP Mission

+300% Crew XP for 2 hour
Discount
Insider Tip: The Kanonenjagdpanzer 105 is not only available in the Premium Shop right now, but is also part of the Referral Program. Recruit a friend, play together to collect points, and earn a Premium vehicle for free.
How do the x5 XP missions work?
Expand
Reward:
Conditions:
Win a battle

Place in the top 10 of your team by base XP earned
Restrictions:
Random Battles only

Can only be completed with the vehicle in the bundle

Exception: special bundles with the main content being x5 XP missions

This mission is active after achieving the first victory of the day in the vehicle you want to complete it with
Collapse