Commanders!
Say hello to a German brute and export success: the

X
Leopard 1 . This tank was an enormous hit with over 6,500 machines built. It joined the ranks of 15 different nations and continues to roll out today. But what's it like to drive? And how does it compare to the Chieftain?
Dive into the second of three videos in our new mini-series, produced exclusively for Tankfest 2022 and inspired by our previous "Inside the Tanks" historical video series. We open the commander's hatch and examine three of the most famous Cold War Main Battle Tanks.
Join British Army veteran and armored warfare instructor Richard "The Challenger" Cutland aboard the Leopard 1, the main battle tank designed by Porsche in West Germany during the height of the Cold War. Like the Tiger and Panther, it was also named after a fierce cat, but its emphasis on speed and stealth signified a new approach to German tank design.
Watch as Richard drives this well-known German tank around the track at The Tank Museum in Bovington. What do you make of the Leopard 1?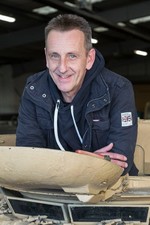 Richard "The Challenger" Cutland
---
Check out Episode 1: the Chieftain and keep your eyes on the portal for Episode 3, Commanders!
You can also head to The Challenger's Facebook page for a regular dose of epic tank videos and stories. And of course, don't forget to subscribe to our YouTube channel if you haven't done so already!