Commanders!
How much do you know about this Cold War British tank? What made it so potent on the battlefield and what's it like to drive? If you're reading this, you're probably a bit of a tank nut. So, keep scrolling, because we've got a real treat for you today!
Introducing the first of three videos in our new mini-series, where we open the commander's hatch and examine three of the most famous Cold War Main Battle Tanks.
Join British Army veteran and armored warfare instructor Richard "The Challenger" Cutland as he gets up close and personal with the FV4201 Chieftain, Britain's first Main Battle Tank, which replaced the Centurion in 1965. It's still used by some nations today, and favors solid armor and deadly firepower from its 120 mm gun over quicker maneuverability.
Watch Richard take this British beast for a spin around the track at The Tank Museum in Bovington, then let us know: How will you rate the Chieftain?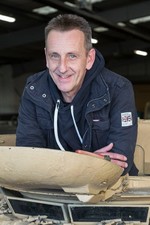 Richard "The Challenger" Cutland
---
Check out The Challenger's Facebook page for your regular dose of epic tank videos and stories. And of course, don't forget to subscribe to our YouTube channel if you haven't done so already!
Stay glued to the portal for Episode 2 of Inside the Tanks, Commanders!