Commanders!
Our anniversary celebrations have reached the second stage, which unlocks free shipping and special offers in the Wargaming Store.
Have you seen the latest selection to arrive in the store? Get the newest World of Tanks gear or some of our best sellers with free shipping on all orders before 22 May at 18:00 CEST (UTC+2).
Would you like something special to commemorate the World of Tanks anniversary? Check out this unique special edition pin featuring the 10-year logo.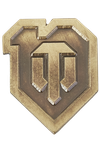 And there is more, every order placed before 14 June (or until we run out of stock) will also receive a WoT 10-anniversary sticker for free!
Roll Out!