TWITCH DROPS | SCHEDULE | CONTENT CREATORS | WARGAMING STORE
Commanders!
Have you faced the Last Waffenträger auf E 110 already and earned great rewards? Or were you one of the merciless Waffenträger commanders who sowed misery and despair for a footlocker filled with riches?
While you've already had a few chances to encounter the special Waffenträger auf E 220 that harbors a Special Footlocker as a reward, it is during this upcoming weekend that your chances are the highest. Not only will we see Wargaming employees and our Stream Team head into battle aboard the mean machine, but a selected group of content creators has also been entrusted with the Key to the Waffenträger auf E 220.
---
Twitch Drops Are On
Taking on the E 220 beast isn't your only chance to earn a free Special Footlocker! Twitch Drops will be enabled on Friday, October 2 for our official World of Tanks Channel and from October 3 to October 4 for all the channels of the participating content creators if they are streaming on Twitch.

The longer you watch, the higher your chances to receive the following:

Regular Drop:

1 Waffenträger auf E 110 Key

Epic Drop:

1 Special Footlocker
Each drop can only be received once per account for the duration of the event.
Important: Your World of Tanks account and your Prime Gaming account have to be linked for a chance to receive Twitch Drops. Click here for a how-to guide: Link Your Accounts
Official World of Tanks Stream Schedule
Tune in during the weekend or any of the upcoming Prime Hunting Times and play the game mode for a chance to face the Waffenträger auf E 220.
Date

Start Time (CEST)

End Time (CEST)

15:00

18:00

Content Creator Weekend

From 03/10 at 08:00 CEST until 04/10 at 23:59 CEST

5/10

15:00

18:00

7/10

13:00

16:00

9/10

15:00

18:00

11/10

14:00

19:00
Content Creators on the Hunt
Make sure to follow their Twitch or YouTube channels to receive a notification when they go live. Head into battle alongside them, so you won't miss the best chance to take on the E 220. If your team can outwit these capable commanders, everyone will receive a Special Footlocker as a reward.
Special Footlocker Contents
Expand
Special Footlockers may contain one of sixteen Tier VIII Premium vehicles, including the
VIII
T77 , a brand-new American autoloader heavy tank. Additionally, Special Footlockers are guaranteed to hold in-game goodies.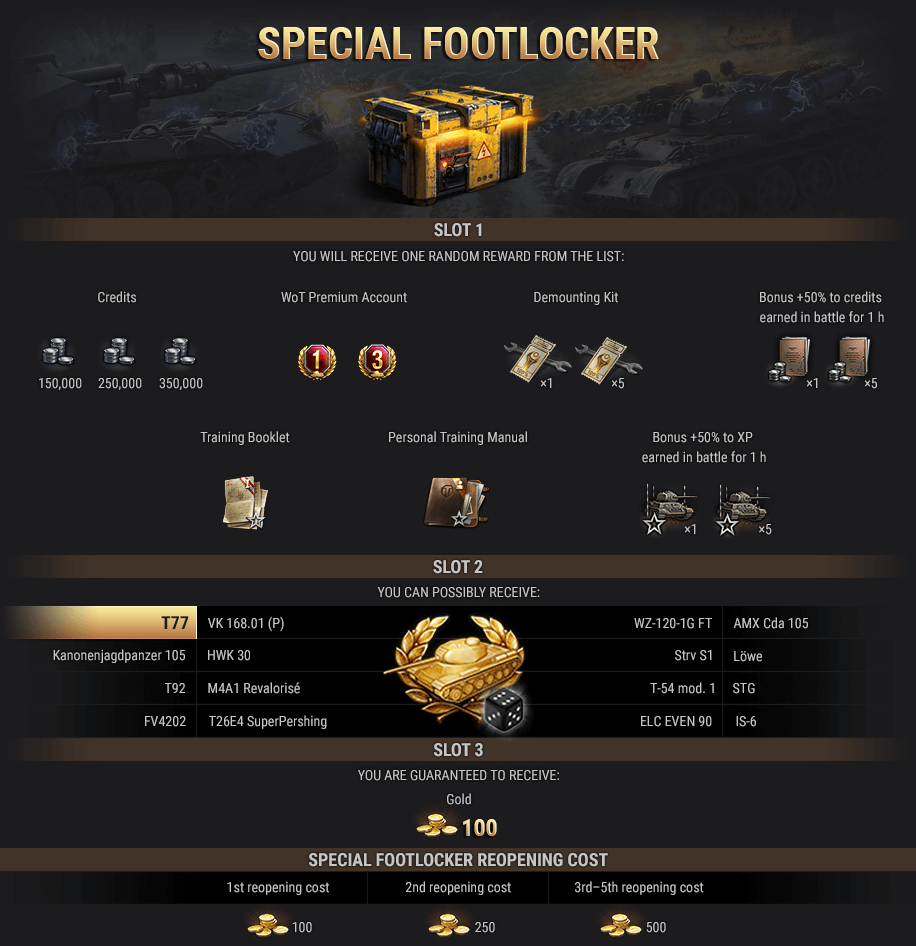 Special footlockers will be obtainable until

October 11 at 23:59 CEST (UTC+2)

and will auto-open on

October 12 at 07:00 CEST (UTC+2)

. Additionally, the event interface will be removed on

October 12 at 07:00 CEST (UTC+2)

so you will have this time period to see what you have received.
100

(guaranteed on the first opening but doesn't get rerolled)

150,000

250,000

350,000

1 day of WoT Premium Account

3

days of WoT Premium Account
1 Training Booklet (20,000 XP)
1 Personal Training Manual (850,000 XP)
1 Demounting Kit
5 Demounting Kits
1 Personal Reserve: +50% XP for 1 hour
5 Personal Reserves: +50% XP for 1 hour
1 Personal Reserve: +50% credits for 1 hour
5 Personal Reserves: +50% credits for 1 hour
Collapse
---
German Beasts in the Wargaming Store
The game isn't the only place that has been infiltrated by fantastic German beasts. You can also find plenty of them in the Wargaming Store. Commemorate the game mode with an exclusive mug, pillow, and poster featuring the Last Waffenträger artwork and celebrate the German Reunification holiday with up to 25% off the entire German collection, including T-shirts, model kits, adorable German plush tanks, and more!
Discounts are available until October 7, but stocks are limited, so don't hesitate and gear up!