The results are in!
Big congratulations to Skill4ltu on his victorious Piri Piri into first place. The battle for second place was a close one, with Team Mailand using that famed German efficiency right at the end, leaving DezGamez at a beastly third place. And even though they are in the last place for the event, they are in the first place when it comes to memes: AwesomeEpicGuys.
Now that we move on to the post-event phase, there are some important things you need to know:
Collect your

team and personal rewards

until the

15 March!

Afterwards, they will be credited automatically to your account upon login.
You will receive your

shiny new commander

automatically on

11 February

.
Rental tanks will be locked and removed from your accounts. All the equipment and crews will be sent back to your depot.
Crews trained to a specific event vehicle will need to be retrained if you want to use them.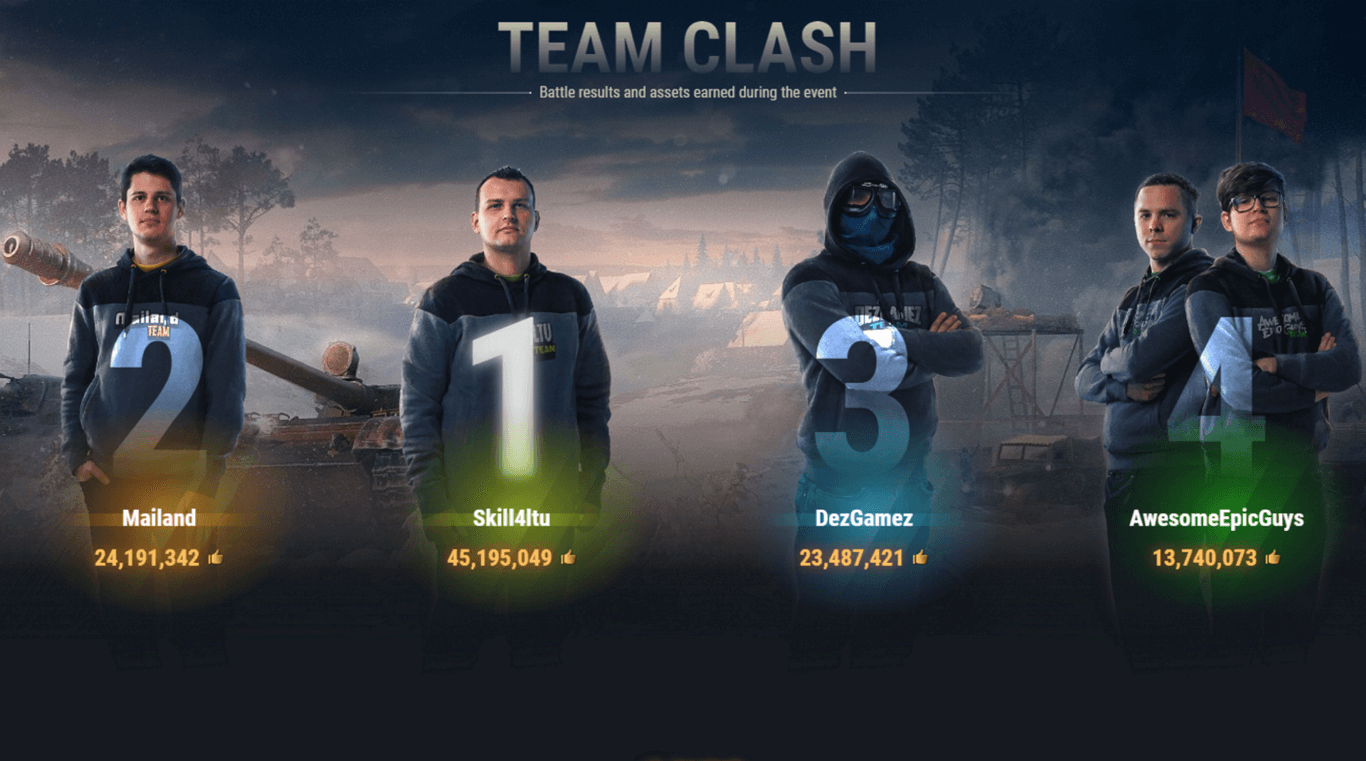 Commanders!
For honour and sportsmanship, but for your entertainment before anything else, this week, four teams will fight on the battlefields of World of Tanks! As mentioned in our dedicated Team Clash article, you can follow them in this glorious adventure with a new mode, and show off with exclusive items and rewards inspired by these talented commanders. But just in case you need more motivation to support one or the other, here is a small presentation of the panel gathered for this event.
AwesomeEpicGuys
This team is so awesome and so epic that it actually has two champions. Meet the AwesomeEpicGuys, the best Swedish duo ever (if you're putting the famous furniture brand and its tasty meatballs aside that is). But rest assured that they will bring some flavour to this competition in the form of pickles. Like, a full jar of pickles!

If you like the taste of these and enjoy vigour and fun in your World of Tanks gameplay, join the Cucumber Army now! Follow them on YouTube and Twitch.
DezGamez
Who doesn't love a good masked character? DezGamez is a proud member of this club, and although his face will remain secret, we all know that this guy knows his tanks. Always ready to put new, helpful and fancy content out there, this commander is as creative as he is secretive.

If you like masks, innovative content and reliable gameplay tips, this guy will not let you down. Follow him on Youtube and Twitch.
Mailand
This commander is the living embodiment of the famous German efficiency. Enthusiasm, years of experience on the World of Tanks' battlefields and a profound game knowledge is what defines the style of Mailand, a commander that many German players already know and admire.

If you believe in the power of the "Deutsche Qualität", you know where to sign up! Follow him on YouTube and Twitch.
Skill4ltu
Did the name give him away? This commander is all about skill. Meet Skill4ltu, who probably has more three-marking tanks than you have vehicles in your garage. If you like your players to be both experts and born entertainers, you can't go wrong with Skill4ltu and his famous "Ree-ee" screams.

Sounds promising, right? If so, join the affectionately named "Baboon Army"! Follow him on YouTube and Twitch.
Roll Out!