Commanders!
We have received more details about the Immortal and its plans to plunge World of Tanks into chaos and despair. Soon, commanders will set out to save Mirny from this mighty foe and close the rift between the worlds. Are you brave enough to join them, or do you need more intel before heading to the front?
Tune In on Twitch
Our fearless World of Tanks Stream Team is currently collecting their strength to be among the first to face off against the Immortal.
Tune in on October 28 at 14:00 CEST (UTC+2) when eekeeboo and Germia roll out on the English Twitch Channel

, while Keyhand explores the unknown on the German Twitch Channel

to give you tips on surviving in Mirny. Will they be able to take out the Immortal? Stick around on the stream to find out. The longer you're tuned in, the more Twitch Drops will be yours!
Twitch Drops for World of Tanks Channels and Content Creators
Available from October 28 at 14:00 CEST (UTC+2) through November 11 at 06:00 CET (UTC+1)
Of course eekeeboo, Germia, and Keyhand aren't the only ones that will attempt to take out the Immortal. Community Contributors will take you to Mirny: Hope—and you even get a chance to team up with them! Twitch Drops will also be enabled on the channels of participating content creators, so make sure to join their streams to earn the following rewards over time:
Guaranteed Twitch Drops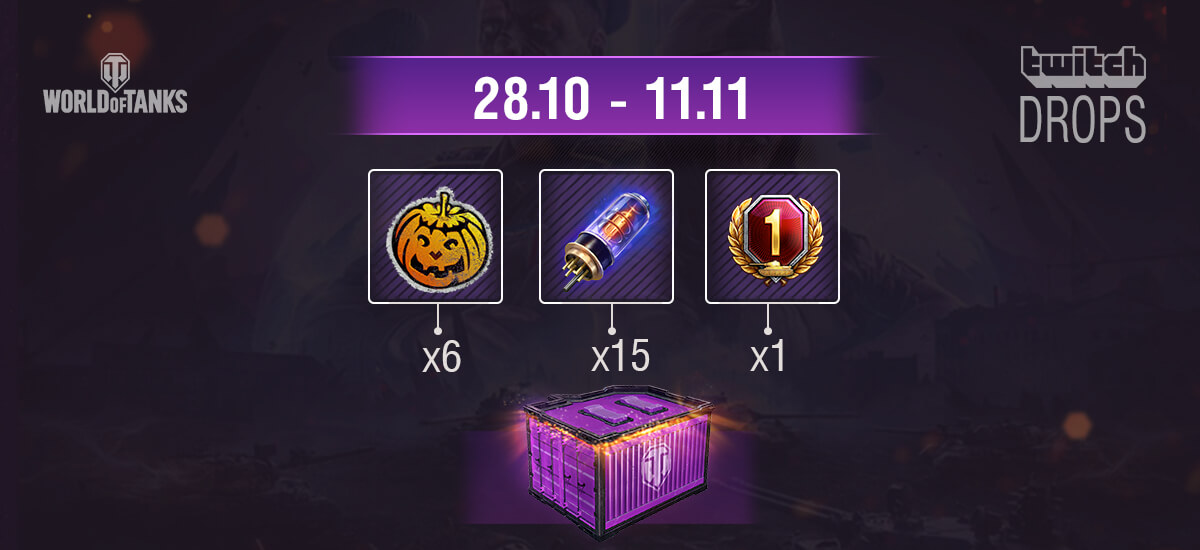 After 90 minutes:

x6 Pumpkin emblem

After 150 minutes:

x15 Key
After 240 minutes: 1 day of WoT Premium Account
Halloween Stream with Special Drops
Available from October 31 at 06:00 CET through November 1 at 06:00 CET (UTC+1)
Join the extra scary stream on Halloween on October 31 at 14:00 CET (UTC+1) for even more fights against the Immortal, plenty of tricks, and some very special Twitch Drops exclusive to the official English

and German

World of Tanks channels.
Cheer for our Stream Team as they fight against evil and earn the following rewards:
Guranteed Halloween Drops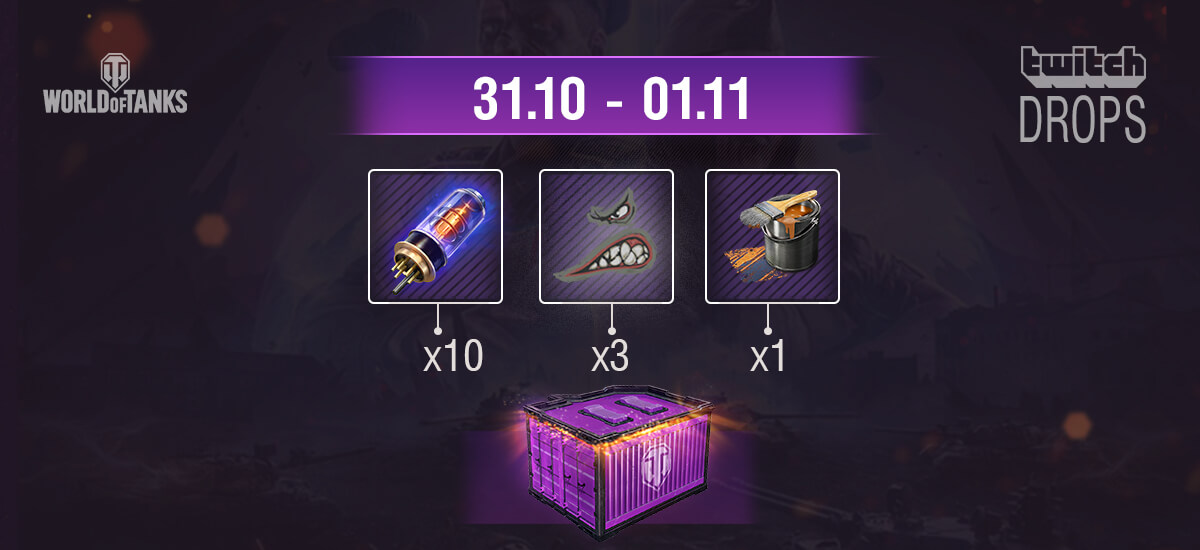 After 60 minutes:

x10 Key

After 120 minutes:

x3 "Grin in Profile 3" decal

After 180 minutes:

x1 Jack-o'-Lantern 2D style

Receive Twitch Drops
Expand
Track your progress towards a Twitch Drop via the progress bar. The progress bar must reach 100% before you can claim the Drop (detailed in the next step).

Access it by clicking your profile picture in the top-right corner of the Twitch page.

Claim the Drop within 24 hours of the end of the campaign

by clicking the button in the pop-up notification in the stream interface or in your personal

Twitch inventory. If you take no action, the Drop reward will disappear 24 hours after the campaign ends.
For more information on how to link your accounts, click the button below to take a look at our full Twitch Drops guide.
Collapse
Team Up on Discord

Are you looking for someone to team up with? Preferably expert tank commanders that will guide you to victory? Communication is the key to success for Mirny: Hope, and one of the best communication tools is our dedicated World of Tanks Discord server.
Join the server and team up with World of Tanks Community Contributors and Wargaming Community Managers who will help you fight against the Immortal. Everyone taking part in the activities will receive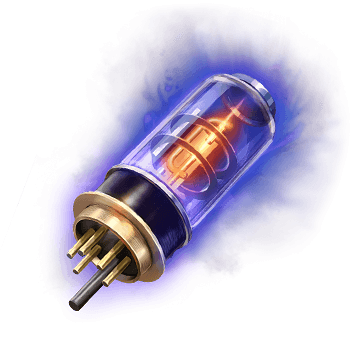 an extra Key and additional rewards from Community Contributors like WoT Premium Account and Personal Reserves—and you will be entered into a special raffle for one "Revenant Mk. II" 3D style bundle for the

VIII
Panther II ,

IX
E 50 , and

X
E 50 Ausf. M .
The following Community Contributors have signed up to take you to Mirny:
Follow Ongoing Investigations and Battle the Supernatural
HALLOWEEN 2021
HALLOWEEN 2021
Power up your vehicles, join a Platoon, and fight a variety of AI-driven armored enemies, including the Immortal! Earn Decryption Keys and unlock plentiful rewards, including credits, spooky decals, 3D styles, and the

VII
King Tiger (Captured) .
Roll Out—and take out the Immortal!