Steel Hunter Stage 2 – Live Now
September 21, 2020 at 07:00 CEST through September 28, 2020 at 04:00 CEST (UTC+2)
Commanders!
Can you once again eliminate all your opponents and emerge victorious? Our exciting Battle Royale mode returns for its second stage!
Stage 2 Rewards
Head to Dreamland or Arzagir 4.04 as Survivor, Hunter, or Scout in one of five event tanks and use special abilities to take out your enemies. In the end, only one tank commander or squad will be victorious!
Complete daily missions to earn Hunter points that unlock different reward levels with a unique 2D style, bonds, credits, and more.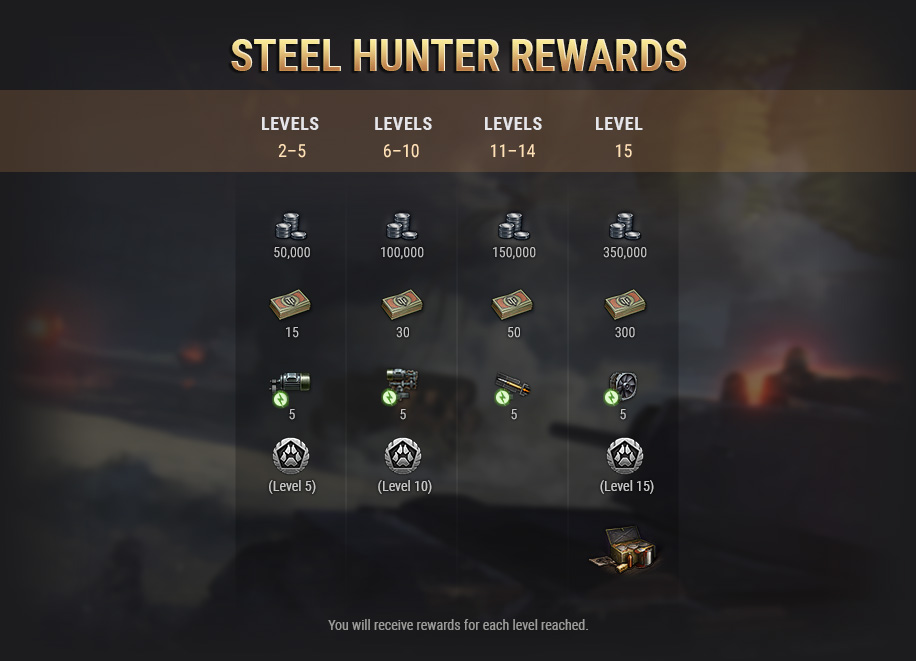 Upon reaching Level 15, you will receive special rewards—the unique 2D style* "Sword of Ullr" and Expedition tokens. With each Stage, one additional 2D style (Shield of Ullr) will be available for purchase in-game.
Each Stage will feature a different set of 2D styles.
Updated Daily Missions
Steel Hunter was designed around new skills and learning how to survive in order to advance in the new game mode. Tying it into the Expedition alongside the Frontline mode meant adding Daily Missions that advanced your progress towards the Expedition rewards while keeping the spirit of competition in Steel Hunter alive. When designing the conditions for Daily Missions, we used data from the previous year's event. Now, after Stage 1 is finished, we have better insights, and it is clear to us that you can complete an entire Stage just through a grind, rather than using your wits and outplaying your opponents.
We want this mode's primary goal to stay the same, which is to be the best, using all your knowledge and skill to reign supreme. Therefore, we decided to adjust the conditions and rewards of the battle missions to reflect this philosophy.
You can see the comparison below.
Devastate Mission

Old

New

Condition

Cause

3,000 HP

of damage over any number of battles.
Cause

4,500 HP

of damage over any number of battles.

Restriction

5 times per day
5 times per day

Reward

200

Hunter Points

100

Hunter Points

Destroy Mission

Old

New

Condition

Destroy

1

or more enemy vehicles

over any number of battles

.
Destroy

2

or more enemy vehicles

in one battle

.

Restriction

Once per day
Once per day

Reward

100 Hunter Points
100 Hunter Points
---
Expedition Tokens and Reward Tanks
Up to three more Expedition tokens are up for grabs. They are used to claim one of three exclusive Tier IX reward tanks.
---
How to Access Steel Hunter
Head to the Steel Hunter Garage via the "Expedition" section in the drop-down menu to the right of the "Battle" button and:
Click the "Battle" button to play solo
Create a special 3-player Platoon for a battle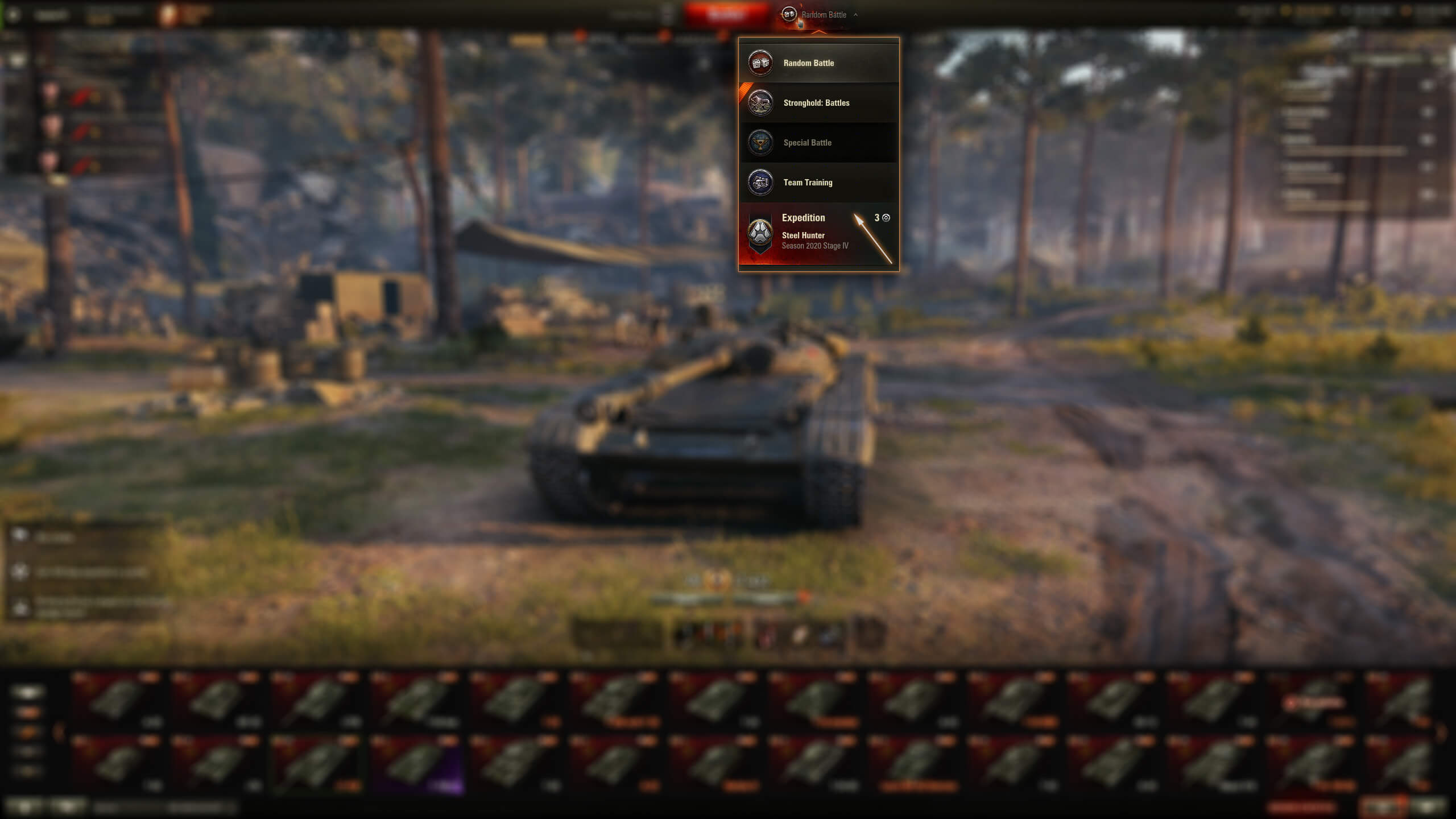 During Act V of the 10th Anniversary of World of Tanks, you can enter Steel Hunter by clicking on the 3D object in your Garage.
---
Steel Hunter Equipment in the Wargaming Store
Could you use an upgrade of your gaming equipment? Or do you need something to keep you hydrated and comfortable while fighting your way to the top? The Wargaming Store has got you covered with exclusive Steel Hunter deals and additional discounts.
Steel Hunter Mug

Steel Hunter Pillow

Limited Edition Anniversary Chair


(limited stock left)

KONIX Commander Pack
The exclusive World of Tanks Steel Hunter mug and pillow are now available in the store together with an amazing 20% discount on peripherals and the limited 10th Anniversary Gaming Chair!
Don't hesitate! Stocks are limited and the offers are only available until September 28 or while supplies last.
Head to the regulations page for further information and all the details about this special game mode!
Roll Out and Hunt!