Tier X vehicles, get ready to rumble – the new season of Ranked Battles is just around the corner and brings some new surprises!
This season, the core gameplay of Ranked Battles has received a considerable revamp. Thanks to your feedback we've reworked the ranking mechanics and the progression system, making them more fair, transparent and enjoyable. But one thing remains unchanged – you can still earn tons of rewards and additional prizes, including a unique Tier IX vehicle!
Rise to the challenge, put up your guns and start your battle journey through one of the most exciting modes in World of Tanks!
Season Dates
20 May 2019, 10:00 CEST (UTC+2) - 10 June 2019, 10:00 CEST (UTC+2)

Weekdays: 14:00 CEST to 02:00 CEST (UTC+2)
Weekends: 10:00 CEST to 02:00 CEST (UTC+2)

Revamped Progression System
There will be three Seasons of Ranked Battles in 2019, with heaps of rewards and other bonuses. In order to maximize your battlefield experience, we revised the entire ranking mechanic and broke it into 4 Divisions.
Each Division consists of 15 ranks. Progression through them is linear from the 4th to the 1st Division, and you cannot be relegated from your Division to a lower one. Once you have completed one Division, you will find yourself in one of three leagues based on your performance.
Players in the top 20% will find themselves in

the Golden League

– the most challenging one!

The next 30% will play in

the Silver League

The remaining 50% of players will end up in

the Bronze League
NOTE: If players have reached the Leagues they may be matched regardless of the league in which they ended up. For example, a player in the Bronze League has every chance to be matched against a player from the Golden League.
In this season, we reduced the number of chevrons you need to earn from one rank to another, so Ranked Battles are now more manageable, but still challenging.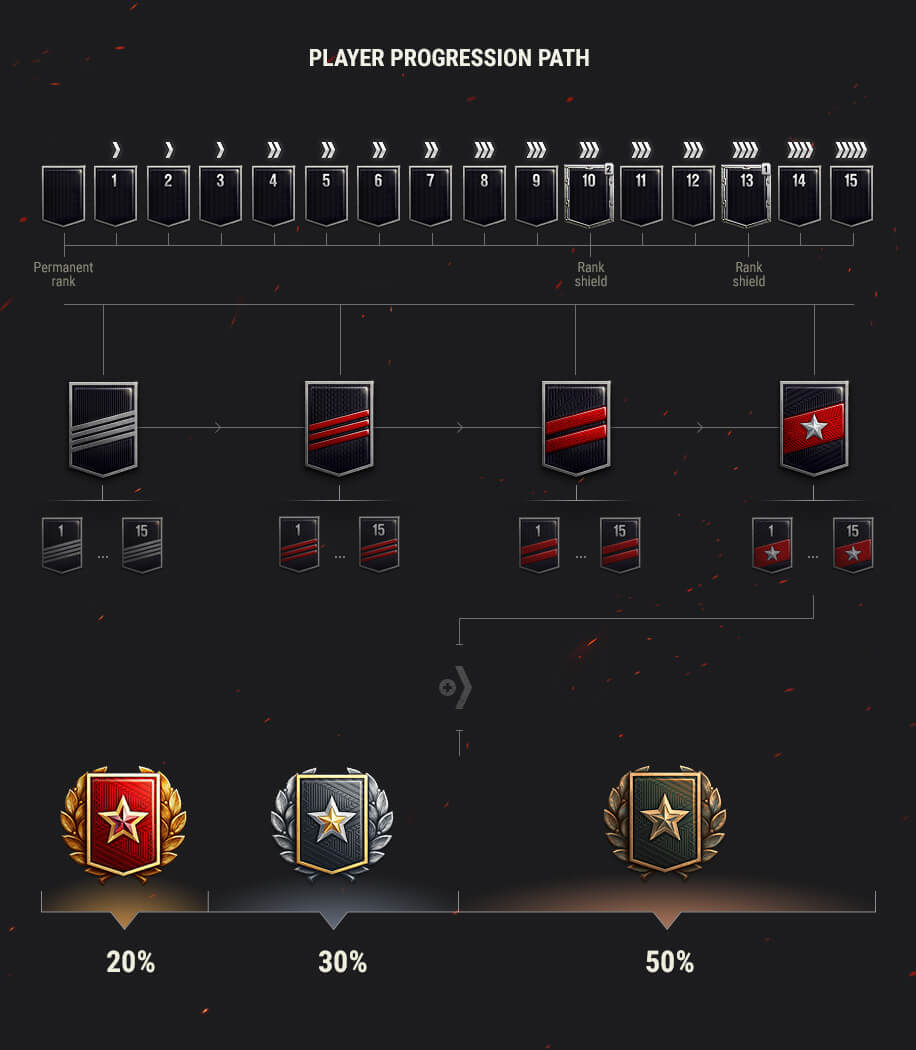 Speed Up Your Progress!
Want to progress through the ranks even faster? No problem! To speed up your progression, we're introducing a new mechanic – Bonus Battles. This is an equivalent of the First Victory daily multiplier, which automatically doubles chevrons (two instead of one, four instead of two). If you don't receive a chevron after the battle, then the Bonus Battles mechanic doesn't apply.
As you move from one Division to another, a certain number of Bonus Battles will be awarded. This number depends on how well you're performing and on how effective you are in battle.
Role Experience: Capturing the Essence of Ranked Battles
Much of your feedback on Ranked Battles concerned the distribution of experience in battles, and we've taken measures to improve it. In the new Season, we're retiring the mechanic where you earn experience through your battle activities. This mechanic will be replaced by a new system of role experience that rewards players for properly fulfilling the role of their vehicle, depending on its class.
Let's see how this system will work using heavy and medium tanks as examples.
Close-range brawlers (

the Maus, the IS-7 or the WZ-111 model 5A)

can grab their experience bonus by blocking and dealing damage from less than 300 meters away.

Medium tanks (

the M48A5 Patton, the E 50 Ausf. M

) will earn bonus experience by causing damage to vehicles within your view range,

and by blocking damage

.
NOTE:
Playing your role and earning role experience is important, but always remember that you're a part of a team and victory is what you should aim for!
Disabling Friendly Damage
To allow you to better focus on the game, we're disabling team damage and team kills caused by friendly fire and ramming. However, artillery can still stun allied vehicles, and doing so will incur an experience penalty.
Rewards of the Season
Now to our most tantalizing topic – your rewards for good performance in combat! You have an opportunity to earn:
Credits

Bonds

Gold

Unique styles

Additional rewards!
Depending on your results through all three seasons, you can earn the ultimate reward: a unique Tier IX vehicle. Its name, nation, class and characteristics are classified for now and will be announced later, so stay tuned!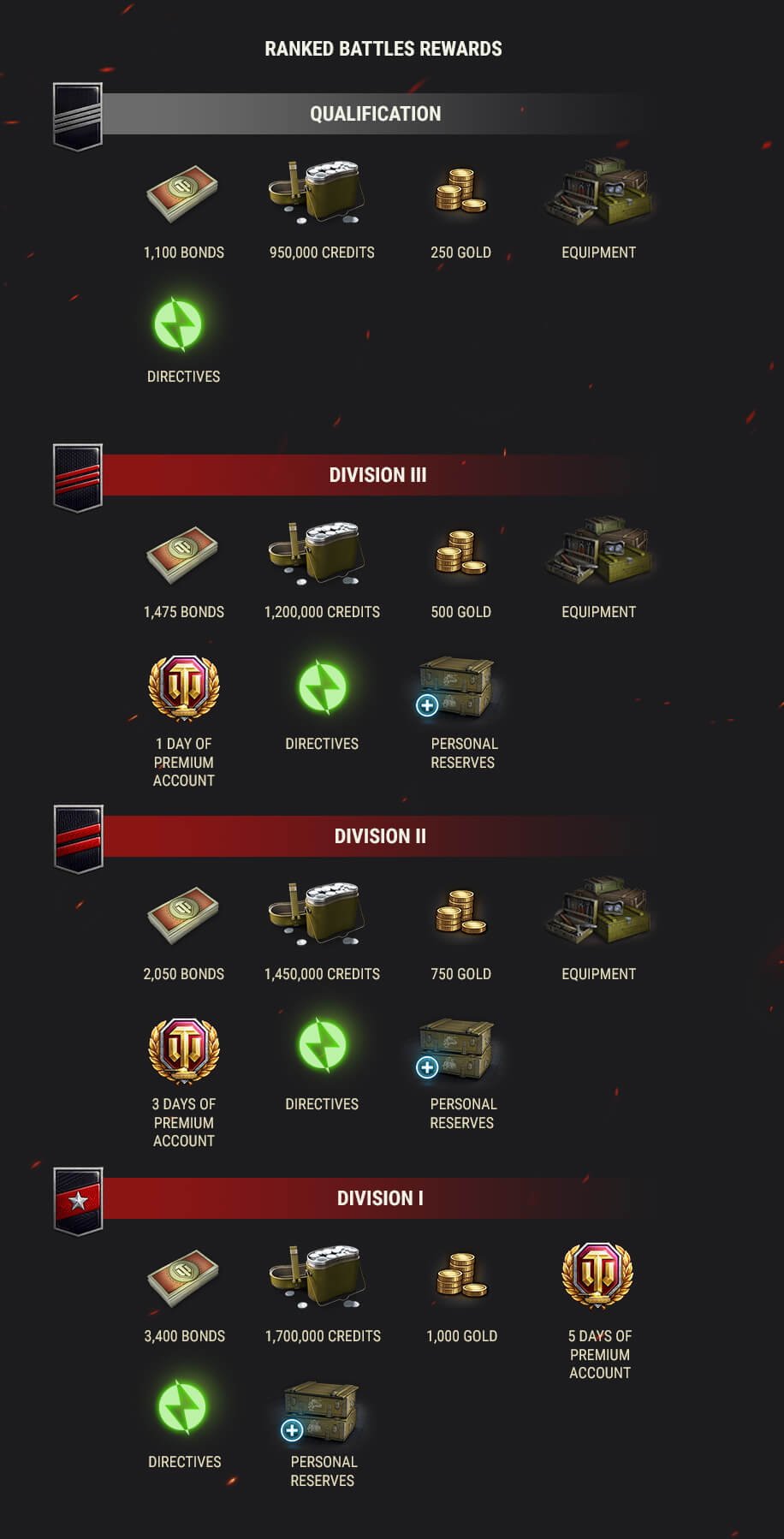 NOTE:
The secret reward tank for Ranked Battles is an entirely different vehicle from the one offered in Frontline, so you won't want to miss out on either of them!
Prove your worth over a series of Seasons, climb your way up to an exclusive Tier IX tank, and earn tons of valuable gifts along the way! This year, Ranked Battles promises to be more enjoyable than ever, so get ready to start your new tanking journey!