Commanders!
The German

VII
Jagdpanther is one of the most iconic tank destroyers in World of Tanks. It has been roaming the battlefields since the beginning of the game, back when it was still in beta. Earlier this year, we were fortunate to see one of these vehicles completely restored and running during Tankfest 2019, specifically the Jagdpanther 411. Our Community Manager Falathi had a chance to interview two members of the organisation that restored this vehicle to its prime condition: the Weald Foundation.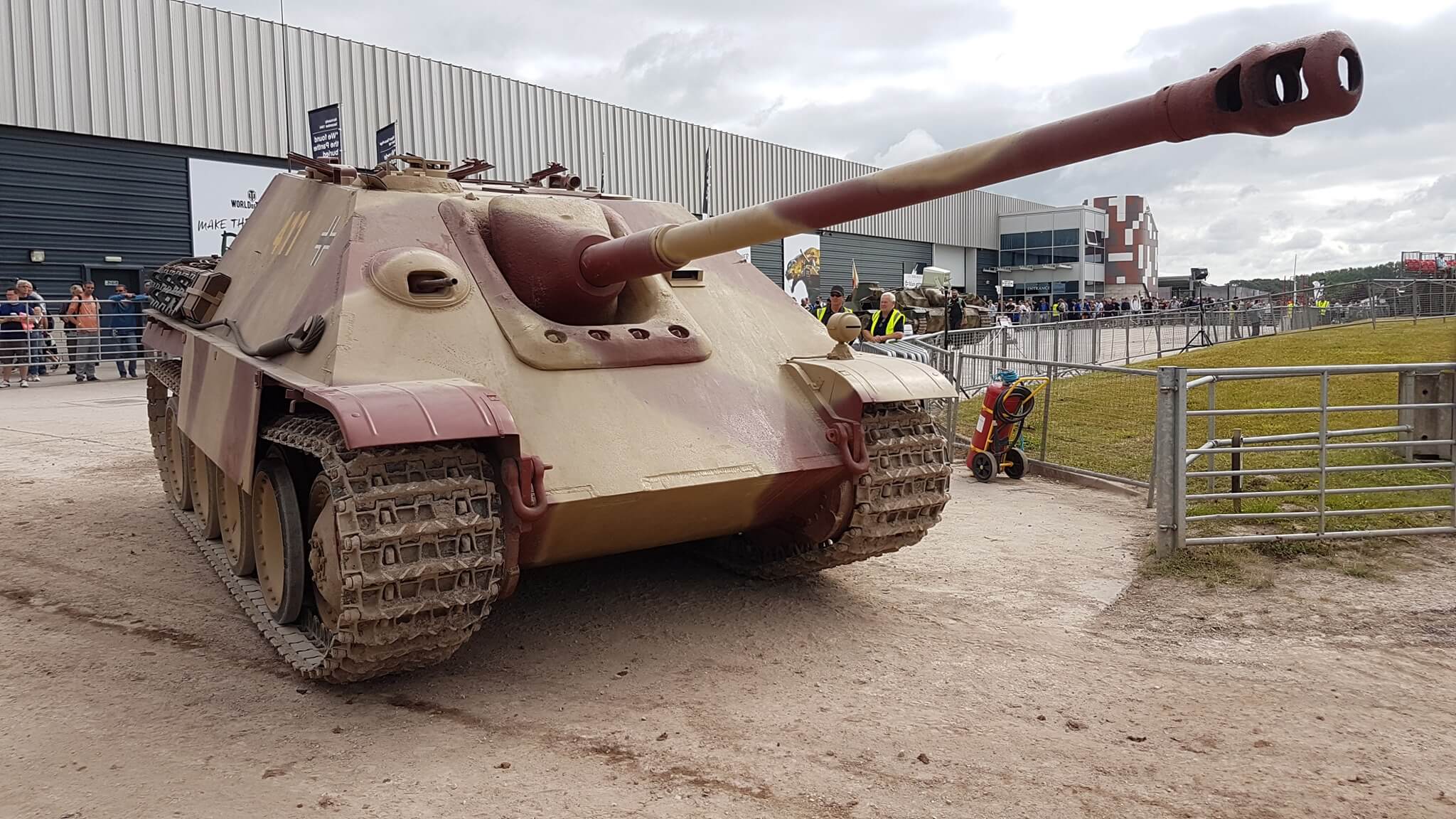 We are inside the Jagdpanther 411 with Mike Gibb and Hilary Doyle from The Weald Foundation. This is one of the last surviving vehicles of its kind.
Mike: Hello, my name is Mike Gibb and I am a trustee of the foundation. We have been collecting rare historic armoured vehicles since the mid-1990s and established a charity, which is now The Weald Foundation, in 2003.
Hilary was at the core of the foundation from the start, along with his colleague, the late Thomas Jentz. They are some of the most renowned historians in the field of German armour and tracked vehicles of WWII.
I met them for the first time in 1999 and our relationship kept growing ever since. Both became trustees as soon as the foundation was established. Hilary is still a trustee on the board.
What is the goal of the foundation? And where do you start when restoring a vehicle?
Mike: After locating the remains of a vehicle worth preserving for posterity, we start the research; this is the absolute bed rock of what we do. It is always what you begin with! This methodology was instilled in me by Hilary and Tom and this is how we do things for every single vehicle, not only German ones. Recently, we have restored two one-hundred-year-old French vehicles from WWI, a very demanding project. Now, Hilary is looking forward to his first non-German vehicles – two South African Reconnaissance Car Mk. III (so-called 'Marmon Herrington'). The foundation has received an early and a late version.
The Weald Foundation collection can be divided into three areas:
The WWI collection – with the Renault FT as well as the rare Renault TSF, the world's first wireless command tank.
The German collection – a majority of which are rare reconnaissance vehicles from "Aufklärungsabteilungen" (reconnaissance detachment). There are also a few outliers, which don't fit into the reconnaissance category: the Jagdpanther 411, two Sturmgeschütz Ausf. G and a Horch Kfz. 21.
The Empire collection – we are trying to remind people that the Imperial Army was not just British. This is our attempt to right the wrong within the conventional narrative and demonstrate the huge contribution made by the Commonwealth nations as they are today. This effort will focus on vehicles designed and built by countries of the old British Empire. So far, we have located important armoured vehicles, constructed in large numbers by South Africa, Australia, India and New Zealand.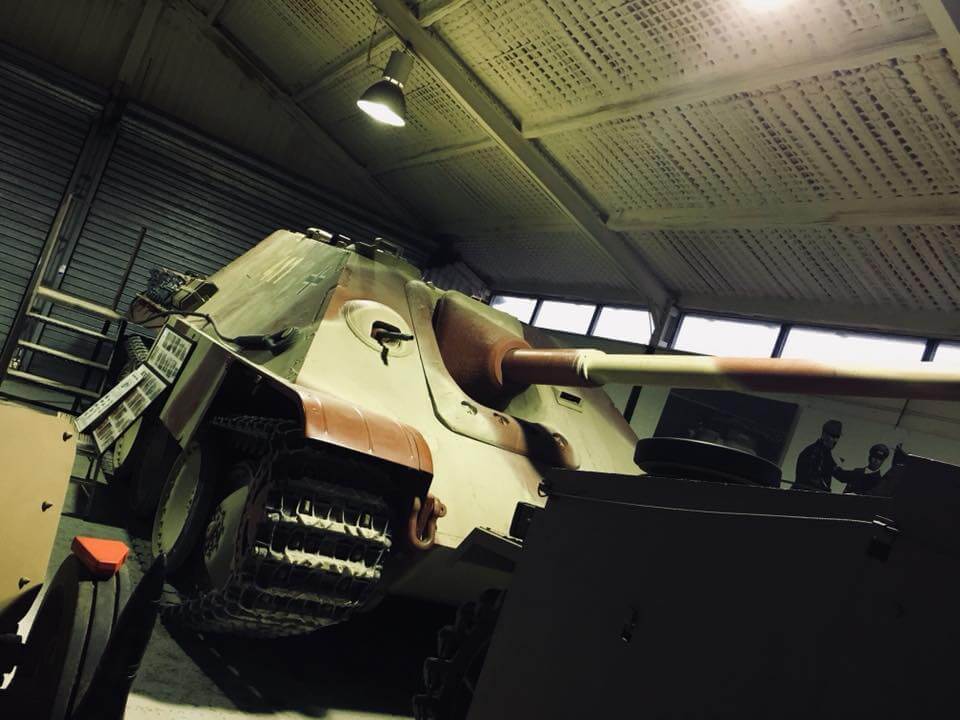 How did you start with this hobby?
Hilary: I became interested in armoured vehicles when I was in school. However, there wasn`t much information available, so I started researching, drawing and measuring vehicles on my own. When I was 21, I travelled to Bovington and measured their Jagdpanther. Around that time, I became friends with Peter Chamberlain and Chris Ellis, editor of the Airfix Magazines, who were pioneers in this field. My first magazine article was published in 1964. Together with Peter and Chris we founded Bellona Publications and started to publish Tank books.
By the way, in those days, when I drew the Jagdpanther from Bovington, I did not realize that the torsion bars were broken. The front was sitting down and after the drawing was published, I received a letter from Volkswagen in the U.S.A. The technical director, Walter Spielberger, pointed out my error, as he had fought in a Jagdpanther in 1945.
The contact with Mr. Spielberger became very important – we wrote many books together for Motorbuch Verlag. As he was quite involved in Panzer development, he had access to tons of sources and contacts.
In 1973, I was researching in the Bildarchiv, Koblenz, going through photos and checking visible chassis numbers in order to categorise vehicles. I noticed that at the next desk an American was doing the same work – as it turned out, this was Thomas Jentz. Tom and I, together with Peter Chamberlain, wrote the very popular book "Encyclopaedia of German Tanks" (published in 1978) which included data about every vehicle we had information on.
As time went by, Walter became ill and could no longer prepare tank books. Tom and I decided to place all our primary research in the public domain. We could not depend on commercial publishers as they usually only want books with more popular subjects. Therefore, "Panzer Tracts" was founded and by now, 57 volumes of primary information are available with the number gradually growing. I am probably best known for my accurate drawings that are used by modellers and kit companies.
What is the story of the Jagdpanther? And how long does it take to recreate such a vehicle?
Mike/Hilary: In the late 1990s Hilary Doyle managed, not without effort, to get in touch with Mike Gibb. The people working with Mike Gibb closely guarded him from outside contacts. But once this wall had been breached, first telephone calls turned into longer and longer conversations. Then Tom Jentz was introduced to the project, and even more calls occurred that were full of information. This happened at the same time as we were rebuilding the Jagdpanther 411. Our goal was to reconstruct it, so it would look just like it did, when it came fresh from the M.N.H. factory in early 1945.
Right now, we have completed over 20 years of research on the vehicles in the collection of the foundation. Initially, it was only Germans, then the WWI Renault tanks and now there are plans to restore South African reconnaissance cars, an Australian local pattern carrier and an Indian pattern carrier. When you think about a restoration, you must do a great deal of research before you start restoring the vehicle. Why? Because it is paramount to recreate them correctly, with original parts, which means a lot more work than some simple projects. Sure, it takes us time, but once it is finished it is correct.
And in case we have made mistakes or omissions, we issue our "Department of Corrections" in our online magazine Inside Track, letting people know what must be done to make sure the result is 100% on point.
Just to give you an idea: with the Jagdpanther 411 remain 6 to 7 areas that require attention. But these are all small, including such things as the convoy light and air intakes. Once completed, we'll be even closer to the original.
Well, as we are proud to say, we are quite passionate. Once we were approached by a guy who said, "I thought I was a geek – but you guys, you own the shop!"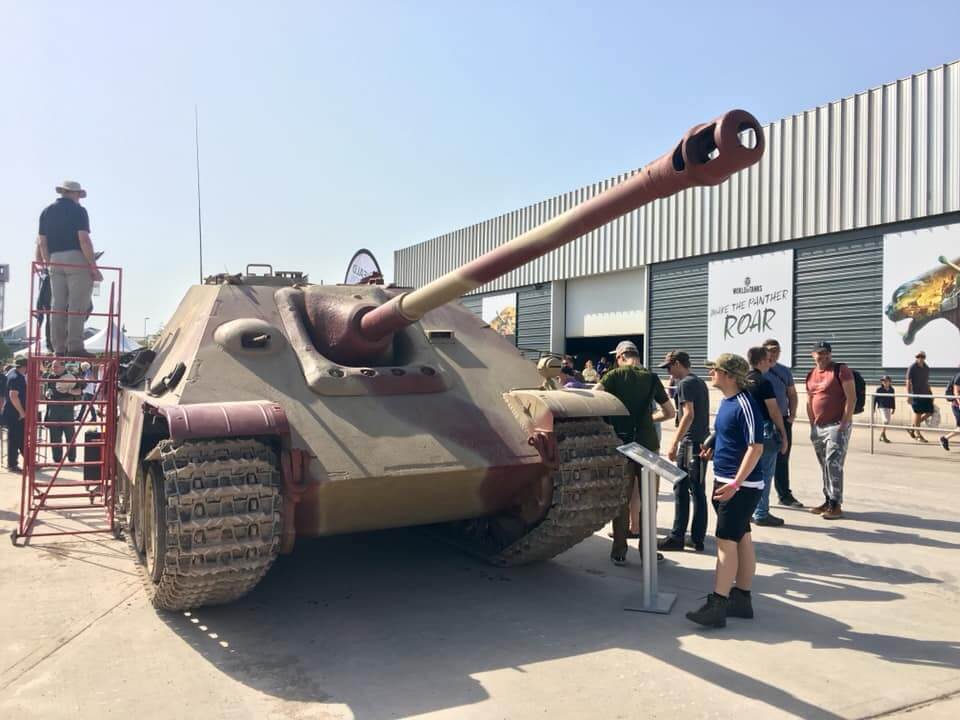 What is your motivation? Why do you do it?
Hilary: I wanted to create drawings and provide research that is as accurate as possible. I wasn't interested in sloppy, inaccurate work and myths. If you are going to leave a historical legacy, you must do it correctly. And if you do it correctly, it will stand the test of time.
Mike: I was in the South African army in the 1980s. My experiences in Namibia led to my decision to move to England and to pursue a career as an officer in the British Army. However, being from South Africa meant that I was a possible security threat, which was a big problem, given that there was no diplomatic exchange at that time, so I followed a path in a different direction.
It was also around that time when I decided I want to own a Willys jeep, which is why I contacted a well-known militaria dealer. He told me that a VW Kübelwagen would be far superior. I had little idea what a Kübelwagen was, but after three months the dealer told me, he had just the thing for me: a VW Schwimmwagen! It proved to be fantastic and that's when I caught the collector's bug. Keeping it in control was the problem, so I made the decision to focus on vehicles like the Schwimmwagen that represented equipment of German reconnaissance units. Tank destroyers such as the Jagdpanther 411 are just a diversion for me.
In 2003, I decided that just collecting for myself had no long-term value, so we established a charity to which I donated all the armoured vehicles along with long term funding – which is what The Weald Foundation is today.
About the Weald Foundation
The Weald Foundation is a registered charity established in 2003 to preserve, restore and maintain historic military vehicles from both World Wars and to educate the public about their history. Their unique line-up of rare and important military vehicles, including tanks and other armoured fighting vehicles, is considered to be one of the finest working collections in the world. The collections are available to schools, engineers, historians, modelers, enthusiasts and collectors, who come together to discover and learn. The Weald Foundation has projects for restorations extending beyond 2040, including one for an 8-wheeled armoured car and several light armoured cars. All of the vehicles in the collection will be left for posterity, available to the British public.
This charitable organisation receives no UK government funding, so their work in restoring vehicles and creating a centre of technical and historical excellence depends on support from you. Any World of Tanks fan who would like to join as a member can get an Affiliate Membership and enter the code "WORLDOFTANKS" for a special membership price of £40.00 annually. Members get free access to all of the events, subscription to the weekly Inside Track and access to their archive, where you can research and learn everything about their collection.
Try out the Jagdpanther 411
If you'd like to wear the colours of Jagdpanther 411, our Community Contributor Harkonnen has shared a mod that allows you to turn your Jagdpanther into this unique relic! Of course, to use this mod you need to have this tank destroyer in your garage. Look how mighty it looks in the game!