Commanders!
International Women's Day is coming up!
Join us on March 8 between 14:00 and 18:00 CET (UTC+1) on the official World of Tanks EN Twitch or YouTube channels to mark this symbolic day and celebrate the achievements of women across the globe. Germia will team up with Sofilein, krokodilmitbutterbrot, SwedishLadyC, and MissJ4cky to play their favorite vehicles, have fun, and answer any questions. There will be guaranteed Twitch Drops including female crew skins and the Sakura Storm 2D style, so be sure to tune in!
Don't forget, there are rewarding International Women's Day missions ongoing with emblems, Personal Reserves, equipment, and cool female commander skins available! Get a helping hand with great offers on the versatile hybrid

VIII
E 75 TS and the Battle of Kursk hero, the

V
T-34 shielded .
---
Twitch Drops
Available from March 8 at 06:00 CET through March 9 at 06:00 CET (UTC+1) on select channels.
Tune in to the official World of Tanks EN channel and join Germia as she teams up with Sofilein, krokodilmitbutterbrot, SwedishLadyC, and MissJ4cky. Twitch Drops will be enabled throughout the stream. Just make sure your Wargaming and Twitch accounts are linked to earn more guaranteed rewards the longer you watch.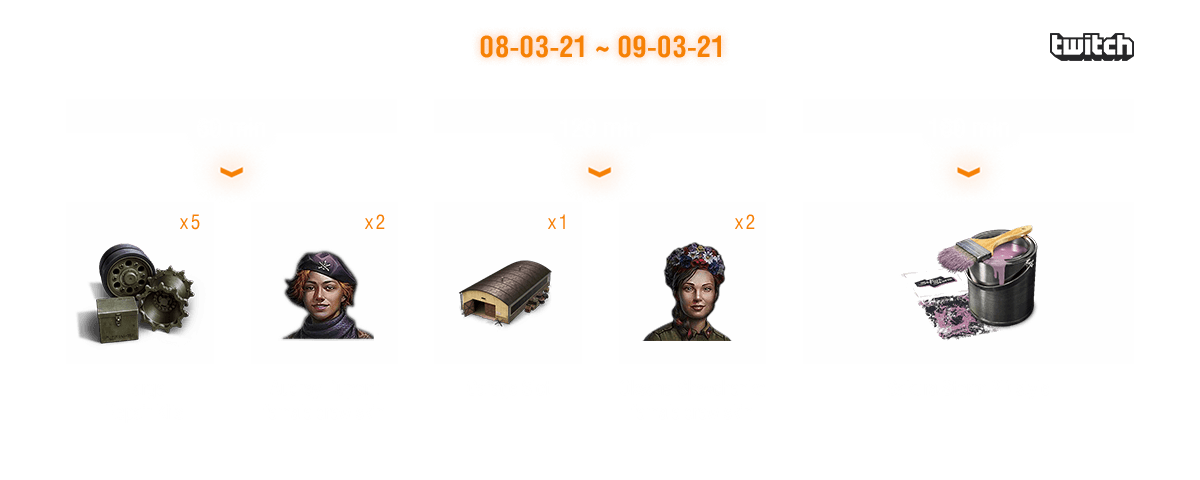 Guaranteed Drops:
After 60 minutes: 5 Large Repair Kits and

2 Audrey Dupont female crew skins

After 120 minutes: 1 Garage slot and 2 Oksana Shevchenko female crew skins
After 180 minutes:

Sakura Storm 2D style
Several great content creators will also have Drops enabled throughout the day. If you prefer to hear the stream in your native language or support your favorite streamer, you can sit back and earn Twitch Drops on their accounts too!
Changes to Twitch Drops: You can now see a progress bar that lets you know how long you need to watch for a Drop. All Drops are guaranteed and are no longer down to chance!
To receive Twitch Drops, you need to:
Link your World of Tanks and Twitch accounts.
Track your progress toward a Twitch Drop through the progress bar. The progress bar must reach 100% before you can claim the Drop (detailed in Step 3).
Claim the Drop either by clicking the button on the pop-up notification in the stream interface, or in your personal Twitch inventory. If you do not take action, the reward will disappear 24 hours after the end of the event.
For more information on how to link your accounts, click the button below to take a look at our full guide.