Hello, Pumpkin Bashers!
As you worked your way through each of the Stages of Pumpkin Bash, many of you discovered the story of the four witches and their talking cat. Would you like to know how it all ended? Here you go!
---
Cordelia Astra was sitting, enjoying some long-awaited peace and quiet. Finally, her entire team was back together. Even the tank couldn't be considered a loss; the cat was lying on the shell crate, basking in the warmth, with only the meager movement of his ears rotating towards different sounds giving away that he was paying attention.
It seemed the story had come to its end. There was just one more step, but Cordelia couldn't take it—she wanted to prolong this fortuitous feeling of serenity a little bit longer.
The witch put her hand behind her back, reaching for the canvas bag attached to her belt. Was it time?
The fire crackled merrily. Sybill blew a flame off of her marshmallow and took a crunchy bite.
Aurelia sat back and looked up at the stars. A blue light appeared in the glass flask gripped in her left hand. She raised her hand pensively and saw tiny, prickly lightning bolts crackling around her fingers. The witch put her fingers together and a long, winding bolt of lightning flashed somewhere above the trees. The glow in the condenser flask faded away.
"This is the only way now?" asked Dei.
"Yes, now only the things I can do myself," Aurelia said with a shrug. "Basic things. I can't open a portal."
"You will eventually. You're getting better at controlling your magic. The Grimoire was only a tool. My father said it's like a crutch. Sooner or later, you'll have to throw it away and walk on your own," Deirdre said, smiling.
"There's a lot for me to learn," Aurelia replied, smiling back. "We're going to be stuck here for quite some time."
"Maybe it's for the best? I wouldn't risk returning home. What if I become a tank… again?" Caudamius smoothed his fur. The thought made his hair stand on end.
"I'm in no rush myself," Sybill noted, chewing on her marshmallow. "Cauda is right—it's all for the best. The book perished in the bog along with the tank, so that's where it belongs. You are better off without it, sister. That thing was dangerous."
"I controlled it. They wouldn't have let me keep such a powerful artifact if I couldn't handle it."
"They gave you the Grimoire so that you could keep it away from the wrong people," said Cordelia. "Those hunters…"
"Yeah," giggled Sybill. "What's-his-name… Wet Jack? Sticky Jack?"
"Cunning Jack," mumbled Aurelia. "I thought he was a bookworm too…"
"Ah, those deep brown eyes," sighed Sybill, staring dreamily somewhere above the fire. "Those poems in the moonlight…"
In the dim light of the fire, nobody noticed Aurelia's blushing cheeks.
"Alright, sisters, that's enough," said Cordelia, standing up. "The past is in the past. That little rascal got what he deserved, and we'll probably never see him again. We need to focus on our future."
"Dei, maybe you could..." Aurelia started.
"I can't," asserted Deirdre, cutting her off. "I'm not my father—not even close. I won't fool around with those things. And I don't think he would recreate such a book himself."
Cordelia stretched her shoulders.
"It's for the best," she said. "This world's not so bad, and our talents might be of use here. We'll make it. Aurelia's Grimoire had to be kept far away from O'Tool, and we did just that. There's no place farther from Jack than this."
As the witches continued their conversation, nobody noticed Cordelia turn and walk off. She wandered through the forest for a few minutes until she found what she was looking for: a small round lake that looked pretty deep.
Cordelia Astra pulled a raggedy bundle from her canvas bag and unwrapped it. In the moonlight, the massive book with its thick leather binding glistened dimly and menacingly. It was old magic, terribly grim and very powerful, but it was the key to opening a path home.
Cordelia paused to think again. Everything had spiraled out of control. Their plan had gone up in smoke. But they had managed, even by themselves. Each of the sisters had discovered their strength. And in the face of a critical situation, each had become stronger. Braver. More responsible… Suddenly, the idea of staying here didn't seem so bad.
"You stay right here," ordered the witch, sending the Grimoire flying into the center of the lake.
And she smiled—as cunning as Jack O'Tool might be, he would never get the book. Which meant they had accomplished their mission.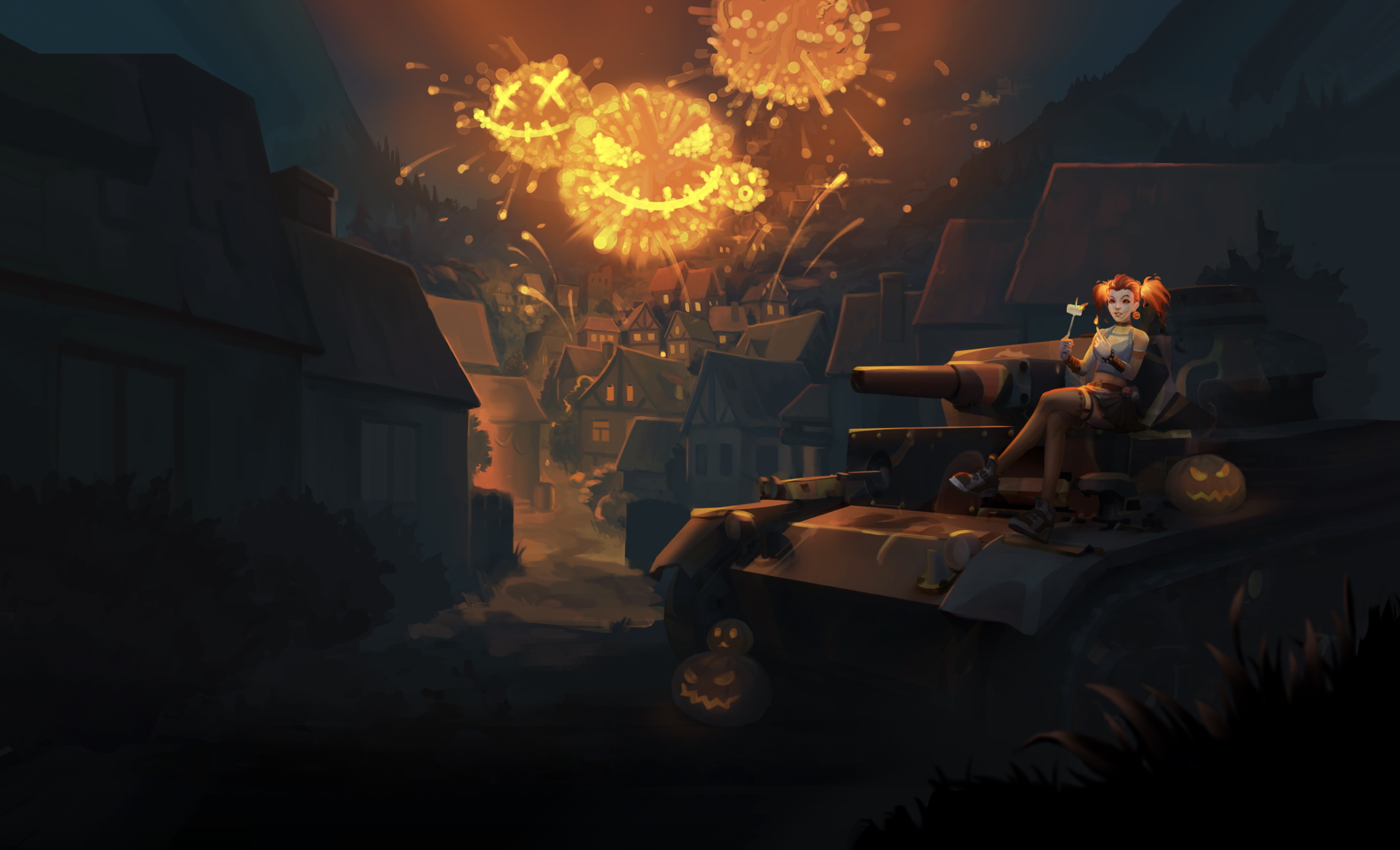 Halloween Coven
This bundle contains five 2D styles, five sets of decals, and a unique crew of four witches and a talking cat.
Each crew member comes with the Coven perk (similar to Brothers in Arms) and enough experience to train one more perk or skill to 100%.
To activate the special group voiceover, featuring character lines and comments, select a vehicle and place the event characters according to the available major qualifications.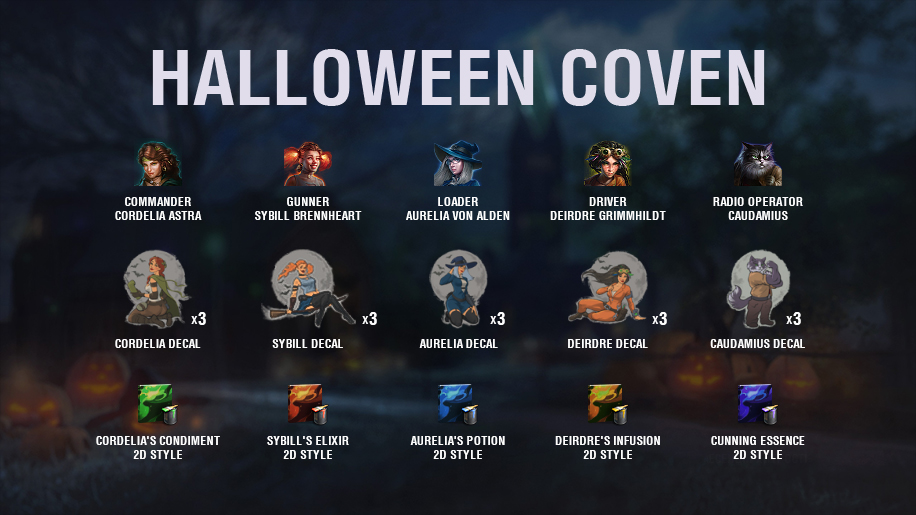 Terrible Terror
Get into the spooky Halloween spirit with this bundle, which contains a themed 2D style, event decals, gold, and all Combat Abilities as a bonus. Become a nightmare and strike fear into the hearts of your opponents!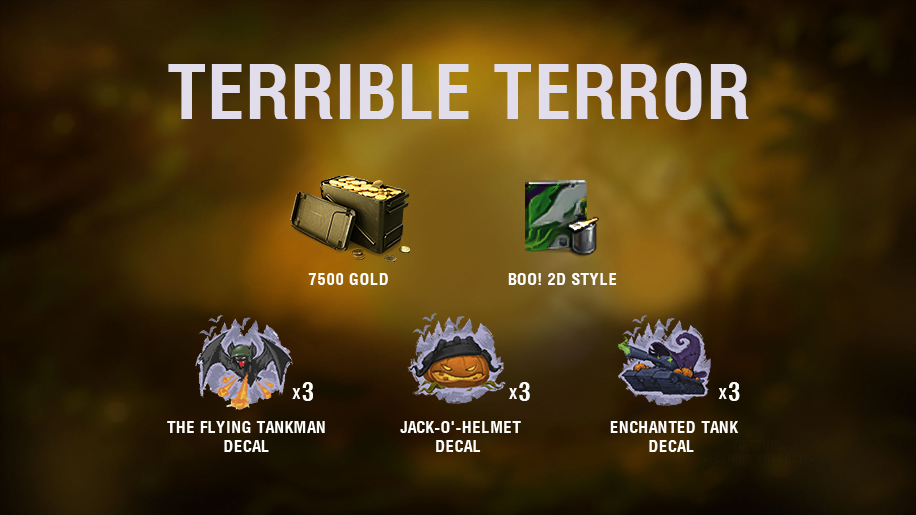 Use the discount code WOT32 at checkout in the Displate store to get 32% off 1 or 2 Displate Metal Posters, or 38% off 3 or more Metal Posters. Act quick—this code is only valid until November 15!

Displate offers a wide range of exquisite metal posters that come in various sizes. Thanks to their magnetic mounting system, these metal prints don't need an AP shell or drill to stick to your walls. Better yet, one tree will be planted for every Displate product you buy. So, dress up your walls, add more tanks to your favorite room, and save the planet at the same time!