7/10 Update: the results of the Great Race are now available!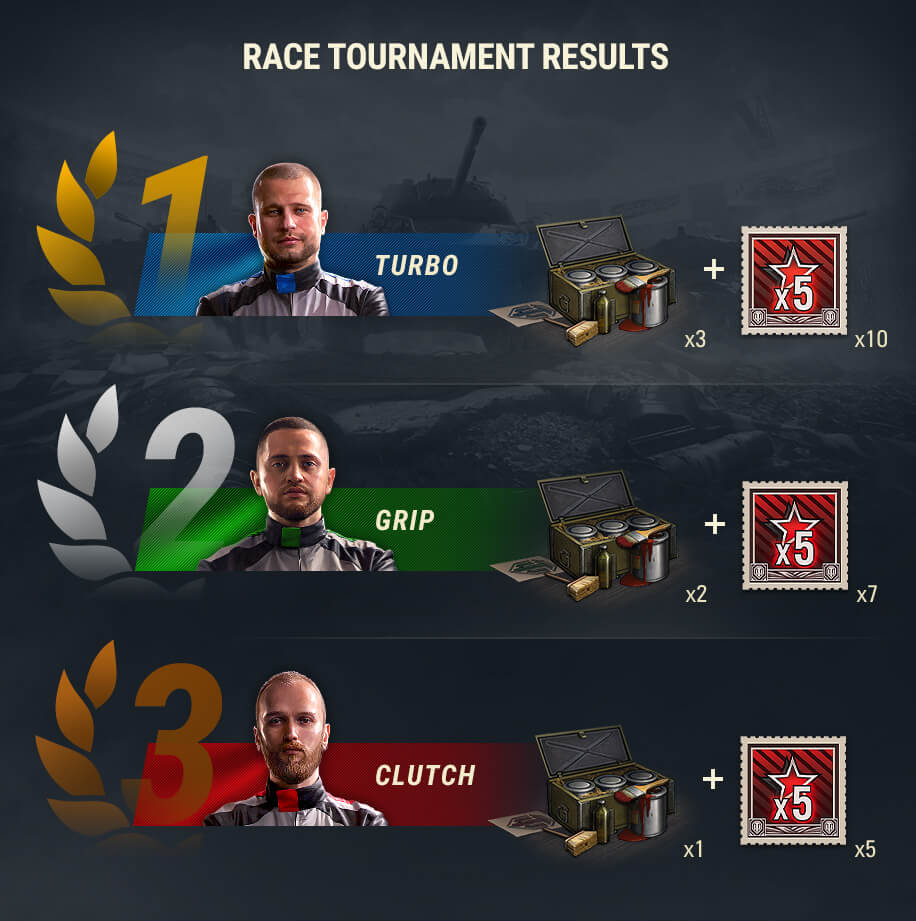 Due to a technical error, the game freezes whenever you're destroyed in a race. An update will be implemented on 23/09 at 18:00 CEST (UTC+2), please restart the game for the update to take effect.
The Great Race is coming back, kicking off on September 23. You'll now be able to take control of one of three special tanks and engage in some fast-paced racing action on the coastal industrial map, Newport.
The Great Race
23 September 2019, 06:00 CEST (UTC+2) through 7 October 2019, 06:00 CEST (UTC+2)
We warm up the engines, clean the guns, and forget about the brakes. Another run is about to begin in the Great Race. Ready! Steady! Go!
Spectacular drift, and you hit a straight road. A good time to activate the boost and leave your rivals far behind. If you want to shoot, the ramps will help!
It's time to remember that tanks have guns, and this part of the track will allow you to take full advantage of it!
This is a tricky part of the track, where the leaders can easily change. No time to relax!
Starting from this point, you can jump to the opponent's lane. Put your foot down, it's the final straight!
It's too early to name the winner, but those who made it first to the finish should be rewarded! 25%, 15%, and 10% of the restored durability will come in handy during the final encounter.
The Great Race is not limited to driving on the track. After the finish, you find yourself in the Arena. Can you emerge victorious?
Here's a handy summary of the rules of the game mode.
The battle format is 3 vs 3.
Players can form platoons or join random teams. Solo players will play only against other solo players, and platoons will only play against platoon players.
The two racing tracks on which your tanks will race are parallel to each other and separated by an impenetrable fence, which in some sections provides areas for shooting at enemies. These sections are highlighted in red.
To win, you can either beat the opposing team in rushing to the base and capturing it, or destroy all enemy vehicles during the race.
Tanks of both teams can attempt to capture the base at the same time. The more allied tanks at the base, the faster its capture. The base capture can be reset by damaging enemies.
After the start of the event, five races will be available. After the fifth race a 40-minute cooldown occurs, so you can catch your breath and re-fuel your vehicles. After the cooldown ends, five new races will be added. This cycle may be repeated indefinitely—there are no restrictions on the number of races per day.
Special combat missions (daily and weekly) will be available. Complete them to get Festival Tickets and earn unique components for your Dog Tag.
Racing Vehicles
When the event begins, you will find three racing tanks in your Garage:
Leopard Sport

Fast

Т-50 Sport

Maneuverable

Chaffee Sport

Versatile
Just for this mode, we've redesigned the auto-aim capabilities of all racing vehicles. Each vehicle will now be more accurate when shooting on the move—be sure to take advantage of this to deal maximum damage to enemies.
All three tanks have virtually no armor, with the exception of the reinforced rear, which is the strongest part. It's impossible to knock the tracks off these tanks, and there are no ricochets in this mode.
All racing vehicles also have Overdrive as their default active ability, which gives a speed boost. After its activation, a cooldown occurs, after which Overdrive becomes available again.
The Pit Stop
On the racetrack, right in front of the base, there will be a pit stop, where the first three tanks crossing its border will be able to restore their vehicle's HP. The number of recoverable points depends on your position in the race:
1st position

: + 250 HP

2nd position

: + 150 HP

3rd position

: + 100 HP
Racing Collections
During the event you will have the opportunity to collect three racing collections. Each collection is a puzzle consisting of 20 Fragments. Once you have completed each collection, you will receive a reward —a unique commander with the Brothers in Arms perk, and enough experience to learn two more skills or perks.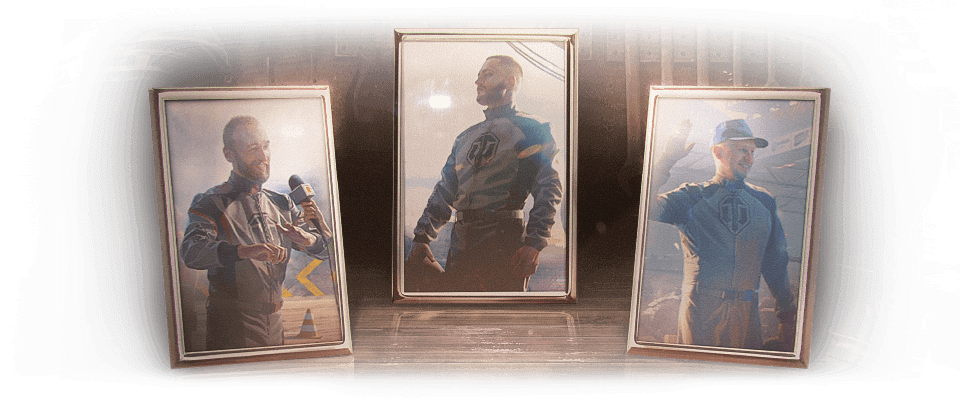 The reward for each collection may be purchased for gold, and each received Fragment provides you a 5% discount on the purchase of a reward for the collection.
Progression Systems
There will be several types of progression during the event, depending on whether or not you joined a team. The teams are led by three racing captains and you can join any of them to get your hands on additional rewards for the same achievements. After joining a team, you cannot change it.
There are five stages of Personal and Team progression.
Personal stages

are available by default.

Team stages

are available if a player has joined one of the three teams.
During the race, and depending on how efficient you are on the track, you earn Racing Trophies. A player can receive only one Racing Trophy of a specific type per race. Getting any seven Racing Trophies will earn you one Fragment.
Each Racing Trophy you earn brings you a certain number of Racing Points, which are taken into account in your personal racing achievements. Your Racing Points are accumulated in a piggy bank and boost your progress through the mode.
Having reached a certain stage, you will receive rewards. Players who have joined one of the three teams will receive additional rewards in their personal progression system.
Once you get enough Racing Points, you will have access to the daily mission to complete the personal stages. The condition of the daily mission is to score 100 Racing Points, which rewards you with 50 gold. It can be obtained only once a day. With the start of the next gaming day, a new daily mission with the same reward (50 gold) becomes available.
Interactive image.
Hover over an icon with the number of points to see the corresponding stage reward.
PROGRESSION IN THE GREAT RACE
PROGRESSION IN THE GREAT RACE
PROGRESSION IN THE GREAT RACE
Personal rewards
0
200
Personal rewards
100,000 credits
King of the Road medal
400
Personal rewards
Personal Reserve +200% to Crew Experience for 2 h ×10
700
Personal rewards
Personal Reserve +300% to Free Experience for 2 h ×10
Training Booklet U.S.S.R. ×1
Training Booklet Germany ×1
Training Booklet U.S.A. ×1
1000
Personal rewards
Personal Reserve +50% to Combat Experience for 2 h ×10
Training Booklet U.S.S.R. ×2
Training Booklet Germany ×2
Training Booklet U.S.A. ×2
1400
Personal rewards
American Fireball Style ×1
Training Booklet U.S.S.R. ×3
Training Booklet Germany ×3
Training Booklet U.S.A. ×3
Racing inscription ×2
Racing decal ×2
150
Team rewards
Unique racing crew skin ×1
300
Team rewards
Unique racing crew skin ×1
500
Team rewards
Unique racing crew skin ×1
Team emblem ×6
800
Team rewards
Unique racing crew skin ×1
Team inscription ×2
1200
Team rewards
Unique racing crew skin ×1
Team decal ×2
Team rewards
Personal Progression Rewards
Players can receive the following rewards for their effectiveness in the personal progression of the Great Race:
A unique racing medal
Special projection decals, emblems, and inscriptions
An exclusive 2D style called "American Fireball", inspired by the legendary 2014 Chaffee style
Crew Books and Crew Skins
Credits and gold
Join the Tournament!
A racing tournament consisting of five stages will be held from September 23 through October 6. Registration for the tournament opens September 18 and runs until September 23.
Tournament Rewards
First place

3x unique 2D team styles
10x missions: x5 XP for a victory

Second place

2x unique 2D team styles
7x missions: x5 XP for a victory

Third place

1x unique 2D team style
5x missions: x5 XP for a victory
How Do the x5 XP Missions Work?
Conditions
Win a battle
Place in the top ten of your team by base XP earned
Restrictions
Random Battles only
This mission is active after achieving the first victory of the day in the vehicle in which you want to complete this mission.
Referral Program
If you invite another player to the Referral Program during the Great Race, a standard referral connection will be established between you based on the existing rules of Referral Program 2.0. After that, a special mission will be available to Recruits. Upon completion, the Recruit and the Commander will earn the following rewards:
Mission condition for recruit
Recruit reward
Recruiter reward
Complete any 30 Racing Missions during The Great Race event.
7 days of WoT Premium Account
100,000 credits
200 Racing Points to recruiter Personal Progression
Completing this mission won't speed up your overall progress in the Referral Program.
Soundtrack
In the Great Race, you will be accompanied by an incredible soundtrack, furious and dynamic, like the mode itself. It energizes and pushes you forward, forcing you to overtake enemies on the way to the finish line. Check it out!
Our Partners
We would like to express our gratitude to the official partners of the Great Race, who supported us and are an inalienable part of this event:
You may know them for their processors, but they do so much more. Intel invents at the boundaries of technology to make amazing experiences possible.

Together with World of Tanks, Intel strives to enhance the gaming experience for each of the 160 million tankers worldwide.

Razer is the world's leading lifestyle brand for gamers.

From powerful gaming laptops to high performance peripherals, every Razer device is designed with the speed, control, and ergonomics to help you compete at your very best. When you game with Razer gear, you're equipped with some of the world's most advanced gaming technology built to give you a winning edge on the battlefield.
Ladies and gentlemen, start your engines! The Great Race is about to begin!