A very special treat awaits you during the Tank Festival—the Great Race! The legendary mode is making a comeback, so get ready to tear up the asphalt as you speed toward the finish.
This time, the Great Race has received a considerable revamp, making it even more enjoyable than the last time it appeared in 2014. Get ready to tame one of three unique racing tanks and push yourself to the limit to prove you're the real king of the racetrack!
The Great Race
23 September 2019, 04:00 UTC through 7 October 2019, 04:00 UTC
General Overview
As before, the rally takes place in a 3v3 team mode. Choose to play solo as part of a team of three random players, or gather your friends in a winning Platoon of three. Pay attention: solo players will play only against other solo players, and platoons will only play against platoon players.
When the event begins, you will find three racing tanks in your Garage:
Leopard Sport

Fast

Т-50 Sport

Maneuverable

Chaffee Sport

Versatile
Each racing tank boasts unique characteristics and gameplay, as well as special mounted "racing" equipment which cannot be removed or replaced. All three tanks also have "Overdrive" as their default active ability, which gives a speed boost.
There are two ways to win the Great Race:
Reach and capture the base at the end of the racetrack before the enemy team.

Destroy all enemy vehicles on the opposing team during the race or at the base.
The Great Race will unfold in the coastal industrial zone, which should be familiar to racers who participated in the event back in 2014.
Progression System
There will be several types of progression during the event, depending on whether or not you joined a team. The teams are led by three racing captains and you can join any of them to get your hands on additional rewards!
During the race, and depending on how efficient you are on the track, you earn Racing Trophies. A player can receive only one racing trophy of a specific type per race. Each trophy you earn brings you a certain number of racing points, which are taken into account in your personal racing achievements.

In racing mode, special combat missions (daily and weekly) will also be available. Complete them to get Festival Tickets and earn unique components for your Dog Tag.
Join the Tournament!
We're pleased to announce the launch of a racing tournament consisting of five stages, which will be held from September 23 through October 6. Registration for the tournament opens September 18 and runs until September 23.
Registration: September 18–23
Stage 1: September 23–25
Stage 2: September 26–28
Stage 3: September 29–October 1
Stage 4: October 2–4
Stage 5: October 5–6
Don't miss your chance to take part in the furious hunt for a unique racing style, as well as many other rewards!
To take part in the tournament, join one of the three teams from September 18 through September 23.
If you don't have time to register within the specified time, you can join a team using the referral program (if you meet its conditions).
All racing points that you earn will go into the team's piggy bank. Teams will receive tournament points depending on their position in the final standings of each stage.
At the end of Stage 5, we'll calculate the total number of tournament points and distribute the prize places between the teams. Tournament teams receive the following rewards: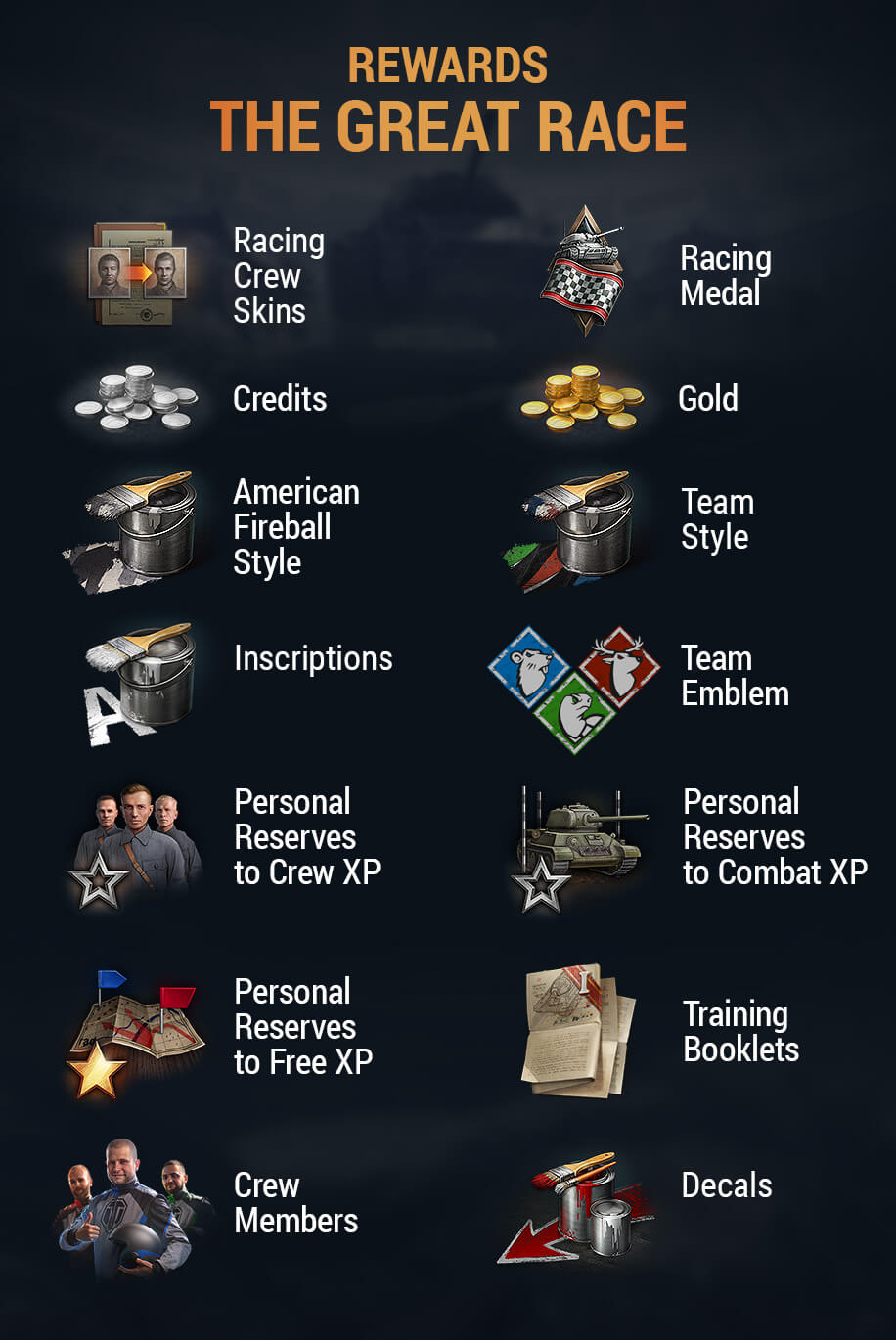 To receive your rewards, you must take part in at least 20 races.
Each player who receives Racing Trophies earns personal progress points. Based on the number of racing points scored for a certain period of the tournament stage, a list of the top 100 players in each team is compiled. If a player, as part of the stages of the tournament, falls into the top 100 racers of his team, he will be rewarded with a special "racing badge" with a unique title.
The team, top 100 players of which earned more Racing Points than top 100 players of any other team in a stage, gets extra tournament points in this stage.
We would like to express our gratitude to the official partners of the Great Race, who supported us and are an inalienable part of this event:
You may know them for their processors, but they do so much more. Intel invents at the boundaries of technology to make amazing experiences possible.

Together with World of Tanks, Intel strives to enhance the gaming experience for each of the 160 million tankers worldwide.

Razer is the world's leading lifestyle brand for gamers.

From powerful gaming laptops to high performance peripherals, every Razer device is designed with the speed, control, and ergonomics to help you compete at your very best. When you game with Razer gear, you're equipped with some of the world's most advanced gaming technology built to give you a winning edge on the battlefield.
Great Race, Great Offers
Any good driver wears the colours of their team proudly! From 15 September to 10 October (or until our stocks run as dry as your fuel tank) buy any World of Tanks T-Shirt, and you will receive a "Don't Tread" World of Tanks T-Shirt for free!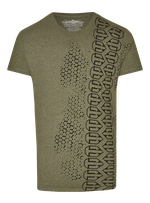 Not to worry, if the "Don't Tread" shirt is not available in your size anymore, we'll give you a different T-Shirt. So no warm-up lap, go shopping right now!
Keep an eye out for all the details regarding the Great Race in a dedicated article to be published later!