Brace yourselves for the ultimate showdown in Frontline, Commanders!
Stage 4 of Frontline 2020 is about to begin. We hope you've enjoyed your time playing in the most epic mode in World of Tanks while winning many glorious battles. Don't miss out on this last opportunity to jump back in and earn tons of sweet prizes!
Frontline 2020: Stage 4
May 25, 03:00 UTC through June 1, 00:00 UTC
Add Unique Predators to Your Arsenal!
By the end of this Stage, the most engaged and skilled Frontline players will probably have enough tokens for their first exclusive Tier IX vehicle. Take this chance and push yourself to the limit to earn the missing tokens if you don't have enough!
The reward tanks of Expedition, a shared progression system featuring Frontline and Steel Hunter, are worth the effort and can easily become game changers if you play them right. Here's a recap of these high-performance vehicles:
The Object 777 Variant II: A brand-new Soviet heavy tank with high damage per shot, a tough turret, and decent frontal armor. Designed to support the team from the first or second line of fire, it boasts great mobility for a brawler. This tank includes a built-in Large Repair Kit as a handy bonus.
The Char Futur 4: Another brand-new vehicle, this French medium tank has a four-round autoloader and excellent maneuverability. Mobile and speedy, it's best played from some distance so it can use its high camo values and accurate gun to sting the enemy repeatedly. The small hull and turret make it hard for adversaries to hit your weak spots. Like the previous tank, the Char Futur 4 also includes a built-in Large Repair Kit.
The

IX

AE Phase I

: A versatile American heavy tank with a solid turret, good vertical gun angles, and penetration values. The AE Phase I can easily operate as a front-line brawler or in support of allies from the flanks. It can easily withstand some direct fire and carry a team through the most seemingly hopeless of battles.
Frontline Ends, Expedition Continues!
Although Frontline is coming to an end, your Expedition for exclusive vehicles continues. The revamped Steel Hunter mode will be waiting for you in August this year, and it also consists of four Stages. During each Stage, you'll be able to earn up to 3 tokens and grab the reward vehicles you like.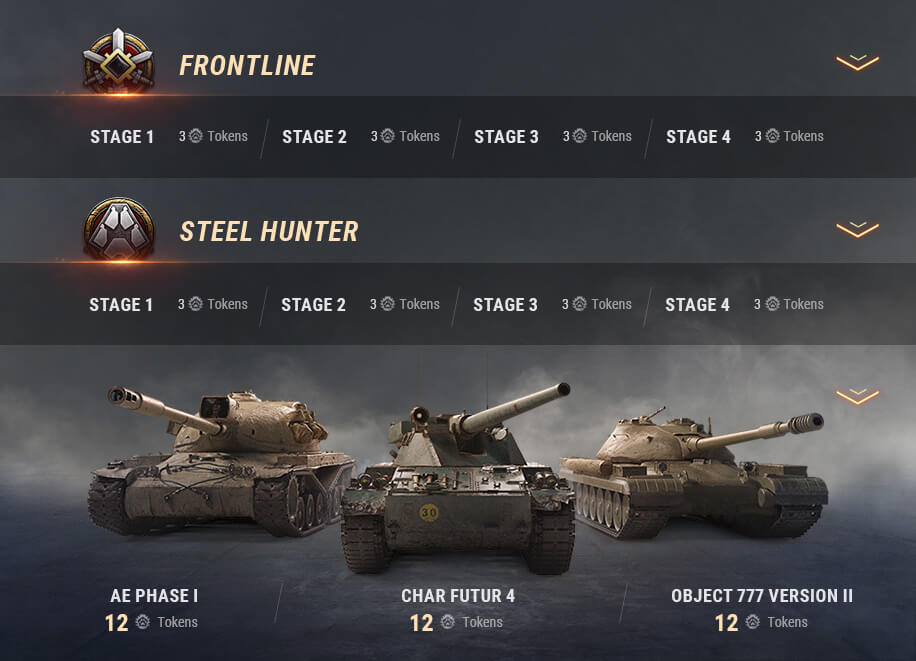 Don't forget that after Expedition 2020 is complete, you will still have time to exchange tokens for reward tanks if you haven't grabbed them yet. Once this period is over, all your remaining tokens will be automatically compensated at the rate of 1 token: 250 bonds. You can get compensation for all your remaining tokens, regardless of whether or not you have enough to purchase a reward tank.
If you spent gold on rental vehicles, it was accumulated in a special fund. You can use it as a discount when purchasing Premium vehicles in the in-game shop. If you haven't done that yet, now is the best time to expand your collection at a discounted rate! If you don't use your fund before June 8 (01:00 UTC), it will disappear.
Take the Frontline Everywhere You Go!
The sheer scale of Frontline battles is a sight to behold. With our new T-shirt, everyone can admire the number of tanks involved in this epic game mode. Get it with a 50% discount from May 21 through June 1, just in time for the final stage of Frontline!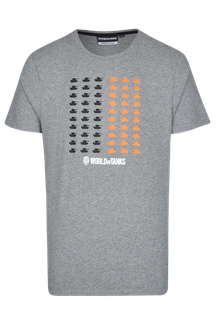 See you all next Frontline Season, Commanders! Enjoy this final Stage and continue your Expedition for incredible vehicles!