Commanders!
The seventh episode of Frontline 2019 will start on 19 August at 05:00 UTC and will be available until 26 August at 02:00 UTC. This is your next chance to experience epic 30v30 battles, win heaps of rewards, and join the race for formidable reward tanks!
We also have news concerning the next Frontline episode. The eighth episode will take place between 16 September at 05:00 UTC and 23 September at 02:00 UTC.
In the seventh Episode, the technical cooldown on respawn will be reduced to 10 seconds, instead of 30. Technical issues have been fixed, and we appreciate your patience and understanding.
New Personal Reserves for Frontline
In July we added new Personal Reserves for Frontline to the Common Test. These boosters increase the amount of Frontline Experience that you earn in a battle. Now we're ready to offer Personal Reserves to all players who will hit the battlefield in the upcoming Frontline Episode 7.
How They Work
The mechanics of Personal Reserves haven't changed since the latest Common Test. They will boost +100% Frontline XP for 1 hour since the "Activate" button is clicked. For example, having earned the "General" rank in a Frontline battle, you will receive 2,400 Frontline Experience, instead of the previous 1,200. Boosters are activated in standard slots for Personal Reserves in your game client.
How Can I Get Boosters?
You can get boosters for free and with little effort, a week before the start of the next Episode. All you need is to complete special missions when playing in Random Battles from August 12th to 19th. Only 10 boosters will be available during this period, so don't miss your chance to get your hands on them and speed up your progress in the mode!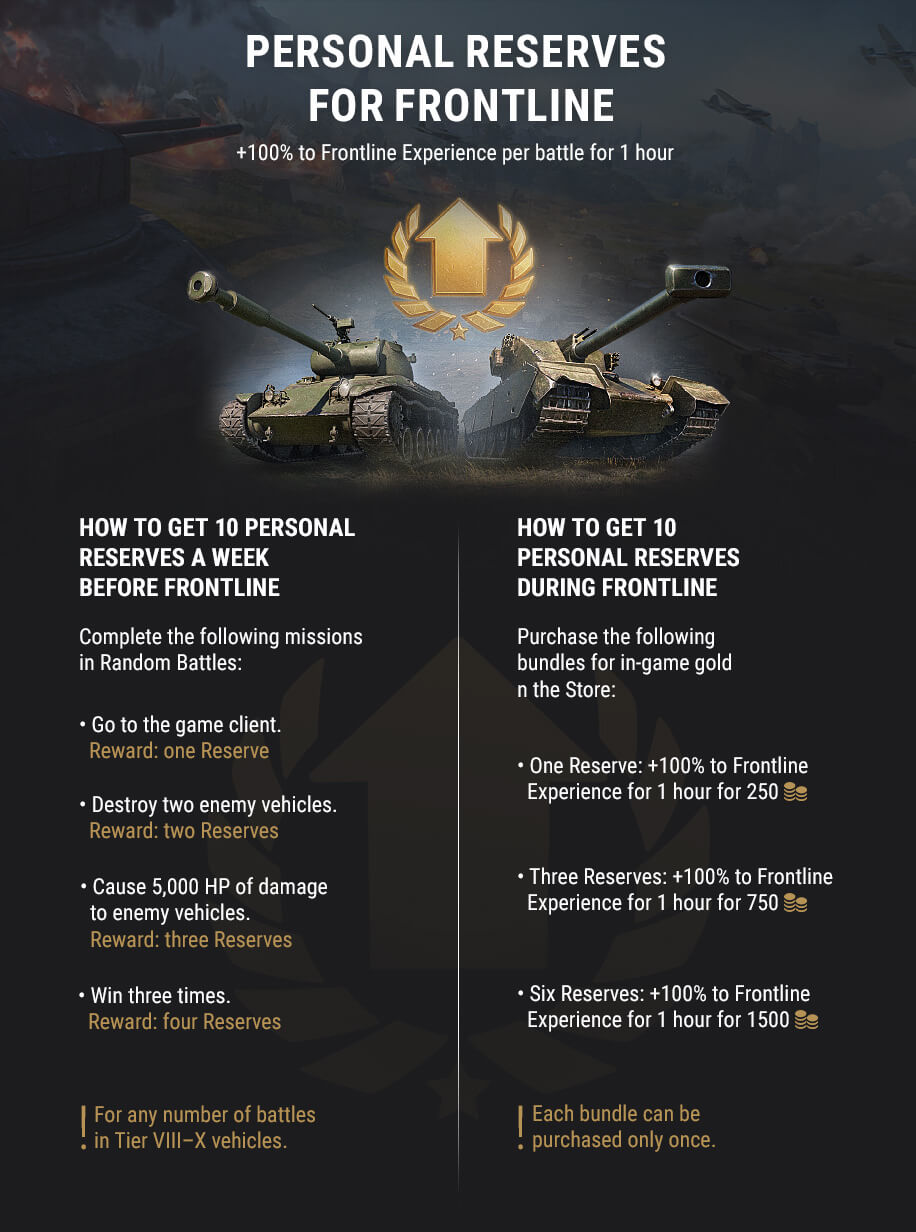 All missions will be very simple and achievable, so don't have to push yourself to the limits to complete them. They will be an easy warm-up before the tough battles that will unfold in Frontline starting from August 19.
Need even more Personal Reserves? No problem! Starting from August 19, ten identical Reserves (+100% Frontline XP for 1 hour) will be available in the In-Game Shop for Gold.
The cost of one Reserve in In-Game Shop is 250 gold. Personal Reserves will be available in bundles of 1, 3 and 6 items. The cost of the bundles will be 250, 750 and 1500 gold, respectively. You won't be able to purchase additional Reserves—only 10 Personal Reserves will be available!
Put simply, you have the opportunity to get a maximum of 20 Reserves—ten for completing special missions, and ten available for Gold. They will help you get the most out of the new Episode and pave your way to the main rewards of the Season – Frontline-exclusive heavy tanks, Emil 1951 and AE Phase I.
All unused Reserves will be saved for the following Episodes.
Exchange Prestige Points for Gold and Bonds
By the way, about Gold and rewards! We've revised the mechanics of exchanging Prestige Points for Gold and Bonds you'll still have after the end of the Season. We previously announced that the exchange will only be available if it's impossible to get any of the reward tanks.
However, during the Season, we rethought our vision and decided to give you even more bonuses. Now, after completing the Season, you will be able to exchange your Prestige Points, regardless of whether you have enough to purchase a reward tank or not. The exchange rate will be as follows:
1 Prestige Point =

300

Gold

1 Prestige Point =

100

Bonds
As always, feel free to share your thoughts on the upcoming Episode. Good luck on the battlefield!