Commanders!
World War 2 history is a passion we all share. We have been working on something exciting that will satisfy your inner history buff–the perfect companion to your commute, your gym session, or even your wind down after a hard day at work. Wherever you are, prepare to be immersed in a world of captivating real-life history.
"The Finest Half Hour" is a brand-new podcast series that dives into the history and stories of World War II. It is brought to you by Wargaming and narrated by British Army veteran and armored warfare instructor Richard Cutland.

New Episodes available every Tuesday via:








With a rich soundscape including period recordings, the series explores all facets of the Second World War. Follow "The Challenger" around the world, from the skies above London during the Battle of Britain, to the war in the desert at El Alamein, as well as massive tank battles on the Eastern front, and hard-fought naval battles at Midway and Guadalcanal in the Pacific.
The first episode is available right now and takes us back to one of the darkest hours in history. The democracies of Europe have fallen, but one last light of liberty flickers dimly off the French coast.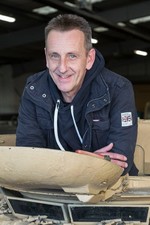 Richard "The Challenger" Cutland
Subscribe to "The Finest Half Hour" on your favorite podcast platform and don't miss any of the upcoming episodes released every Tuesday! You can also follow the show for updates and historical insights on Facebook, Twitter, and Instagram!
Close the hatch, brace yourself and prepare for the Finest Half Hour!