Commanders!
We're pleased to announce that from September 18 through October 7, two amusing mini-games with instantly recognizable mechanics will be available in World of Tanks. These legendary arcade games are probably familiar to you from your childhood under different names, and don't need too much of an introduction. Launch your game client to enjoy:
The Catcher. You need to catch items falling on you from four inclined surfaces. Collecting these items brings you a certain amount of points necessary for obtaining achievements and passing stages.
Tank Shooting Gallery. You control a formidable tank destroyer and fire at numerous vehicles of an advancing enemy. The number of shells is limited, and you must destroy a certain number of adversaries. For each destroyed vehicle you get points necessary for further progress.
Wanna take a break from Random Battles? Have a go at these nostalgic mini-games and farm Tickets for your Festival Collections along the way! From Monday to Friday you can win up to 12 tickets every day, and up to 22 tickets on Saturday and Sunday. Earn them all to complete your Collections and pave your way to the sweetest offers in the Festival Store!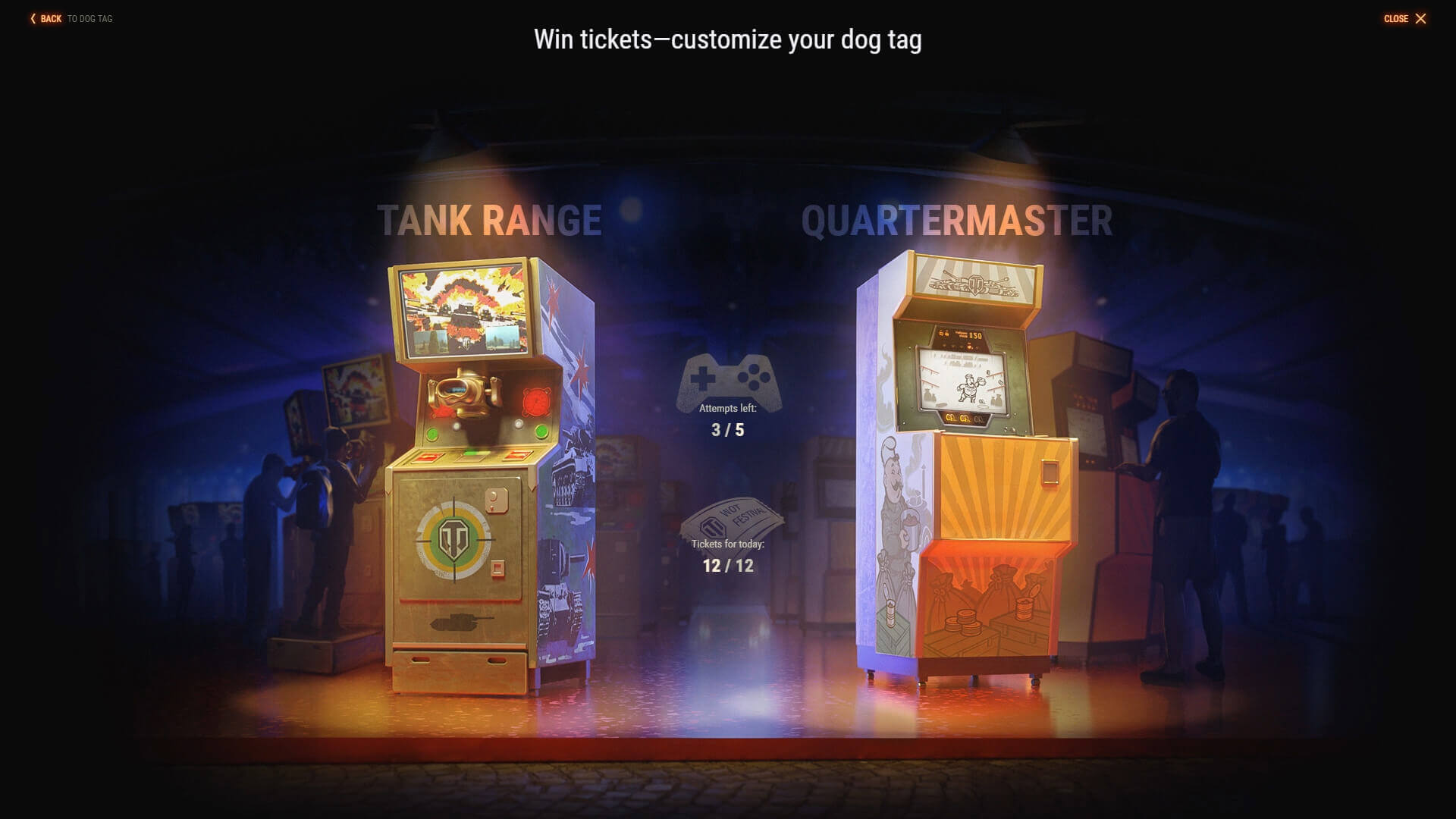 How to Access Mini-Games
Click on the colorful and interactive 3D marquee in your game client.

Click on your Dog Tag and enter the mini-games menu via the Collection interface.
Every day of this event you will have five attempts in total to play both mini-games. When you have used them all up, a 25-minute cooldown occurs, so you can catch your breath and get ready for the next round of games. After the cooldown ends, you will have five new attempts. This may be repeated infinitely until you have won the maximum number of Tickets available.
Once you have won the maximum number of Tickets available per day, both mini-games go to a permanent cooldown. They will be unlocked on the next gaming day after the next server restart (05:00 UTC).
Jump back in time, play good old mini-games at your leisure, and farm Tickets!