Commanders!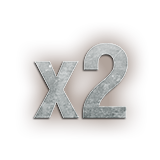 Are you looking forward to a relaxed weekend with an easy mission? Then we've got good news! There are no complicated challenges to complete, or large amounts of damage to accumulate. Sit back and get twice as much XP for every battle when you meet the mission objectives.
Available from March 13 at 06:00 CET through March 16 at 06:00 CET (UTC+1)
Rewards

Objectives

Win a battle
Place among the top 10 on your team by base XP earned

Restrictions

Only in Random and Stronghold Battles
Repeatable
Starts after the first victory of the day bonus has been used up
But wait! What's this?
Commanders, we have received news that a global criminal network is about to infiltrate World of Tanks. Help is on the way, but they need your assistance! Hit the button below and head over to the mission briefing to join the fight!
Each set of missions will net you 9 customization elements from one of the factions, plus Personal Reserves. Those who obtain a package will have to complete a single mission to claim each set of these rewards. There's much at stake, from the freedom of your favorite tank game to plenty of free rewards, including epic customizations.
Roll Out!
---
G.I. JOE and all related characters are trademarks of Hasbro and are used with permission. © 2021 Hasbro. All Rights Reserved. Licensed by Hasbro.