PARTICIPANTS | TWITCH DROPS | ŠKODA T 56 AND TECH TREE DISCOUNTS
Commanders!
Help us celebrate the launch of the new Czechoslovakian heavies, and join a festival of rewards with the Czech Out Challenge: Gold Fever. This is your chance to pick up heaps of gold and great Twitch Drop rewards, including the quickfire
VIII
Škoda T 27 as part of brand-new Mystery Drops!
Part 1 will see content creators battle it out in fierce challenges between August 13 and August 15. They'll be in the hot seats of the four new Czechoslovakian heavy tanks, as well as the new
VIII
Škoda T 56 . Twitch Drops will be enabled on all participants' channels as they compete for the chance to swim in a 500,000 reward pool! The following weekend, the winners will then create their own customized challenges in Part 2, where you can get a share of that golden prize pool. Keep an eye on the portal for further challenge details and scheduled times.
Watch along, learn how to command the new machines with tips from seasoned veterans, and get your hands on awesome Twitch Drops rewards and gold!
Czech Out Challenge: Gold Fever
Part 1: August 13 at 07:00 CEST (UTC+2) through August 15 at 07:00 CEST (UTC+2)
Part 2: August 20 at 07:00 CEST (UTC+2) through August 31 at 07:00 CEST (UTC+2)
Czech Out Challenge Participants
Hit the button below to follow content creators progress this weekend as they complete Czechoslovakian-themed challenges for a share of the 500,000 prize pool.
Part 1: Czech Out Challenge: Gold Rush
Twitch Drops
Available from August 13 at 16:00 CEST (UTC+2) through August 15 at 07:00 CEST (UTC+2).
Follow the battles on participating content creators' channels (listed above) or any of the official World of Tanks channels (English, German, or Polish) to earn guaranteed Twitch Drops, including completely new Mystery Drops. We reworked the Epic Drops based on your feedback, so now you'll randomly receive at least one of the listed Mystery Drop items! How's your luck, Commander?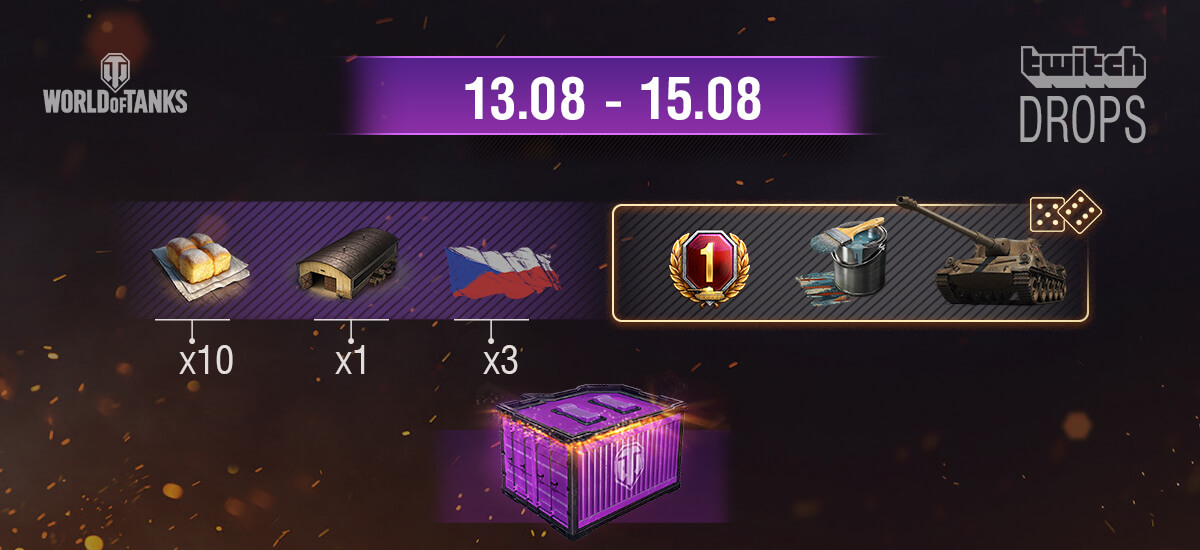 Regular Twitch Drops:
After 90 minutes:

x10 Buchty

After 150 minutes:


x1 Garage slot
x3 Czechoslovakian Flag Flying Decals
[BRAND NEW!] Mystery Drops:
After 240 minutes, one of the following:


x1 day of World of Tanks Premium Account

x1 General Frost 2D style
If you receive a tank that you already have, you will be compensated in credits.
To receive Twitch Drops, you must:
Track your progress towards a Twitch Drop through the progress bar. The progress bar must reach 100% before you can claim the Drop (detailed in the next step).

Access it by clicking your profile picture in the top-right corner of the Twitch page.

Claim the Drop within 24 hours of the end of the campaign

by clicking the button in the pop-up notification in the stream interface or in your personal

Twitch inventory. If you take no action, the Drop reward will disappear 24 hours after the campaign ends.
For more information on how to link your accounts, click the button below to take a look at our full Twitch Drops guide.
---
Brand-New Škoda T 56 and Tech Tree Discounts

In case you missed the news, there's a mighty Premium heavy on the loose! Check out exciting offers on the new
VIII
Škoda T 56 , a how-to-play guide, and incredible Tech Tree discounts on Tier I–V vehicles in the Czechoslovakian branch.
---
See you there, Commanders! Roll Out!