Great job, Commanders!
We raised an incredible £11,110 for War Child as a result of all your generous donations during our charity streams. We didn't quite reach our original target of £20,000, but this money will still prove invaluable for War Child.
Thank you.
STREAM SCHEDULE | MILESTONE GIVEAWAYS | 12 DAYS OF TANKMAS

Commanders!
December is not just a month for collecting awesome gifts, but also for giving a little back to those less fortunate around the world. This year, we've teamed up with War Child—a charity dedicated to helping children affected by war. It's a fantastic cause that deserves some time in the spotlight, so we're planning three separate charity streams as part of our 12 Days of Tankmas.
Dedicated Charity Streams
Monday, December 13 at 14:00 CET (UTC+1)
Saturday, December 18 at 12:00 CET (UTC+1)
Sunday, December 19 at 09:00 CET (UTC+1)


We aim to raise £20,000, but we're sure you can all help us surpass that target! Mark the dates in your calendar and tune in to receive random giveaways, including rare in-game vehicles and physical goodies, as we reach donation milestones. We'll also put eekeeboo through his paces, so make sure you get involved and see the carnage unfold!
You can donate directly to War Child via the dedicated Tiltify page linked below. You'll also be able to find more information, including milestones and the live amount donated.
All monetary contributions will go directly to War Child.
War Child
was founded in 1993 by filmmakers David Wilson and Bill Leeson. On assignment in the former Yugoslavia, they were horrified by the violence and ethnic cleansing they witnessed. And especially its impact on children.
Today,
War Child is the only specialist charity for children affected by conflict.
For more than two decades, they've been driven by a single goal—for no child's life to be torn apart by war. They
aim to reach children as early as possible when conflict breaks out and stay to support them through their recovery—keeping them safe, helping them learn and cope with their experiences, and equipping them with skills for the future.


Source: War Child UK
Stream Schedule
Join us on the official World of Tanks English and German channels to catch action-packed tank action and the chance to bag giveaways and Twitch Drops!
Participating Content Creators
Several content creators will also be streaming throughout the week. Take a look at the list below, sit back, and earn Twitch Drops on their accounts, too!
Milestone Giveaways: What You Can Get for Donating
Besides the satisfaction of contributing, you also have the chance to get fresh rewards—such as the rare

X
WZ-111 Qilin or

V
Pz.Kpfw. V/IV Alpha —from a pool of terrific in-game vehicles for each £1,000 milestone reached! There will be physical giveaways too, but we'll keep them a secret for a little while longer—just make sure to tune in to discover what they are and for a chance to pick them up!
In-Game Giveaways
---
12 Days of Tankmas: Drops, Specials, and Sneak Peeks
Available until December 19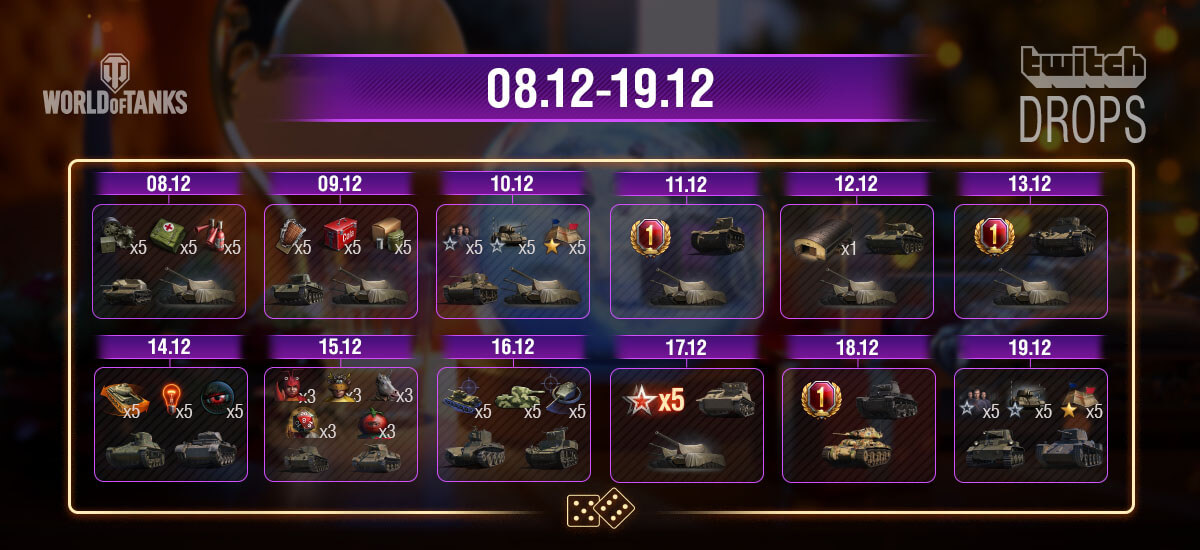 Join 12 days of festive streams, cool activities, random antics and surprises, and enticing Twitch Drops. There will be guaranteed Drops, plus Mystery Drops with high-value items, including tanks! Our Stream Team will share the Tankmas cheer, show off great tank action, tackle in-game specials, and provide exclusive sneak peeks into the festive activities.
FOUR COLLECTIONS BRIMMING WITH REWARDS
LARGE BOXES WITH HUGE VALUE
LARGE BOXES WITH HUGE VALUE
Treat yourself to Large Boxes until January 10, 2022, at 07:00 CET (UTC+1). As always, the value of all the items inside is greater than or equal to the price of the Large Box in gold, so you can't lose. Don't miss your chance to bag three new Tier VIII Premium tanks!
---
See you there, Commanders. Roll Out!