Commanders,
Update 9.17.1 has been up and running for quite some time now and our research shows that you have been enjoying the new features quite a lot, especially new German vehicles.
However, our data also shows some unsatisfactory trends and imbalances that somehow eluded us. Consequently, as we have your best playing experience at heart, we assembled a special team of our highly trained (and this time mostly sane) star developers to prepare a rapid-response patch to address these concerns.
We are thrilled to bring you Update 9.17.1.45.6 (and a half) - check out the full list of changes below (or above, if for some reason - completely unrelated to portal management, of course - you're reading this upside-down):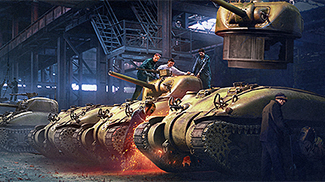 Vehicle changes
Expand
Germany
Maus, Mäuschen:

New exclusive inscription added: "Jerry"

Großtraktor-Krupp:

Armament has been replaced with a hydraulic rake. For historical reasons.

Tiger I:

Reclassified as Tier V
Designation changed from heavy tank to Wunderwaffe
Chances of ricochet of incoming fire increased by 50%

8,8 cm KW.K. 43 L/71 damage per shell raised to 500

Camouflage value increased by 100%

Accuracy for all guns changed to "fire-and-forget"

Stamp added to the hull: "Now historically accurate at last"

Panther:

Visual length of

7,5 cm KW.K. L/100 gun increased by 30%.

Flagpole added to the back of the turret as a counterbalance

Löwe:

Overall characteristics buffed. Again.

Jagdpanzer 38(t) Hetzer:

Anti-Seal-Clubbing feature added: if you reach 500 battles on the vehicle before unlocking your first Tier VIII tank, the Hetzer will be automatically reclassified as Tier VIII. No further changes to the vehicle expected.

Grille, Grille 15:

Exclusive Premium consumable added: Bratwurst
USA
M18 Hellcat:

New exclusive inscription added: "Tom"

T26E4 SuperPershing:

Added a cape to the back of the turret. Colour can be adjusted via the Exterior menu
Fall damage turned off

T25 Pilot Number 1:

Renamed to Top Gun and moved to World of Warplanes

M10 Wolverine:

Added a custom yellow camouflage pattern and two additional guns to the turret.
HP regeneration enabled

M56 Scorpion:

Grappling hook added as a secondary armament - will pull the enemy towards your position when used
Japan
O-NI:

Renamed to O-NI Chan
Cat ears added to the sides of the turret

Type 5 Heavy:

Ammunition for the

15 cm/45 41st Year Type changed from HE to Renault Otsu. Yes, the gun will now load and fire Tier I vehicles instead of standard shells. It's legit - we saw it in a Japanese cartoon once.

O-I:

Mouse-clicking on the tank's name in battle will turn the vehicle on and off

O-Ho:

Renamed to Ho-Ho-Ho and removed from the game to be later reintroduced as the first Laplandish vehicle in World of tanks
France
AMX 40

Due to hunting season's closure, shooting at ducks is now prohibited
USSR
KV-2

Accuracy of the

152 MM M-10 gun increased by 100%, as the shells are carried by the unshaken spirit of glorious revolution

Object 252 U and Defender

Overall characteristics of the vehicle have been buffed, as our research has shown that it is underperforming for a glorious Soviet tank

SU-14-2

Renamed to (P)Arty Bus. Just kidding, partying is an unnatural concept developed by the decadent West, and thus incompatible with the spirit of glorious revolution
UK
Light VIC

Renamed to Zero Sugar VIC

Churchill GC

Renamed to Churchill Game Carrier
Overall characteristics nerfed, as we feel that it's way overpowered in its current state

TOG II*:

Baptised as HMS TOG and moved to World of Warships as the game's very first submarine
Collapse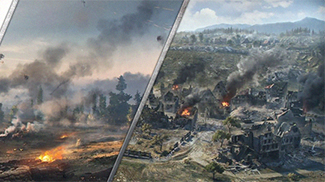 Map changes
Expand
Malinovka
Research has shown that the hill area in the northern part of the map hasn't seen a single tank in 4 years. Consequently, a decision was made to cut down the map to just the open field betweeen the bases and their respecitve buildings.
Additional bushes, tents and campfires have been added to improve the ambience of the map
Collapse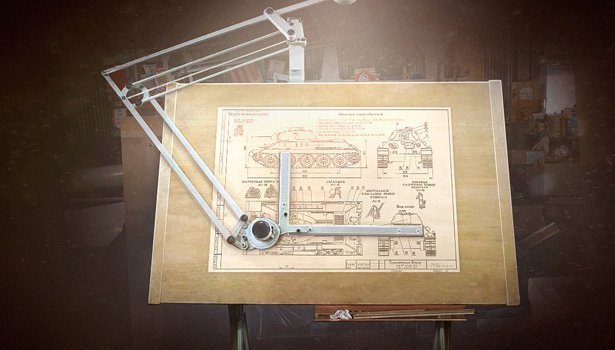 Other changes
Expand
New medals introduced:

Bush Squatter - Camp for at least 6 minutes in bushes without firing a single shot
I Helped - as a scout, spot at least 6 enemy vehicles during the first minute of battle by performing a straight line rush towards the enemy base, resulting in your tank's destruction and no measurable contribution to your team
Murphy's Law - miss or bounce at least 3 consecutive shots aimed at enemy weakspots from a distance of 100m or less, while receiving 3 consecutive penetrating shots at the same time
Lord Protector - as a scout, spend the entire match camping with arties thus having

no measurable contribution to your team

Low Rider - while driving Swedish tank destroyers, enter Siege Mode and bounce your vehicle up and down 15 times

Partially restored chat functions between the teams. From now on, you will be able to send the following pre-determined messages from a special drop-down menu:

Git gud, nabs!
Too easy!
I hate you, arty!
OMG, HAX! I REPORT U!
Kemp moar bush!
Polan can into space!
Uninstal pls
CHEATERZ! CHEATERZ EVERYWHERE!
Well played! I salute you for the outstanding skills and teamwork you presented during this match. There is no shame in losing to an opponent of your caliber and I hope we can meet on the battlefield again some time!
Good game! Even though you lost, I am in awe of your spirit and the fierce resistance you put up against my team. Gloria victis, my fellow tankers!
Collapse
Launch date: As soon as we find Sergey and the suitcase with the codes.