The 10th Anniversary celebration of World of Tanks has come to an end, Commanders. Look back and think to yourself just how amazing it was!
This epic birthday bash has become the longest-running activity in the history of our game. We've offered you more than 6 months of continuous events, exclusive Time Warps, intense Anniversary Missions, and other surprises. You've learned many interesting facts about the history of your favorite game and witnessed the main stages of its creation and evolution.
It was an incredible experience for our team as well, and we hope you've enjoyed this grand celebration and got your hands on unique custom looks, Premium vehicles, and other sweet rewards!
A Feast of Great Events Awaits!
The 10th Anniversary party may be over, but a host of great activities with exciting gameplay, brand-new mechanics, and tons of rewards are yet to come! Your tanking journey is only just beginning, so fasten your seat belts and get ready for intense battles and unexpected specials! Here's what awaits you in the near future.
October
November
Steel Hunter
Stage 3
The hunt for steel is in full swing! Join 20 other desperate hunters either solo or in a 3-vehicle platoon and battle it out to be the last hero standing. Survive the Steel Hunter Stage 3 onslaught and climb through the ranks to earn a unique 2D-style, bonds, Expedition tokens, and more.
Update
Update 1.10.1 for World of Tanks is coming your way with a bunch of great content, Commanders! It features the reworked Dog Tags we're re-introducing on a permanent basis. We're also increasing the rewards for Daily Missions, introducing something new for clan players, rebalancing the characteristics of several popular high-tier medium tanks, and much more.
1.10.1
Halloween 2020
Are you ready to celebrate Halloween with your favorite game? You'll experience a spooky new PvE mode featuring supernatural enemies, a mysterious location, and cool rewards. It's time to explore the forbidden town of Mirny-13 and uncover the secrets behind the strange events that occurred in this sinister place.
Ranked Battles
2020–2021
Get ready to meet your worthy opponents in Tier X vehicles, Commanders! Ranked Battles 2020–2021 is returning to World of Tanks with Season 2. Wage high-level tank warfare in your favorite Tier X vehicles and fight your way through the ranks. The ultimate reward for all three Seasons, the brand-new Concept 1B American Tier IX heavy tank, is worth the effort. Face strong adversaries, push yourself to the limit, and take one step closer to this formidable brawler!
Steel Hunter
Final Stage
Let the ultimate hunt begin, Commanders! The final Stage of Steel Hunter 2020 is closer than you might have realized. This is your last chance this year to experience the exciting battle royale mode, earn Expedition tokens, and get your hands on formidable vehicles. Get ready to survive this demolition derby and redeem all the sweet rewards available this Season!
Well-Deserved Reward
To thank you for your loyalty, passion, and continued support, we'll be sending you a Well-Deserved Reward. Every commander who registered in the game within a certain period of time will receive nice gifts from our team. Thank you for your service, Commanders! More details will be available at a later date.
Diorama tanks in the Wargaming Store
We have one final surprise in store. The Wargaming Store just released a line of 5 iconic tank models in an exclusive 10th-anniversary look. All the models are made from metal in a 1:72 scale and come with a painted wooden base.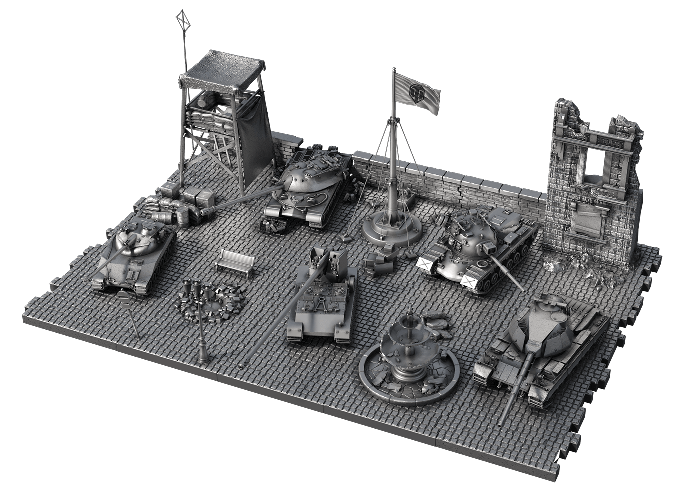 The set is an impressive testimonial to detail, execution, and love for the game. You can easily recognize the iconic tanks surrounded by in-game scenery. Experienced tank commanders will see familiar bits of maps that inspired the decorations, while the whole composition is an homage to "Himmelsdorf", the third map to appear in the game and a beloved one to this day.
It is the perfect display to commemorate one of the most momentous occasions in the history of your favorite tank game. Plus, each model comes in high-quality packaging and includes a special bonus code. So, don't miss your chance, as the stock is highly limited!