Let your defeated enemies see who they're dealing with!
One of the main highlights of 2019 was the epic Tank Festival where we introduced Dog Tags. They were your own exclusive signatures on the battlefield that your opponents saw after you destroyed their vehicles.
We have since carefully studied your feedback on this feature and have decided to bring it back to the game on a permanent basis, with some changes that will make Dog Tags more meaningful, substantive, and worthy of your battle achievements.
Take a look at the reworked Dog Tags, and get ready to show the world what you're worth!
What's New
When Update 1.10.1 is released, head to the Player Account menu in your Garage. You can view all the Dog Tag elements available in the game here, and find out how to unlock the components you have not obtained yet.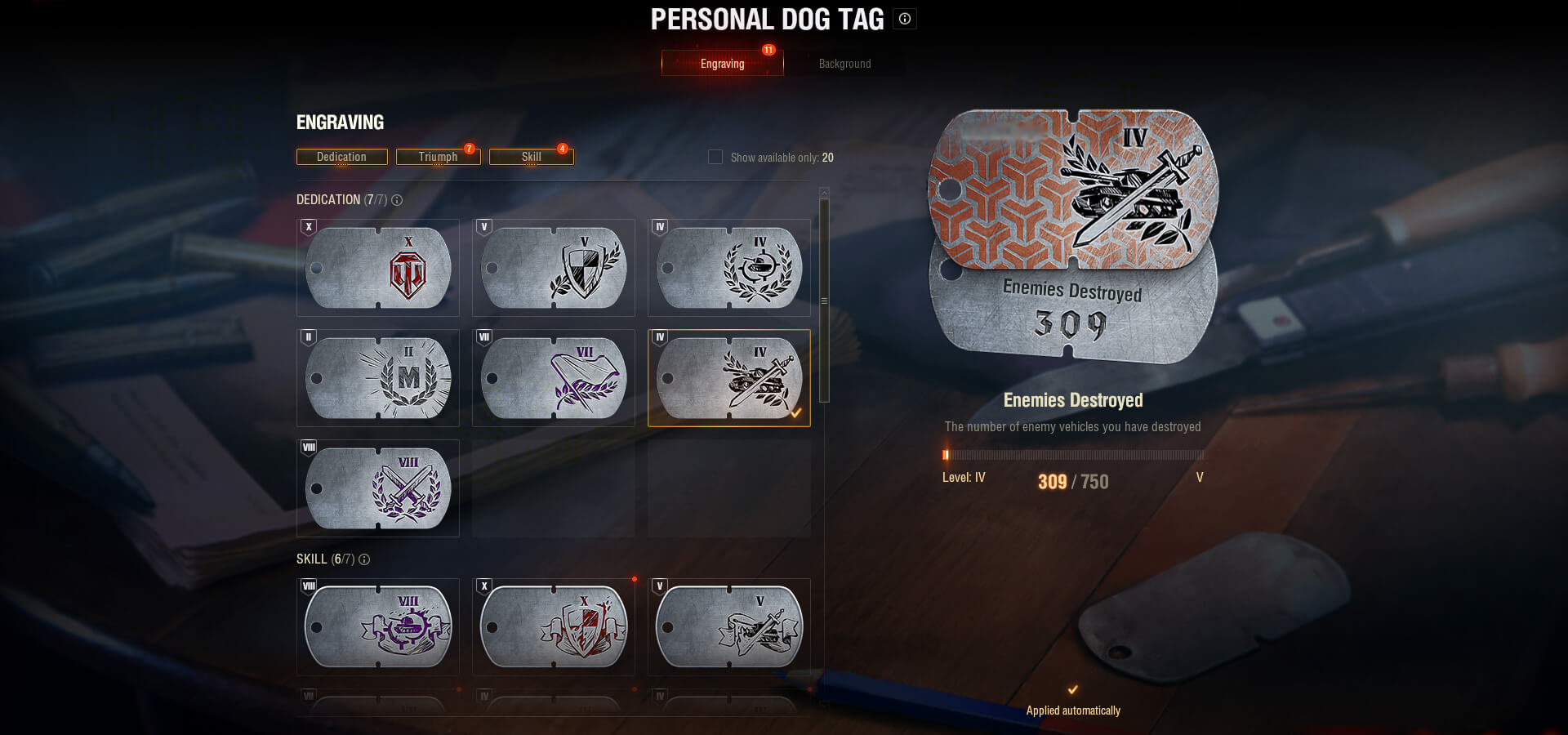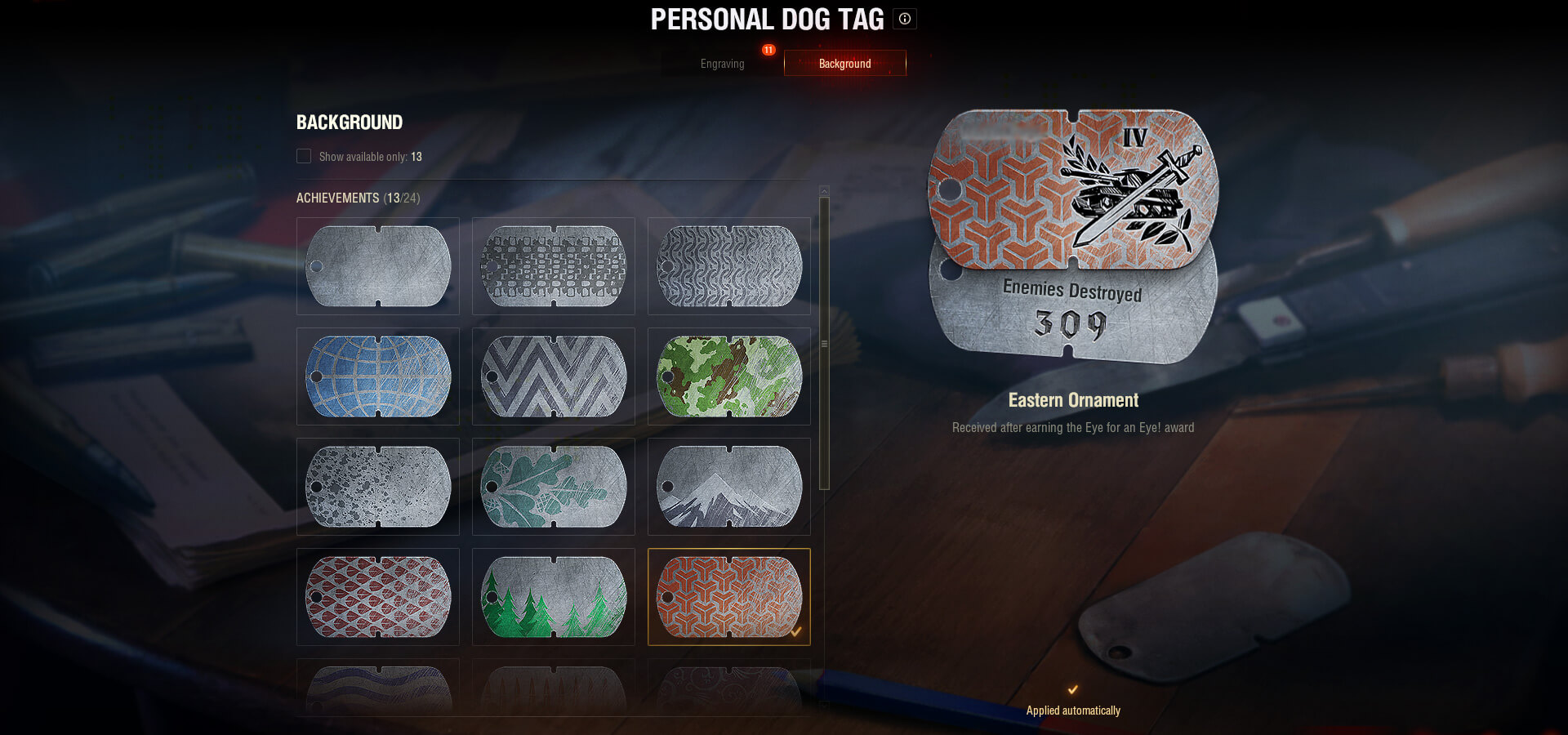 The basic Dog Tag concept has remained unchanged since the Tank Festival. They will still be your personal "business cards" that your defeated enemies will see after their destruction in Random and Grand Battles. However, they will now consist of three independent elements:
Your nickname (clan name). This element cannot be modified and only changes when you choose a different nickname or change your clan. If you have the Anonymizer enabled, then opponents will see randomized information in place of your actual nickname/clan.
Background. It can be obtained in a variety of ways, including by earning certain rewards in battle.
Engraving. The most important part as it displays the main information that your defeated adversaries will see.
To unlock Engravings, you must accomplish certain conditions. Let's take a closer look.
Types of Engravings
There will be 3 categories of Engravings, each with its own progression levels. Engravings showcase your tanking skills in comparison to other commanders, and are your personal point of pride. By achieving certain level conditions, your Engraving's level automatically increases and its appearance will change. Check it out.
Dedication Engravings
This category will especially please our veterans and all commanders who take pride in their long and glorious tanking journey full of feats and battle exploits. Dedication Engravings highlight your wealth of experience and most impressive achievements that you rightly feel proud of, such as the number of battles, vehicles destroyed, and so on.
Each of these parameters entails a lot of intense battles and meaningful stories behind your tanking journey. Battle stats are a unique expression of your personality, so show the enemies you're a powerful force to be reckoned with!
Dedication Engravings indicate your lifetime game statistics in Random and Grand Battles. To unlock an Engraving of this type, you need to meet the initial condition.
Dedication Engravings feature 10 progression levels. If you have already met the conditions for prior levels, they will automatically be considered completed. Your current progress level will be displayed directly on the Dog Tag.
Skill Engravings
These Engravings will allow you to demonstrate your superior battle prowess. To unlock them, you need to place in the Hall of Fame and improve your ranking at least every month. Once unlocked, higher levels of Skill Engravings reflecting your progress will become available for you at the end of each month.
The Dog Tag shows your position in the Hall of Fame on a 10-point scale. It will display your best result for the last 3 months excluding the current one. In other words, you not only need to reach a certain skill level, but also maintain it.
Triumph Engravings
This category highlights exceptional results achieved in a single Random Battle with Tier VIII and higher vehicles. Triumph Engravings will be unlocked after a battle during which a certain challenging condition was met, such as dealing record damage. Similar achievements will be available for players in Platoons.
Triumph Engravings will feature 4 progression levels. If you've unlocked a level 1 element, you can improve it by completing a level 2 or higher condition.
Combined with the unique backgrounds you can obtain, these Engravings will make your Dog Tags a truly unique battle signature that will instill fear in your enemies.
Interactive image.
Choose the Dog Tag Engraving and Background to see how they appear in the game.
PERSONAL DOG TAG
Engraving
Dedication
Ace Tanker Badges
Earn the Ace Tanker Mastery Badge
Victories
Win 2,693 battles
Battles Fought
Fight 5,524 battles
Triumph
Max Damage
Cause 7,354 HP of damage in one battle
Max Destroyed, Platoon
Your Platoon must destroy at least 11 vehicles
Max Caused & Blocked
Cause and block a total of 8,916 HP of damage in one battle
Skill
Avg Damage Blocked
Enter the Hall of Fame and have at least 916 average damage blocked at the end of the month
Avg Damage Caused
Enter the Hall of Fame and have at least 2,512 average damage caused at the end of the month
WTR
Enter the Hall of Fame and have at least 10,057 WTR at the end of the month
Background
Steel Wall
Earn the Steel Wall award
Flower Ornament
Earn the Dumitru's Medal award
Card Back
Earn the Bombardier award
Castle
Earn the Raider award
Ace Tanker Badges
Earn the Ace Tanker Mastery Badge
Interacting with Dog Tags
By default, Dog Tags of destroyed opponents will pop up in the lower right corner of your screen during battles. You can find out more about who you've defeated, right in the middle of combat, by holding down the Ctrl key and hovering your cursor over the Dog Tag icon next to your adversary's nickname. However, if you find this distracting, you can turn off the display of Dog Tags in the game settings.
Want to remain anonymous in defeat? You can choose to show enemies a default Engraving without your personal statistics instead; simply enable this option in the game settings.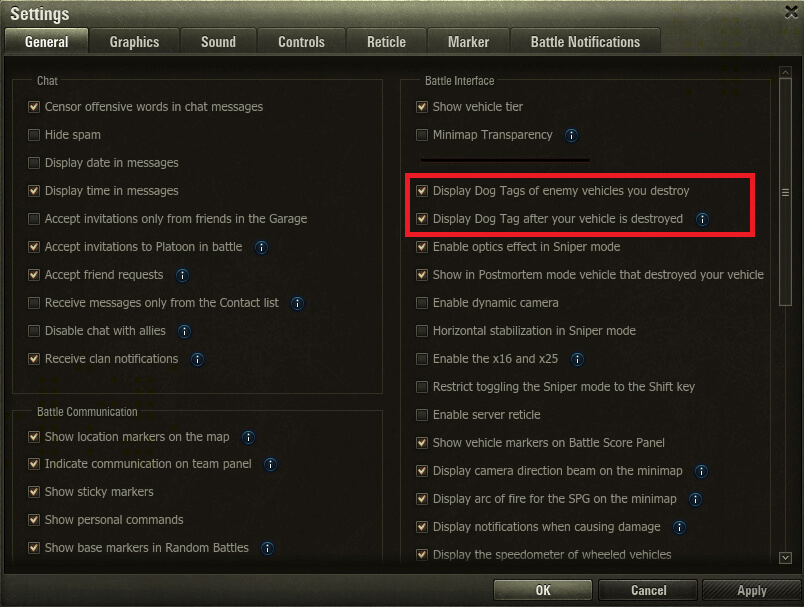 Like progressive customization decals and Marks of Excellence, Dog Tags reflect your passion for the game and your unbreakable will to win. We hope you'll enjoy customizing your very own combat calling cards and showing your opponents just how good you are at World of Tanks!
Create your own unique Dog Tag, and let your enemies know exactly who they're dealing with!