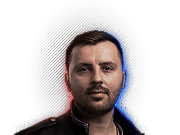 Welcome back, commander!
Thank you for watching Orzanel and for returning to World of Tanks.
On this page, you will find Orzanel's bonus code, an overview of the items you will receive for redeeming his bonus code, and eligibility conditions for redeeming the code.
---
Eligibility
You must meet the following criteria to redeem the bonus code and receive the welcome back package:
Have not logged in to World of Tanks PC for at least 30 days
Have not already redeemed a bonus code from another content creator
---
Click the bonus code to head to the redemption page. The code will automatically be filled in for you.
Orzanel's Bonus Code:
You can only redeem one content creator's bonus code. Make sure this package contains the items you want before redeeming the bonus code. Click here to access all the content creator packages.
---
Welcome Back Package Contents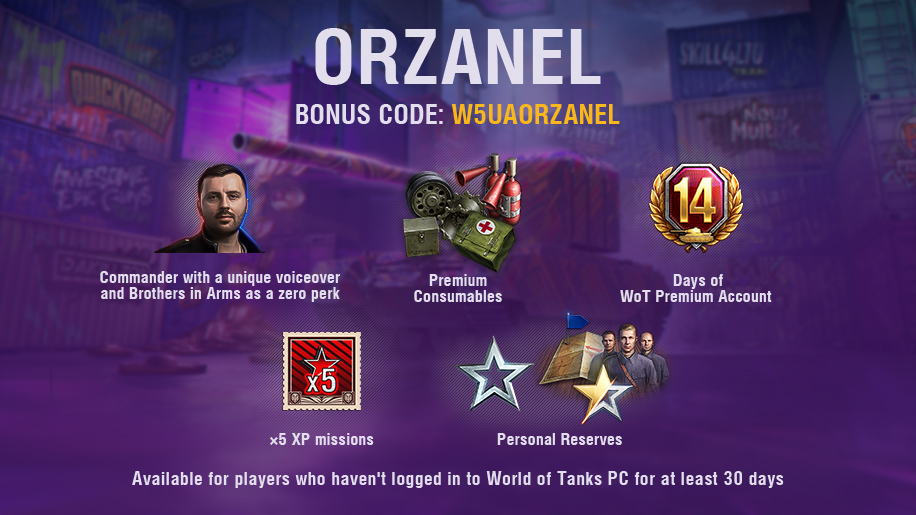 This package contains:
1 Orzanel commander with a unique voiceover and Brothers in Arms as a zero perk
14 days of WoT Premium Account
5 Large Repair Kits, 5 Large First Aid Kits, and 5 Automatic Fire Extinguishers
2 +50% XP for 1 hour Personal Reserves, and 2 200% Combined (Crew XP and Free XP) for 1 hour Personal Reserves
5 x5 XP missions
Interactive widget.
Click on the Content Creator icon to hear their unique Commander voice lines.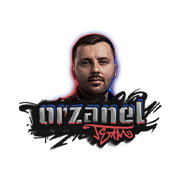 Hi, i am Orzy from Romania. Welcome to this chill stream & community.Stick around and you might learn a thing or two or even have a laugh with the folks.Cheers!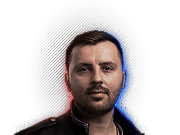 Get More Content Creator Rewards

The in-game Twitch Drop Store has returned with an all-new set of rewards as part of the latest Monthly Drops campaign. From October 14 through November 28, earn Twitch Drops Tokens

and exchange them for awesome rewards, including packages containing content creators' commanders and their unique customisation items!
The Commander Edition of Monthly Drops will bring you six weeks of regular weekly and weekend missions for 55 tokens before finishing with a mega final week featuring regular drops in which you can earn 45 Twitch Drops Tokens. With 100 tokens total, you can get two commander packs plus even more items. Don't miss out on this special edition of Monthly Drops and the opportunity to earn plenty of tokens and unique rewards!