Commanders!
Its unique look isn't the only remarkable thing about this Swedish tank destroyer. In addition to its ultra-flat silhouette, the

VIII
Strv S1 is also equipped with special Travel and Siege mode mechanics. This unique feature allows you to adjust certain vehicle values to better adapt to different situations in battle.
Use its 50 km/h top speed and decent power-to-weight ratio to quickly traverse the battlefield in Travel mode on your way to the perfect sniper spot. Once in place, switch to Siege mode for a boost to aim time, accuracy, and tank traverse speed, as well as gun elevation and depression angles. The fantastic camouflage values will keep you well-concealed, like a hunter waiting in a hunting blind. Once you have an unsuspecting enemy in your sights, take careful aim and use your high-velocity shells with unmatched penetration to hit their weak spots with 390 points of alpha damage.
See if you can spot this Swedish sniper in the Premium Shop, and make sure to take aim at the additional offers.
Strv S1 Offer
Available from July 7 at 07:00 CEST (UTC+2) through July 14 at 07:00 CEST (UTC+2).
Strv S1
VIII
PACKAGE CONTENTS

Strv S1

100% trained crew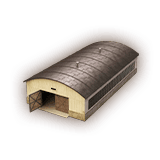 Garage slot

World of Tanks Premium Account

x5 XP missions

Personal Reserve: +300% to Crew XP for 2 hours
DISCOUNT
Make sure to check out our profile on Swedish tank development if you want to learn more about the history of these precise hunters.
How do the x5 XP missions work?
Expand
Reward:
Conditions:
Win a battle

Place among the top 10 on your team by base XP earned
Restrictions:
Random Battles only

Can only be completed with the vehicle in the bundle

Exception: special bundles with the main package content being x5 XP missions

This mission will be active after achieving the first victory of the day bonus for the vehicle you want to complete it with
Collapse