Commanders!
Take it easy with your crew this weekend. No need to memorise a bazillion different missions and special offers. From 1 June at 07:00 to 4 June at 07:00 CEST (UTC+2), your crews will benefit from the following bonus: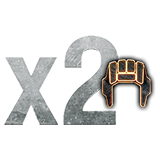 x2 Crew XP per battle
This bonus only applies if you are playing with Tier IV vehicles or higher, and if you place in the top 10 of your team by base XP earned.
Roll out!