There are two weeks left before the end of the regular season. Oops is easily sitting at the top of the table with only Utopia and Kazna Kru able to keep up. DiNG, the defending European champions and runner-up world champions, have had a tougher ride this season and currently sit in the fourth position. It will certainly be enough to reach the playoffs, but they will need to put in some extra effort if they hope to retain their regional title.
Meanwhile at the bottom of the series, Savage Squad and Who Cares (CryptiK) will duel to avoid relegation on Friday 13 at 19:00 CEST (UTC +2), potentially their most important match of the season. Woe betide the losers!
You can watch every battle of every match live on wgl.gg/watch! Participate in the quests to have a chance to earn some nice rewards! Remember, the WGL portal is also up and running, so if you want more information about a team, the schedule, or if you are interested in what's happening in the other regions too, go check it out!
LIVE BROADCAST
WGLEU Season II 2016-2017 Gold Series
Please note that the livestream is available only in English.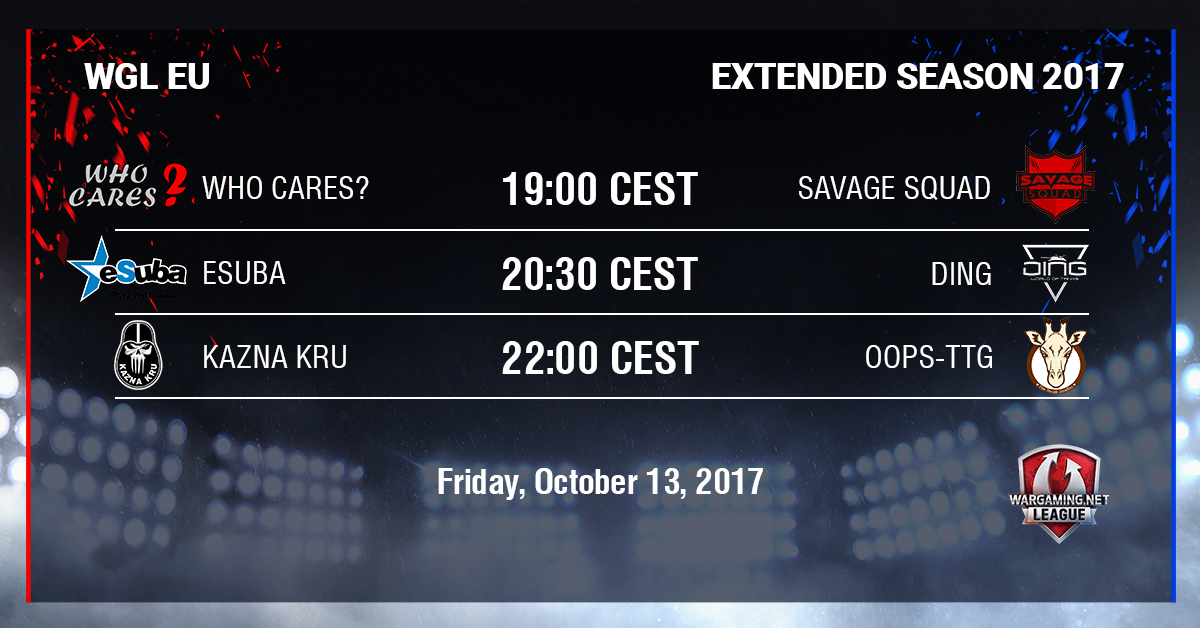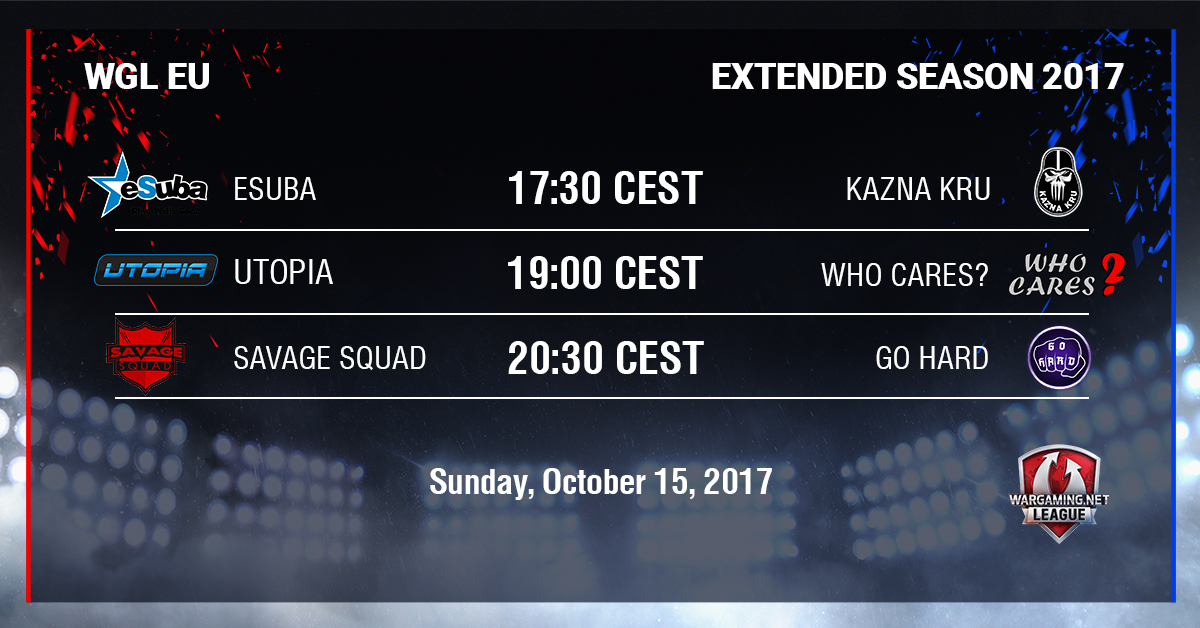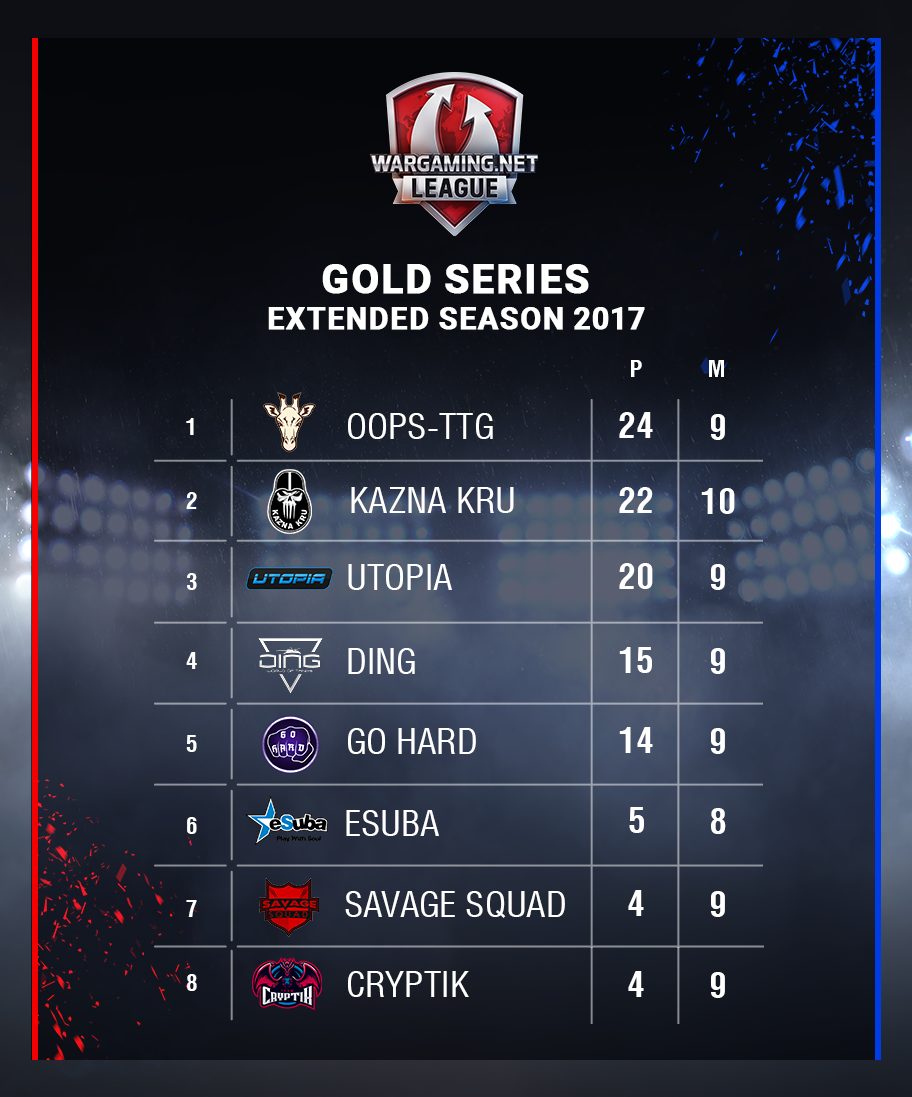 ---
eSuba vs Savage Squad
An interesting match to kick things off for week four. eSuba started off by taking both rounds on Himmelsdorf, with Savage Squad replying by taking both on Sand River, and eSuba doing the same on Prokhorovka (noticing a pattern yet?). Savage Squad's answer? They took both rounds on Ghost Town! Murovanka was the tie breaker and with Savage Squad losing Zet early on in his T-100LT, eSuba were allowed to have a huge amount of map control. In the resulting fight, Savage Squad were literally pinned in a corner and just couldn't deal with all the angles that eSuba had on them. A well-earned 5:4 win for eSuba.
Go Hard vs Utopia
After starting off so well, Utopia are starting to struggle a little this season. The teams seemed fairly equal in this match, neither looking stronger than the other. They traded defensive rounds on Mines, attacking rounds on Ghost Town, and then defensive rounds on Prokhorovka, before Go Hard were finally able to win both rounds on Sand River. Go Hard will be happy with the clean 3 points from their 5:3 win, however we're still expecting more from this team who were tipped at the start of the season to be in a much stronger position.
Kazna vs DiNG
A classic matchup. These two teams have faced each other multiple times over the previous seasons and more specifically during the past season finals. This time around however, it would be Kazna Kru who would be the dominant force, picking up the win 5:3. Losing this match was DiNG's third defeat in a row and when they lost both rounds on Prokhorovka (a map they've really not been doing well on), Kazna Kru gained the two round advantage, allowing them to then finish the match on their favoured map Mines. DiNG have their work cut out for them to challenge the top two spots in the League this season, whereas Kazna Kru look to have found their form and are going from strength to strength.
Kazna Kru vs Savage Squad
It doesn't get more one sided than this. Kazna Kru, fresh from their win over DiNG the day before, utterly swept aside Savage Squad, smashing them 5:0. Murovanka and especially Ruinberg were very one sided and when we got to Mines, Kazna Kru were able to hold on as the defensive team for the timer to run out. A match Savage Squad will have a lot to learn from and a perfect result for Kazna Kru.
Oops vs Who Cares (Team Cryptik)
Another very one sided affair as Oops dominated Who Cares. While this match wasn't as quick as the previous, it was very similar in regards to one team simply looking like they were a step (or two) ahead of the other during each round. It was another strong showing from Oops who were only really troubled in their attacking round on Prokhorovka. Winning the next three rounds after that allowed them to pick up the win 5:1 in their favour.
DiNG vs Go Hard
Facing their fourth defeat in a row, DiNG were able to overcome what seemed to be a hesitant Go Hard. DiNG took a quick 3-0 lead, winning both rounds on Sand River and then their attacking round on Himmelsdorf. It would have been 4-0 were it not for Break_Neck in his Batchat 25t being unable to solo Coca_Collapse in his Grille 15 on the hill. This caused Go Hard to immediately counter attack as they took down ceh9 and then collapsed on the rest of the DiNG tanks. Go Hard were then able pick up a defensive round on Cliff before DiNG took theirs, before a very quick round on Ruinberg to finish the match 5:2 in DiNG's favour.
Kazna Kru vs Team Cryptik
Kazna Kru were a wrecking ball this week and Team Cryptik were just another team in their way. Defeating Team Cryptik 5:1 gave Kazna Kru their third clean win of the week and also gave them their fifth win in a row. It's been a strong showing this season for Yzne of Kazna Kru and his damage output, along with Nexus.
Utopia vs Savage Squad
With Utopia losing to Go Hard earlier this week, losing another match would be critical to their challenge for the top two spots in the league. Savage Squad put up a valiant fight, but they just didn't seem to be fully coordinated when it came to the team fights and timed pushes. Utopia walked away from this match 5:2 winners and whilst a win is a win, Utopia have a little work to do in order to start winning rounds and maps more convincingly.
Oops vs eSuba
Despite the 5:2 scoreline, this match was actually a very close affair. Oops as always looked strong when they were winning, but on the two rounds that eSuba took from them (Mines and Ghost Town attack), it was the opposite. eSuba were in total control and wrecked Oops. A match that could have easily gone the distance, Oops are just playing so good right now that eSuba couldn't keep up with their quick rotations and focused fire.
---