With the mid-season break behind us, the teams now have their eyes on the finish line. The playoffs will begin at the end of the month, and the European finals are scheduled for November.
Break time's over!
Oops and Utopia currently hold a solid grip on the direct qualification slots. As a reminder, the top two teams at the end of the regular season get to skip the playoff stage to go straight to the stage finals. The teams ranked three to six on the other hand battle it out in the online playoffs for the remaining two spots. Tune in this Thursday at 19:00 CEST (UTC +2) to watch our best tankers work towards their dream!
You can watch every battle of every match live on wgl.gg/watch! Participate in the quests to have a chance to earn some nice rewards! Remember, the WGL portal is also up and running, so if you want more information about a team, the schedule, or if you are interested in what's happening in the other regions too, go check it out!
LIVE BROADCAST
WGLEU Season II 2016-2017 Gold Series
Please note that the livestream is available only in English.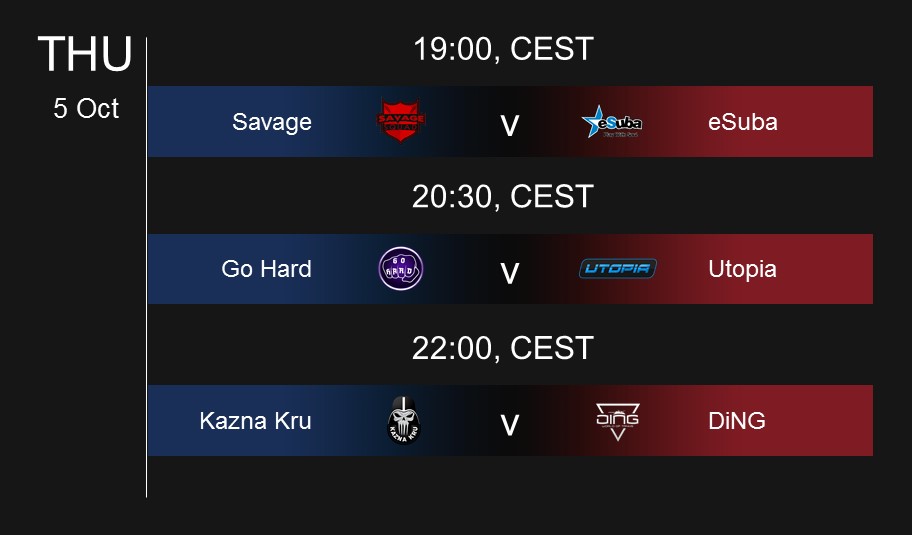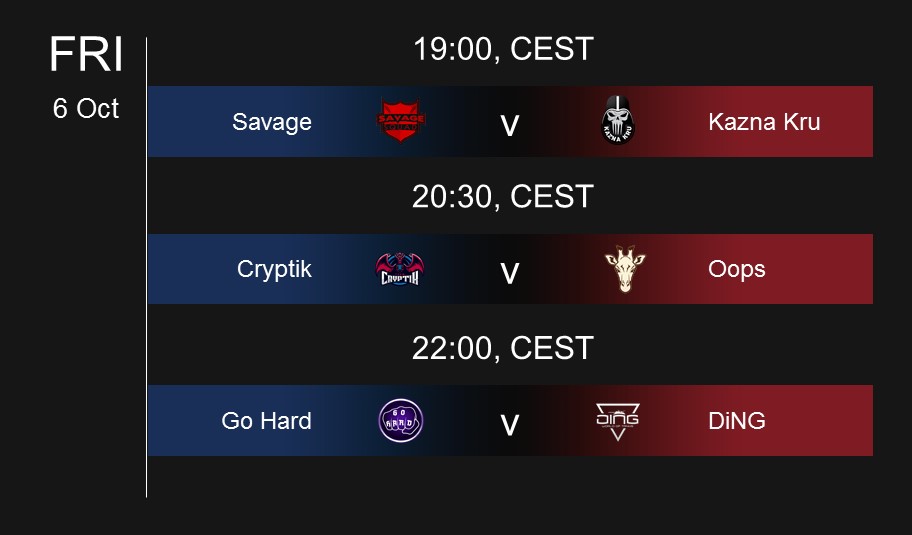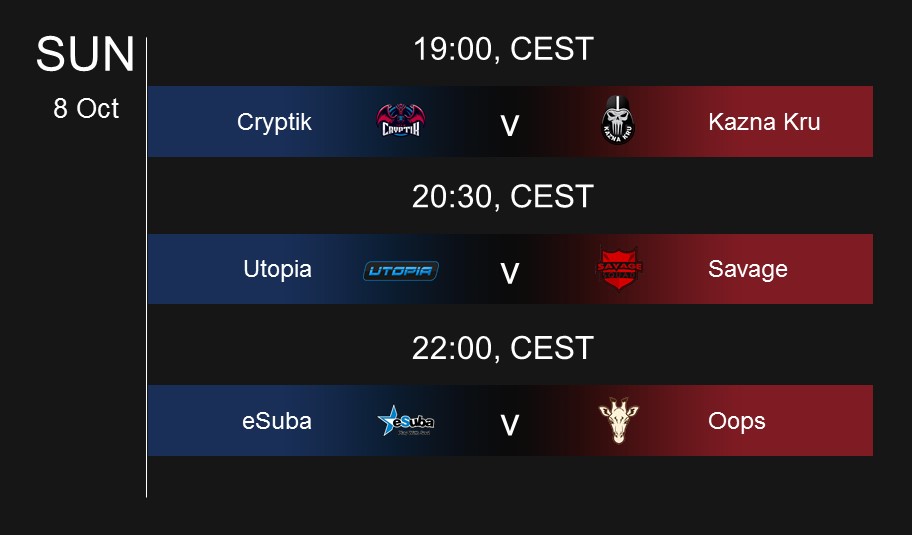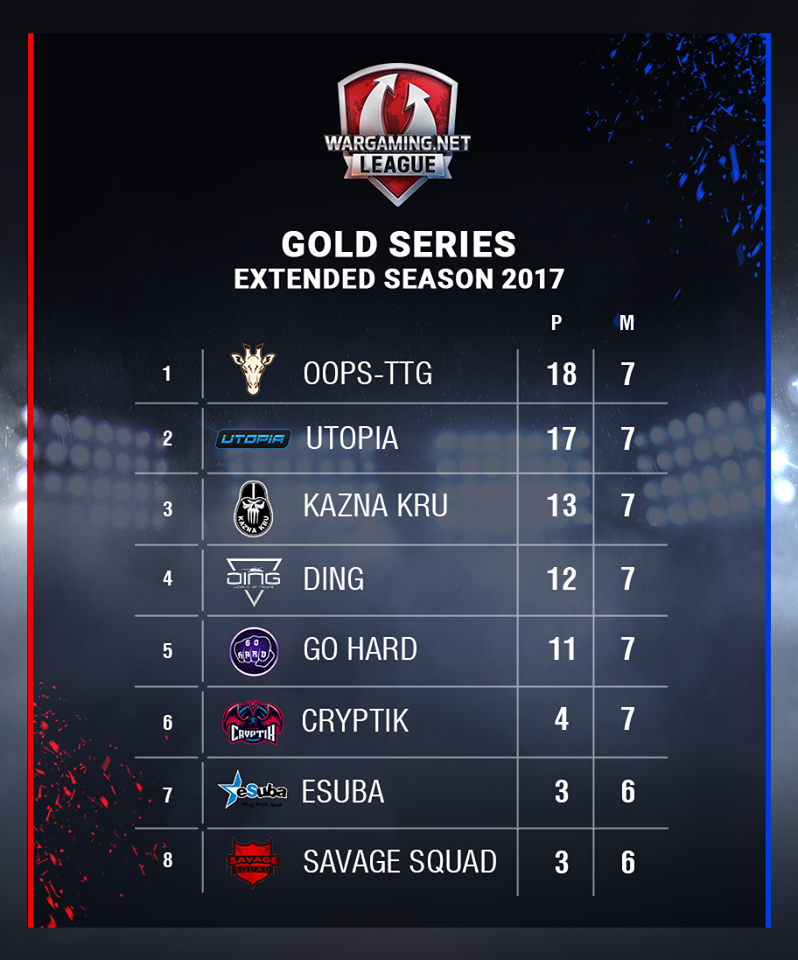 ---
Oops vs Savage Squad
Oops once again continued their winning ways with a strong 5-1 win over Savage Squad. Only really being challenged on Ghost Town by a double Foch B rush from Savage Squad, Oops were in control for the entire match. By the time we got to map 3 which was Himmelsdorf, the score was 3-1 for Oops. Smashing aside Savage Squad on their attacking round, Oops then also dominated their defensive round just as quick. The big question for Oops now, is can they continue their win streak after the mid-season break?
Utopia vs Cryptik
It was a match Utopia needed to win cleanly so they could continue to challenge Oops for first place. Cryptik however, wanted to show everyone that they were just as hungry for points. Despite being down 3-1 after the first two maps, they showed great resolve to come back into the match winning both rounds on Ghost Town that included a well-executed cap by LuckyBlast on base 2 with all of Utopia's tanks still standing. As the teams faced off on Cliff, they traded round for round which them set things up for the tie breaker.
Prokhorovka was the venue and with Utopia on the attack they quickly took control of the west flank, to push mid and south of the map at the same time to catch Cryptik in a crossfire. After a quick fight, Cryptik lost four tanks. While Utopia will be happy with the 5-4 win, they won't be happy dropping a point in the battle for first place with Oops.
Kazna Kru vs Go Hard
This was a match that many viewers were looking forward to due to the rivalry between these teams and a tie breaker was the expected result. If one thing is for sure this season however, it's that anything can happen! Mines was the first map between these teams and they left that map on 1:1 with both teams taking their attacking rounds, and the same on their defending rounds on Ruinberg. Moving into Ghost Town, Kazna Kru took both rounds with some dominating plays from Nexus in the T57 doing massive damage in both rounds.
Sand River then followed and... it was a slaughter in favour of Kazna Kru. A great 5-2 win for Kazna Kru. Go Hard have a lot of work this season if they want to challenge for title.
eSuba vs Cryptik
A vital match for both teams, eSuba and Cryptik both wanted a clean win so they could stay above the bottom two slots in the league table. The teams swapped defensive rounds on the first map, Sand River. Cryptik then were able to pick up both rounds on Prokhorovka.
As we went to Ghost Town, eSuba picked up both rounds making the score 3:3. During this exchange, eSuba were always playing catch up to Cryptik, but this changed on Cliff. Winning an all-in fight at the Lighthouse, eSuba won their attacking round. As the teams switched sides, PuR3 Dak1ng of Cryptik succumbed early in his T-100, giving eSuba an immediate advantage. From that moment on eSuba were able to dictate the pace of the round and were eventual winners 5:2.
Go Hard vs Savage Squad
We're starting to get into "must win" matches now as the league table is starting to separate. Both Go Hard and Savage Squad wanted a clean three points and for the early stages of this match, the teams gave each other no quarter.
We started on Mines where the teams traded defensive rounds in fights that could have easily been 2:0 for either team. On Ghost Town, it was Go Hard who were able to take an early lead by winning both rounds. Savage Squad took their attacking round on Prokorovka to start with. When it came to their defensive round, it was absolute chaos. With 5 minutes left, Failware and Kajzoo on Go Hard had 818 hp between them to 376 hp split between zet and Latenser of Savage Squad. What followed was some very slow and cautious play as the teams tried to locate each other. In the closing stages of the round, with 2 seconds to spare, zet was forced to push into cap 2 for the reset and kill on Failware. Sadly, luck wasn't on his side when he tried for the blind shot, and Failware was able to cap and get the killing shot.
Ruinberg followed and with Go Hard on the match point, Savage Squad were able to read Go Hard's aggressive push and took the first round, only losing one tank. For the second round, despite losing Zafar4ik early on, Go Hard grouped up and focused the tanks of Savage Squad. Left with an all or nothing cap on base 1, Savage Squad just couldn't hold on and Go Hard took the match 5:3.
Utopia vs DiNG
Utopia are playing very well this season and DiNG just don't seem to be firing on all cylinders. In a surprising turn of events, Utopia picked up the first four rounds as they dominated Prohorovka and Murovanka in quick succession. Going into Ghost Town 4:0, Utopia then lost two rounds back to back and their advantage was cut in half. Still on match point however, Ruinberg was map four and Utopia on the defence were able to focus Break_Neck and then Schockisch. With only a token DiNG force trying to cap base one, Utopia were able to just outmatch their tanks and pick up the win 5:2.
Oops vs Cryptik
Cryptik have already taken DiNG and Utopia to tie breaker so there was always the potential the same could happen here with Oops. That is of course assuming Oops would allow that to happen and as the match progressed, we quickly saw there was no chance of that scenario.
Oops are quite simply a team playing fantastically together. Their rotations, tank picks, and general team work are a level above everyone they play. Taking this match 5-1, they only looked a little rough in Prokorovka when they lost a defensive round to Cryptik. Everything else was one-way traffic as Oops dominated this match from start to finish. Well played from Oops and their second 5-1 result of the weekend.
Go Hard vs DiNG
This was an interesting match between these two teams. On paper, Go Hard and DiNG have arguably the strongest line ups in the league. On the battlefield however, something doesn't seem quite right for both sides. The teams matched each other round for round, map for map with neither side really looking to dominate the other. When it came to the tiebreaker, it was Go Hard who took the win. This is now the first time ever DiNG has lost two matches in a row. If they want to remain in the chase for top two league spots, they'll have to put in a lot of practice time during the mid season break.
Kazna Kru vs Utopia
This weekend finally brought out the Kazna Kru we were all looking for. Despite losing the first round on Prokorovka, Kazna Kru were able to win the next five rounds against Utopia in a very one-sided performance. Kanza Kru always seemed to be one step ahead in this match and some great individual plays such as Nexus on Murvokana winning a duel again Stew_Roids, really cemented their position as match winners. Despite defeating DiNG earlier, Utopia seemed a shadow of their former self and just couldn't keep up.
---