Utopia and Oops are in the lead as we head into week 3 this Thursday at 19:00 CEST (UTC +2). Savage Squad is first up and they will try to eat some tasty giraffe. Shortly afterwards around 20:30, the other gold series newcomers "Cryptik" (formerly known as "Who Cares?") will take on the already established and current board leaders Utopia. In both matches, we will get to see if the newbies score, or if they bite off more than they can chew.
If you missed last week's broadcast, we have all the best action compiled for you in our weekly highlights video.
Remember, the WGL portal is also up and running, so if you want more information about a team, the schedule, or if you are interested in what's happening in the other regions too, go check it out!
LIVE BROADCAST
WGLEU Season II 2016-2017 Gold Series
Please note that the livestream is available only in English.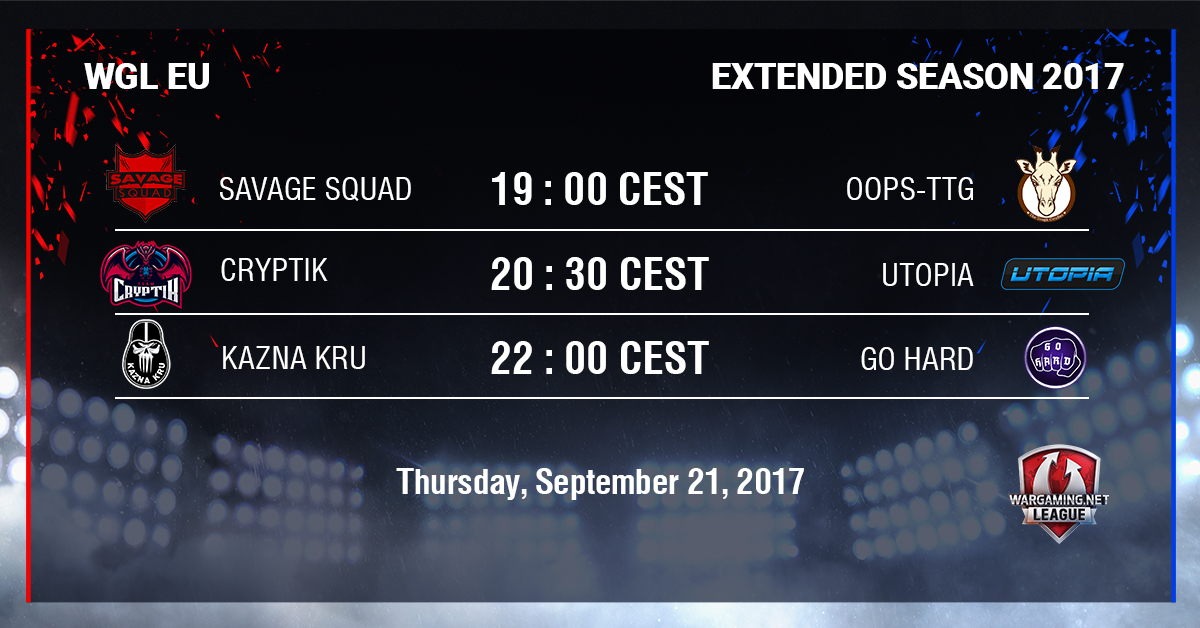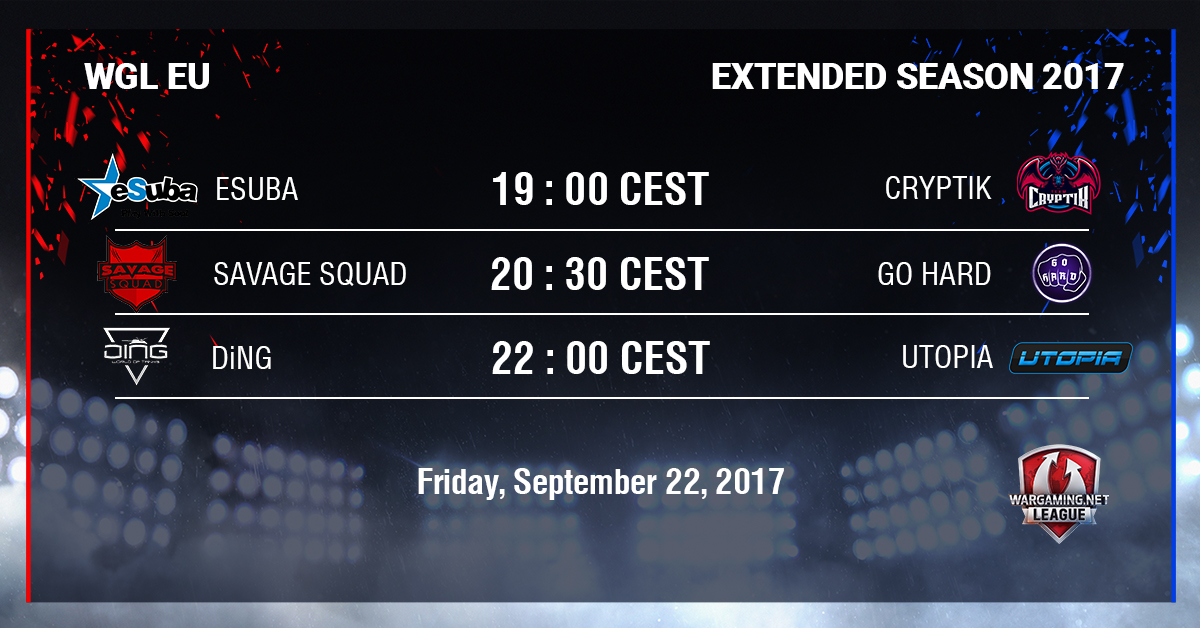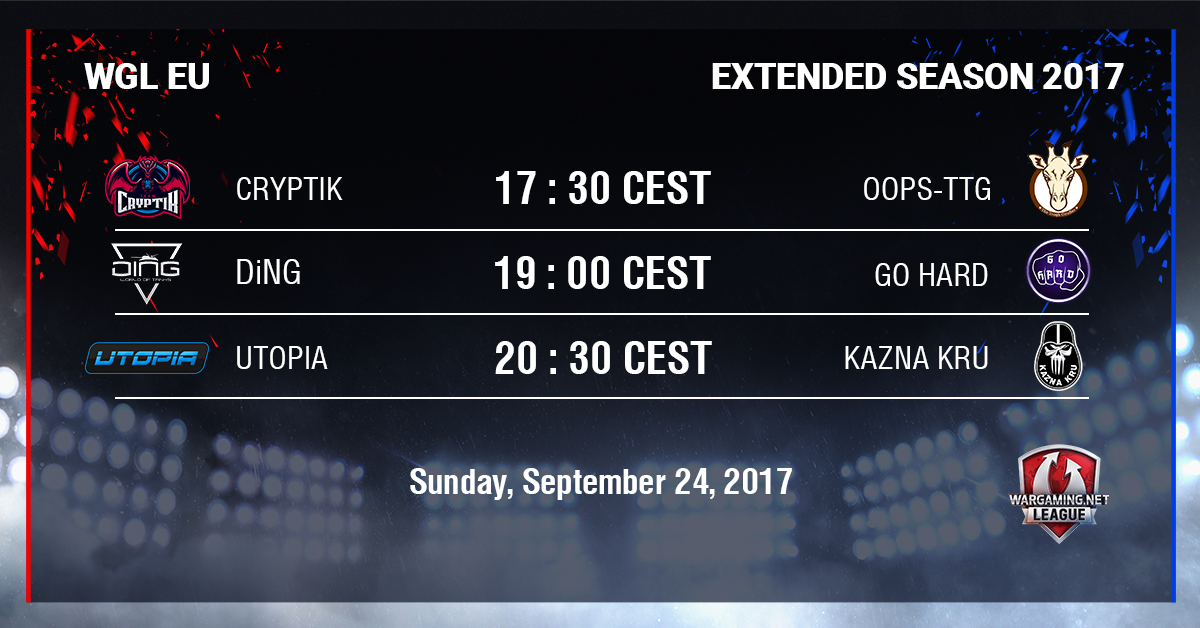 ---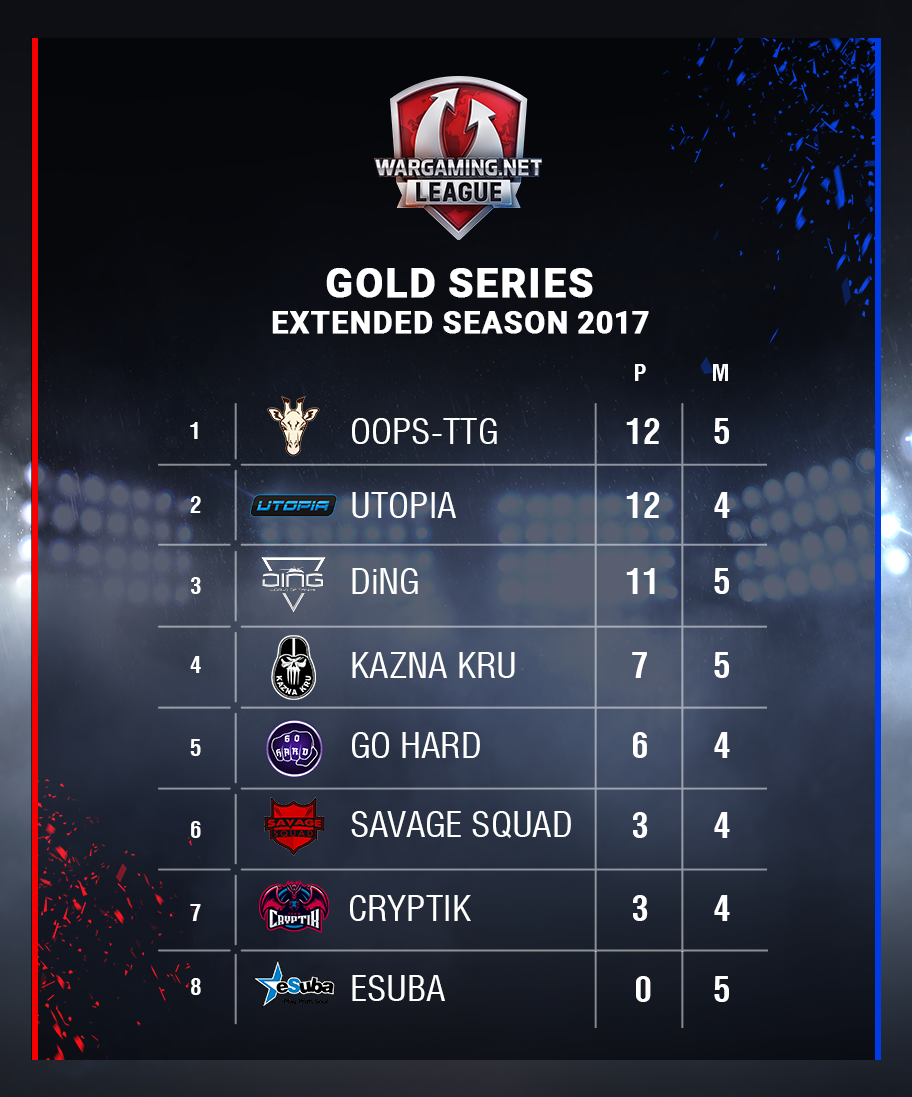 ---
DiNG vs Savage Squad
Savage Squad are a new team to the Gold Series who are certainly showing some potential. It was always going to be a tough match against the veterans DiNG and tonight's match showed why. Replacing Positiwe on DiNG was always going to be a hard choice, however the new player ceh9 is relishing the opportunity to show himself as the right choice. DiNG dictated the pace for most of the rounds and their new player was frequently in the right place at the right time when it mattered. Savage Squad were able to pick up rounds on Ghost Town and Cliff, but it was all one-way traffic for DiNG who were able to win the match 5:2.
Kazna Kru vs Who Cares
Our first five-zero match of the season, Kazna Kru absolutely dominated Who Cares in a very one-sided match. Who Cares are perhaps guilty of sometimes rushing their enemy and Kazna met that tactic with similar aggression. A different team from last week, Kazna's coordination and team work was on a different level than their opponent's, and they cruised to an easy 5:0 victory. One for Who Cares to forget and a good result for Kazna after a not so great week 1.
Note:

Who Cares has now renamed their team to "Cryptik".
Utopia vs Go Hard
What started initially as an equal match up slowly turned into a good win for Utopia. Both teams won their attacking round on Sand River and then their defensive round on Mines. Neither team really looked dominant until Ghost Town were Utopia won both rounds. In the attacking round for Utopia, PaPapawian was able to hunt down a low health Failware from Go Hard with only 5 seconds on the clock to secure the win. For Utopia's defending round, they out-positioned Go Hard, who had already beld too many hit points by then to survive the brawl when the team fight was initiated.
Heading into Cliff, Utopia on the attack went super aggressive up the west side of the map. After a quick trade, each team had only 4 tanks standing. Sadly, when manoeuvring for position, Zafar4ik from Go Hard was caught in the open and took a full clip from Papapawian's TVP 50/51. As a result, Go Hard didn't have the HP to trade in the ensuing fight and the match ended 5:2 in Utopia's favour.
Go Hard vs Who Cares
Starting on Prokhorovka, both teams took their attacking round, and again, both teams won their defensive round on Himmelsdorf. At 2:2 things were looking pretty equal between the teams until we got to Mines. Go Hard took the lead on their attacking round and then followed that up with a win on the defence also. Eager to bounce back after the previous match day loss, Go Hard then finished off Who Cares on Ghost Town, picking up the round and the match 5:2 with more precise focused fire.
Note:

Who Cares has now renamed their team to "Cryptik".
Kazna Kru vs eSuba
Quickly taking an early 3:0 lead, Kazna Kru were looking strong. However, on the second round of Cliff, eSuba were able to come back into the match due to some individual mistakes by Kazna players. Map number three was Mines and Kazna Kru on defence lost the first round after a quick hill brawl, but then won their attacking round to give them the lead at 4:2. Sitting on match point, Kazna Kru needed only one win on Sand River to take the match, but eSuba had other plans.
Quickly taking down two tanks, eSuba on the defence grouped up and overpowered Kazna with the extra tanks. In round two, Kazna were still in the lead 4:3. It was a fairly slow round until about the 5 minute mark when Kanza Kru, finding themselves down two tanks, had to rush to defend their cap resetting with two seconds to spare. In the following team fight, eSuba looked to be in control. However, in a short and chaotic fight, we were suddenly left with a one-on-one between Call_me_Piotr of Kazna Kru in a Batchat 25t and Jukec of eSuba in a Wz 111-5A.
66 HP vs 237 HP. Call_me_Piotr bounced his first shot and in return Jukec missed his shot. Call_me_Piotr then tracked Jukec with his second shot and just as Jukec reloaded his shell, Call_me_Piotr fired for a third time and finally got the kill.

An utterly crazy end to a match that eSuba looked to have all but won. A great example from Kazna Kru of fighting til the last tank standing.
Oops vs DiNG
With both teams currently playing on forum, there was a lot expected from this match and it certainly delivered. Starting out on Ghost Town, the teams traded wins as they both picked up their attacking round. Moving to Sand River, the same thing happened, this time trading defensive round wins. It was on map three when Oops decided to step it up a gear starting on the attacking side.
Pushing down the 1-2 line they forced DiNG into committing to the middle of the map and swiftly cut down in the cross fire. When it came to their defensive round, despite a similar push coming from DiNG, Oops were able to ride the storm with some great individual players from Insane and KamilEater. With the momentum behind them, Oops went into Ruinberg on the defence and immediately engaged a DiNG rush for base 2. Showing excellent team work, Oops destroyed DiNG in the resulting team fight without losing a single tank. A great match from Oops and a well deserved 5:2 win.
Utopia vs Savage Squad
Both teams started well on Mines by winning their defending rounds. Heading into Sand River, both teams again won their defensive rounds. At this point, things were looking fairly equal between the teams - but that balance was about to change on Ghost Town. Utopia starting on the defence pushed the team fight, and good use of Type 5 heavies allowed them to continuously do enough damage to win the round. Utopia started with a triple cap on attack, which distracted Savage Squad long enough for the rest of their team to push the fight in the town and draw them into a cross fire.
Now on match point, Utopia went looking for the win on Cliff but it was Savage Squad who took the first round by winning their attacking round. When it came to their defensive round, they took their favoured doubled Strv 103B set up which limited their rotational potential. Once Utopia had control of the hill they used base 2 on the right side of the map to draw out Savage Squad and chip their health down. Even with a last second cap reset, Savage Squad couldn't come back from losing so many tanks and when Raven finally fell, it was 5:3 for Utopia.
DiNG vs eSuba
eSuba are having a really tough time this season as they still don't have any points on the board. Sadly this match wasn't the first. Starting on Himmelsdorf, DiNG out positioned eSuba with a push for the base 2 in the north. An accidental team kill from eSuba sums up their current woes. Trying to then cap rush on their attacking round, eSuba were a bit bold in thinking DiNG would fall for that trick again and as expected, they were ready for it and destroyed eSuba in the resulting team fight. Sand River followed next and DiNG picked up both rounds without too much trouble. With Ghost Town being the final map, DiNG showed us why they're the number two team in the world with impressive focus fire and rotations of tanks to take hits.
Oops vs Kazna Kru
Oops are on a run right now and they're taking down anyone who tries to stand in their way. Starting on Ghost Town, Oops won their defending round and narrowly missed out on winning the attacking one. Yzne from Kazna Kru was able to run the clock down and kill one of two tanks trying to find him. Oops then took a strong lead on Cliff, winning both matches. They seemed to always be one step ahead of Kazna Kru.
Moving on to Mines, Oops won the defending round by holding off Kazna Kru long enough for the match timer to round down. Kazna Kru then got a little luck on their side on their defensive round as they picked up two tanks in quick succession when Oops' push down the 1-2 line failed in an instant when Creator was ammo racked and Raging Potato then ran into his wreckage. A massive arty connection into KamilEater's Batchat from Yzne then sealed the deal as Oops had no HP to trade in the following fight.
By the time we got to Sand River, Oops were leading Kazna Kru 4:2. Kazna started on the attack and whilst they had good initial positioning around cap 1 in the South with a hit point advantage, it seemed that too much hesitation delayed their push into the remaining Oops tanks on low HP. Oops were then able to preserve their remaining HP to run down the clock, taking the round, and the match 5:2.
---