The League is live this Thursday at 19:00 CEST with Savage vs DiNG, followed by Who Cares? vs Kazna Kru at 20:30 CEST (UTC +2). In both cases, it will be a clash between newcomer and veteran! The two newest teams against the two finalists of last season. Will the new faces beat the odds?
If you missed last week's broadcast, we have all the best action compiled for you in our weekly highlights video.
Remember, the WGL portal is also up and running, so if you want more information about a team, or if you are interested in what's happening in the other regions too, go check it out!
There is still time to pick your favourite players and start crafting your own team with the Fantasy League! MANAGE MY WGL TEAM
LIVE BROADCAST
WGLEU Season II 2016-2017 Gold Series
Please note that the livestream is available only in English.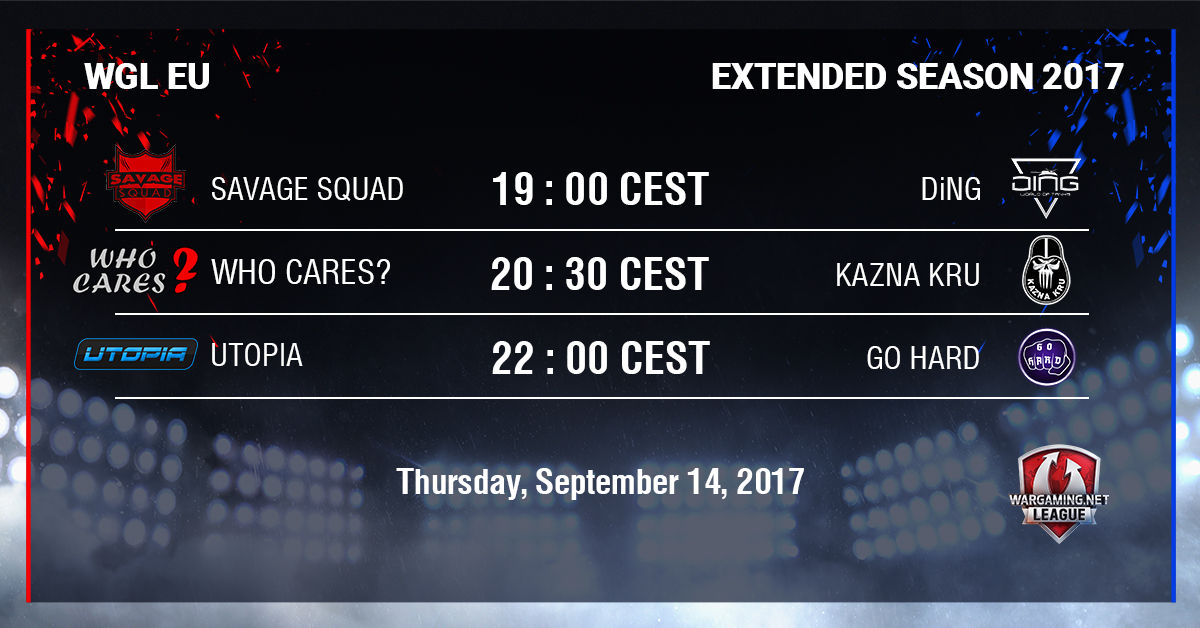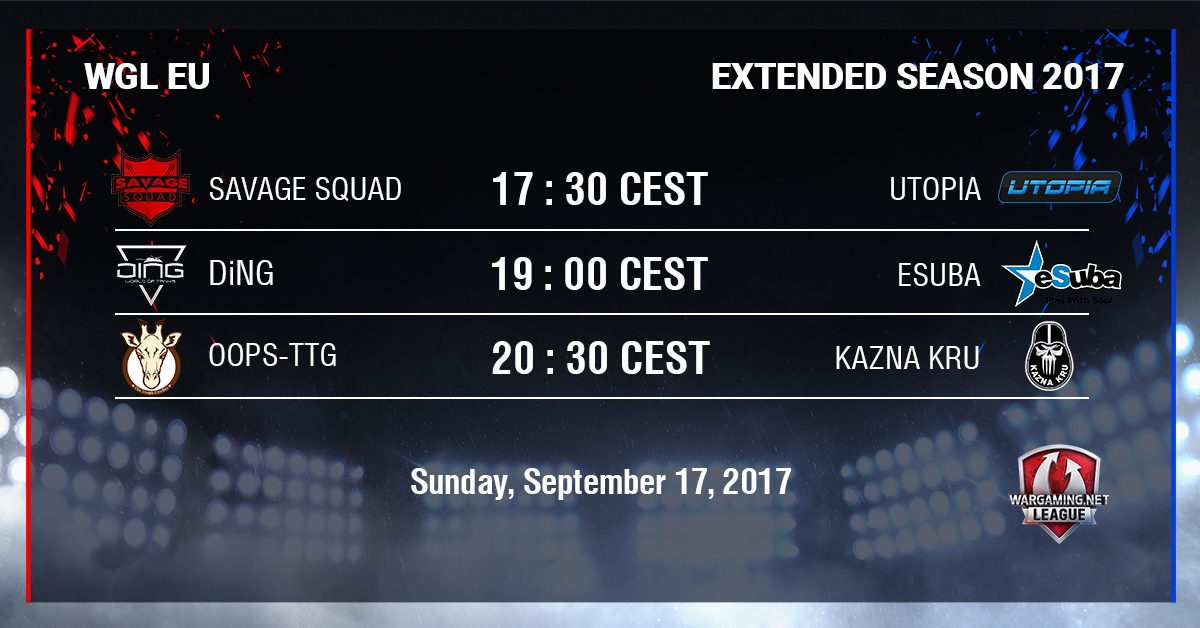 ---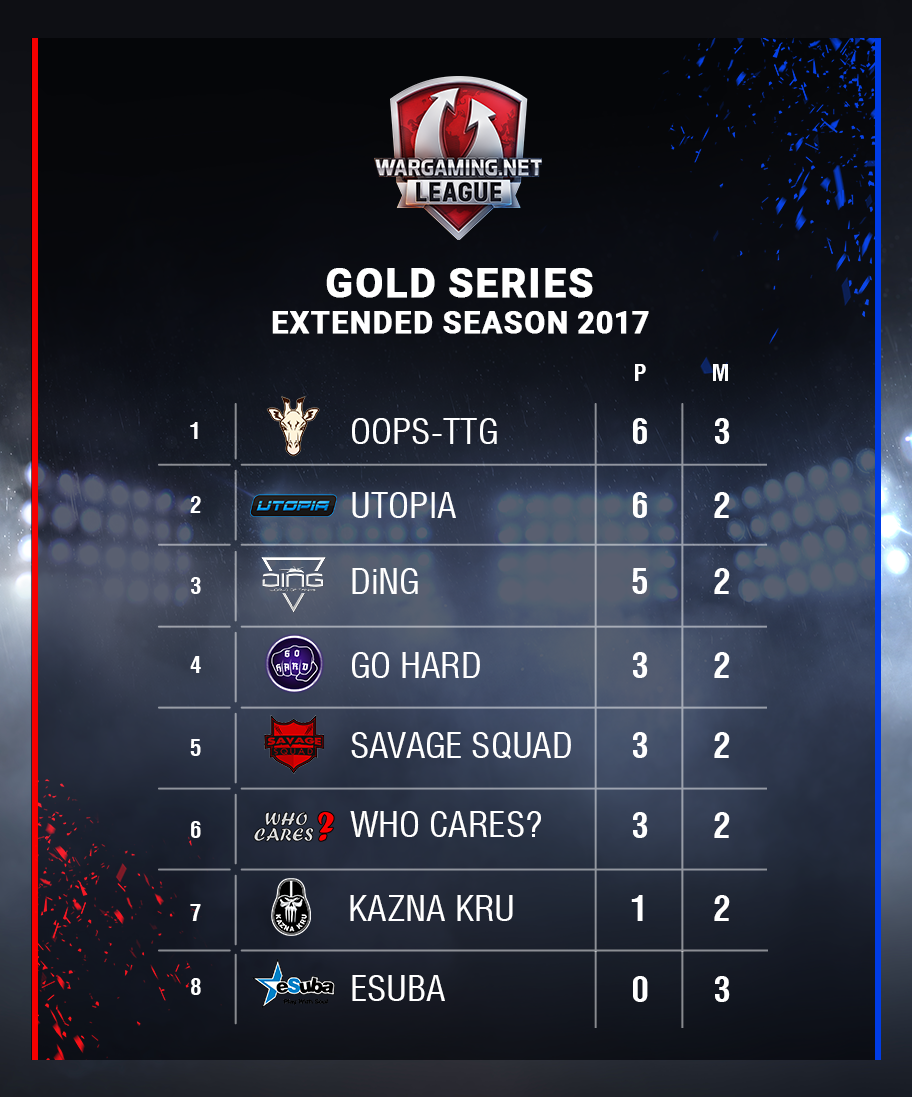 ---
Fresh from a summer break, it was always going to be difficult to predict the matches in the opening weekend and boy did we get some surprises!
Go Hard vs eSuba
Go Hard got off to a winning start after defeating eSuba 5:3 in a match that neither team really dominated. It was eSuba who had the better start as they took the lead with a double win on Mines. Go Hard then drew things level with a double win on Himmelsdorf and the teams then split Sand River one for one. Go Hard were finally able to ease ahead when they took both wins on Ghost Town. For a team expected to be challenging DiNG for the top spot, it was a bit of a ropey start for Go Hard.
Utopia vs Oops
Just when it looked like one team had an advantage in this match, it was quickly cut short by the other. Trading rounds on Murovanka, Oops then took an early lead winning both rounds on Ruinberg. They then lost that advantage in Ghost Town wherein Utopia were able to capitalize on some untidy plays and picked up both rounds. Sand River was another map where the teams traded win for win, setting things up for a decisive tie breaker. Any sense of balance between the teams quickly disappeared however, as Oops more or less drove into the waiting guns of Utopia. It was a bit of a slaughter and this handed the win to Utopia 5:4.
Note that due to a member of Oops using bonds in this match, the match was forfeited to Utopia as a 5:0 win.
DiNG vs Kazna Kru
In a match that started off with lots of madness on Mines during a one for one trade, Kazna were then able to edge out a lead by winning both rounds on Sand River. With a 3:1 lead, Kazna looked set to control this match. However, they were dismantled by DiNG on Ghost Town and lost both rounds. Going into Ruinberg, DiNG continued to dominate Kazna Kru as they picked up both rounds to finish the match 5:3.
Who Cares? vs Savage Squad
Taking an early 3:0 lead, Savage Squad picked up two wins on Himmelsdorf and on their attacking round on Ghost Town. Shaken but still showing composure, Who Cares then came right back into the match as they also took their attack round of Ghost Town and then two wins on Prokhorovka. Savage Squad took the lead on Murovanka with a quick cap push, winning in 2 minutes and 37 seconds. Not to be outdone, Who Cares then followed this up with almost the exact same plan and were able to cap in 1 minute and 37 seconds!
Going into the tie breaker on Sand River, Savage Squad on the attack had a great start taking out a Maus from Who Cares. Sadly some over extensions from Savage Squad players allowed Who Cares to focus their shots during the following North base brawl. In the end, only tanks from Who Cares were left alive and they took the win 5:4.
Utopia vs eSuba
Starting the match on Cliff, the teams traded win for win and things seemed set for a potential drawn out match. That quickly changed however as Utopia put in a strong performance on Prokhorovka, winning both rounds and taking the lead. As we went to Ghost Town, Utopia continued their domination as they picked up both rounds in that map, resulting in a 5:1 to Utopia and the quickest match of the weekend.
Go Hard vs Oops
It's early days but Oops are already starting to look like the team we thought would turn up last season. After losing both rounds on Mines to Go Hard, Oops came right back at their opponents and won the next five rounds back to back. An impressive display on Sand River was followed up by an even more impressive double win on Himmelsdorf. Kamileater especially stood out for his team on the attacking win, tracking a Maus to prevent a cap reset.
When we got to Cliff, Go Hard put up a courageous fight. Clever shots fired tracking off the enemy tanks allowed Oops to edge out in front, and in the end only one tank from Oops remained, giving them the win as they defeated Go Hard 5:2.
Oops vs eSuba
As far as opening weekends go, things went from bad to worse for eSuba as they lost this match 5:2. Despite winning the first round on Himmelsdorf, Oops drew level as they took the following round. Moving on to Mines it was two more wins for Oops who never really looked troubled by eSuba. As we progressed to Murovanka, eSuba showed a little hope by winning the first round, however it was all one-way traffic as Oops then picked up the second round and then the following round on Sand River.
Savage Squad vs Kazna Kru
Kazna started off well as they easily picked up two wins on Prokhorovka. Heading into map two it was then Savage Squad's turn to pick up two wins as they outplayed Kazna on Murovanka, making good use of two Strv-103Bs on the attack. Moving into Sand River, Kazna Kru picked up the first win on the attack with some nice co-ordinated play and focus fire. When it came to Savage Squad's attack, they were able to cap right under Kazna's nose, as the one tank who could reset missed two shots.
Mines was next. Savage Squad starting on the attack were able to break Kazna with a strong flank push on the east side. In return, Kazna brought a Conqueror Gun Carriage for their attack and used this to pummel Savage endlessly with stuns and module damage, winning them their attacking round. Murovanka was the tie breaker and Savage Squad again brought two Strv-103bs. Forcing a team fight they were able to hold the HP advantage over Kazna and once Savage Squad had started the cap, Kazna couldn't reset, giving the round (and the match) to Savage Squad.
DiNG vs Who Cares?
While a slow start to this match, Who Cares were able to get the better of DiNG, taking both rounds on Mines. DiNG then answered back on their opening attack on Himmelsdorf, only to be outplayed by a cap rush from Who Cares in the following round. Ghost Town was a win for each team on the attack which left Who Cares ahead 4:2. The match could have been won on Cliff, but DiNG had other ideas. Picking up an attacking win, DiNG then followed it up with a defence win.
Heading to Murovanka in an unexpected tiebreaker, the teams clashed at base 1. The team fight was brutal and within two minutes it was the disciplined focus fire of DiNG that won the day and allowed them to pick up the win 5:4.
---