Commanders!
The tournament schedule for June remains the same as before, so you can already mark your targets and get ready to sign up as soon as a desired match is available!
Not only are heaps of gold on the line, but we have also expanded the prize pool with the

VIII
Somua SM , a powerful Tier VIII French heavy tank. Make sure to put together a team of skilled commanders and take on the special weekend tournaments on June 12 & 13 and June 26 & 27, if you want to add this fantastic French autoloader to your tank collection.
But no matter if you have your eyes set on a new ride, or prefer to earn glory and gold, the June tournaments are filled with a variety of challenges for various tiers and team sizes. Show off your superior tactics in 1-on-1 brawls with a fierce low-tier beast, or roll out into battle with trusted teammates by your side aboard the most powerful top-tier vehicles. The tournament schedule has something for everyone. Check below and sign up!
Not sure how to take part in tournaments? No worries! We have reworked the Tournament Guide for more clarity, and you can check out the short video that will guide you through the process.
---
June Rewards
Heaps of gold and the

VIII
Somua SM are up for grabs! Don't miss out!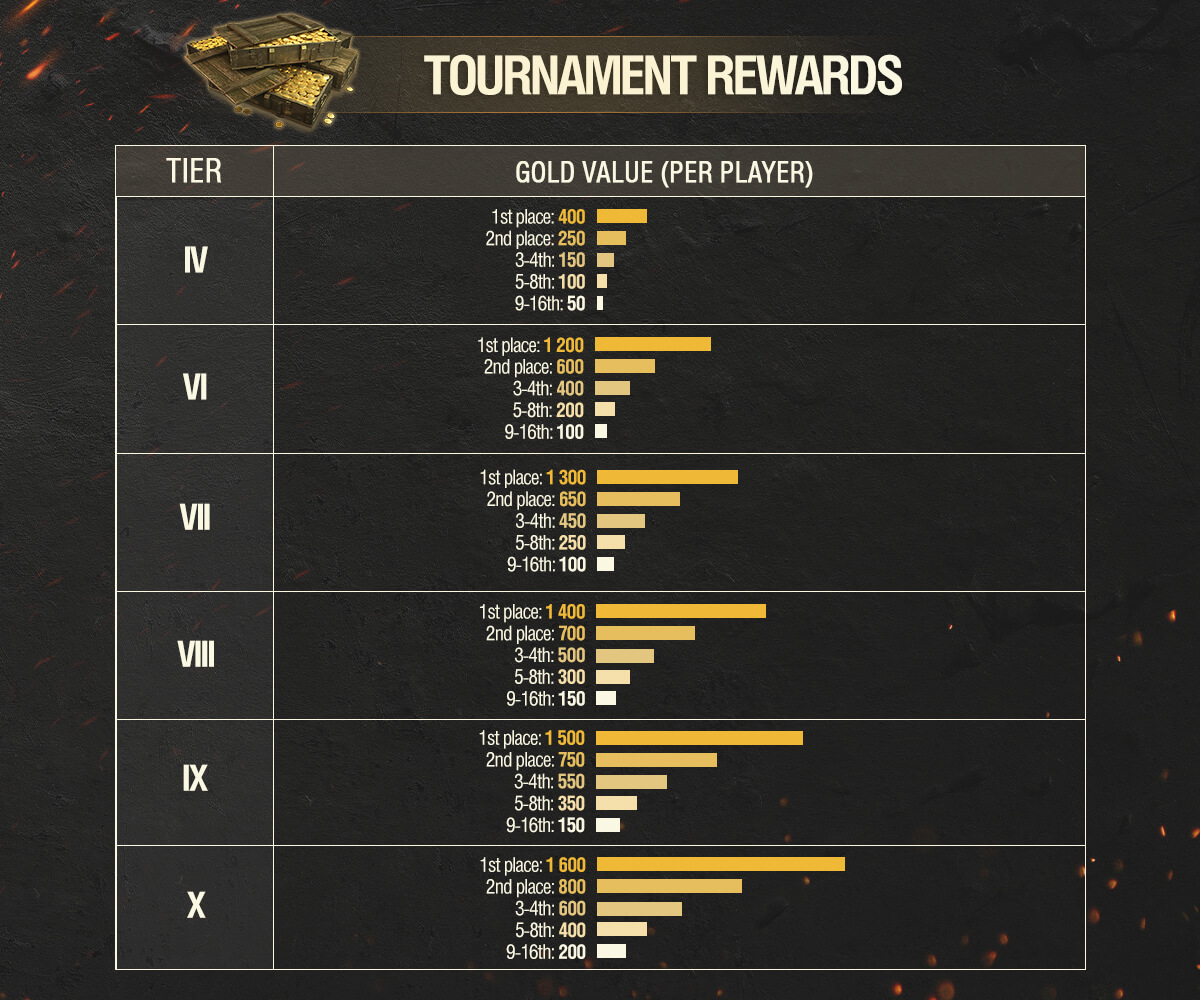 Gold Distribution by Tier and Standings
---
June Tournament Schedule
The schedule remains the same every week for the entire month. The times below are given in CEST (UTC+2).
|   | Monday | Tuesday | Wednesday | Thursday | Friday | Saturday | Sunday |
| --- | --- | --- | --- | --- | --- | --- | --- |
| 15:00 | 1v1 T4 | 2v2 T4 | 1v1 T4 | 2v2 T4 | 1v1 T4 | 1v1 T6 | 1v1 T6 |
| 17:00 | 1v1 T6 | 2v2 T6 | 1v1 T6 | 2v2 T6 | 1v1 T6 | 1v1 T8 | 2v2 T10 |
| 19:00 | 1v1 T8 | 2v2 T8 | 1v1 T8 | 2v2 T8 | 1v1 T8 | 7v7 T10 | 7v7 T10 |
| 20:00 | 1v1 T10 | 2v2 T10 | 1v1 T10 | 2v2 T10 | 1v1 T10 | 3v3 T9 | 3v3 T10 |
| 21:00 | 3v3 T10 | 3v3 T10 | 3v3 T10 | 3v3 T10 | 3v3 T10 | 5v5 T9 | 5v5 T10 |
Premium vehicle reward: every tournament on Saturday and Sunday, June 12, 13, 26, and 27
Are you up for a challenge? Head over to the registration page and join any of our tournaments.
Tournament registration usually becomes available 48 hours ahead of the scheduled start time.
---
Do you have more questions? Are you looking for teammates? Go to the Tournament Forum for more information!
---
Roll Out!