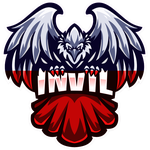 INVIL has sealed victory!
Another gruelling finals weekend comes to an end. INVIL claimed the top spot this time, but the runners up will be back with a vengeance next time. An extra congratulations to Call_me_Piotr (PJOOR) for being the Most Valuable Player and Simon_der_7 for correctly predicting the winner (reaching 18 out of a possible 20 points)!
---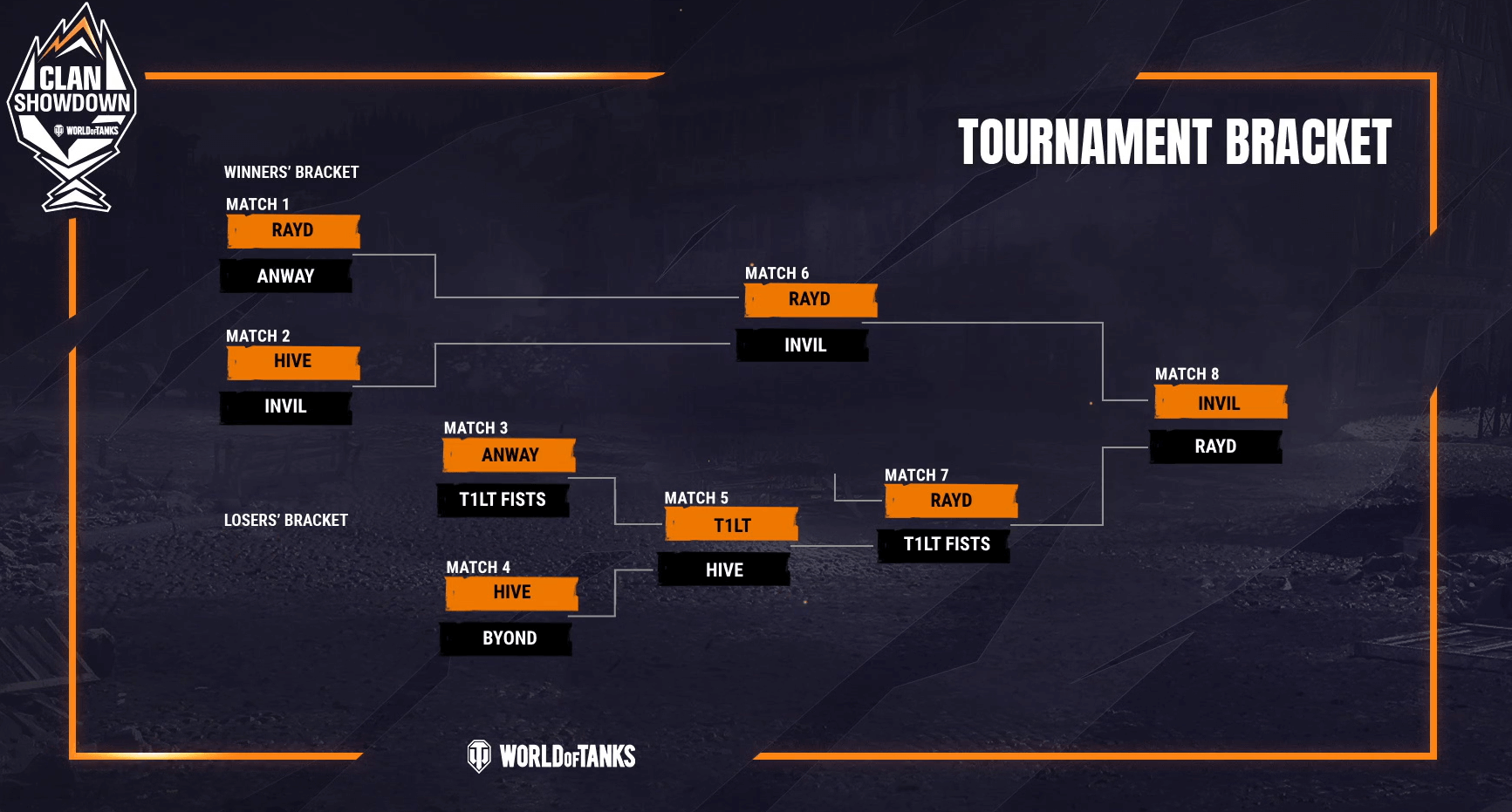 FOLLOW THE CLASH LIVE | TWITCH DROPS | PARTICIPANTS |
PREDICT THE WINNER | CLAN REWARDS
Commanders!
Six teams. Two days. One winner. It's anybody's battle in the latest Clan Showdown Finals. Join brutal battles as the top teams tussle for victory, sweet rewards, and ultimate bragging rights. Tune in to catch them live on the official World of Tanks streams on November 27 and 28 at 16:00 CET (UTC+1).
Sit back and get comfy as the best European clans use their battle prowess and wits to be crowned top dog. They each proved their worth in gruelling qualifying and group rounds, but this is where it matters. Join us on Twitch to also pick up guaranteed Drops rewards throughout the weekend!
---
Watch the Finals Live

Keyhand, CarryBarry_, Dakillzor, and Insane_BTW will guide you through the weekend's proceedings and offer expert commentary as shells fly all over the place. Join them on the official World of Tanks Twitch channels on November 27 and 28 at 16:00 CET (UTC+1), and make sure your Wargaming and Twitch accounts are linked to earn guaranteed rewards the longer you watch!
Several content creators will also be streaming throughout the event. So if English isn't your first language or you can't get enough of your favorite content creator, then take a look at the list below, sit back, and earn Twitch Drops on their channels, too!
---
Twitch Drops for Clan Showdown
Available from November 27 at 15:00 CET through November 28 at 23:00 CET (UTC+1) on all participating Twitch channels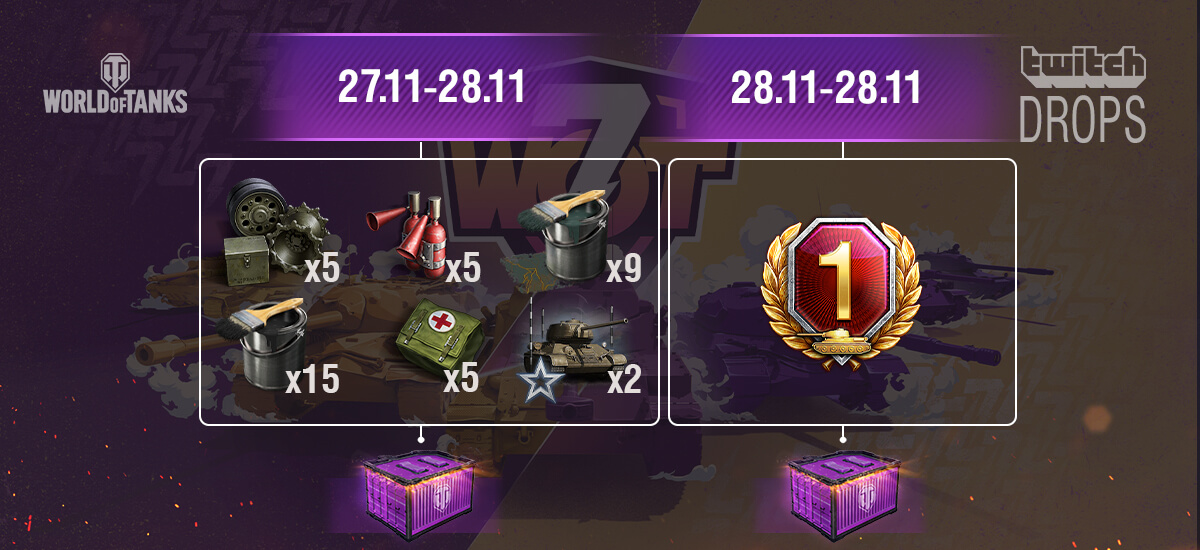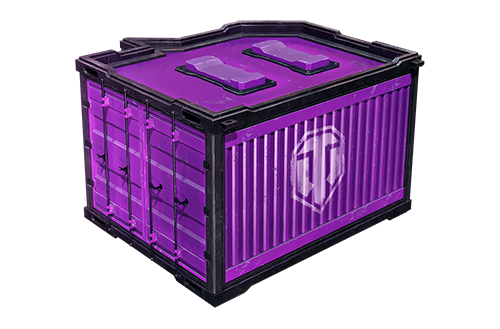 Sit back, relax, and follow the final battles on the official English World of Tanks channel or on any of the regional commentators listed above to earn guaranteed Twitch Drops. It's simple—the longer you watch, the more Drops you'll receive!
Guaranteed drops:
From November 27 at 15:00 CET through November 28 at 23:00 CET (UTC+1)
After 90 minutes:
5 Large Repair Kits
5 Large First Aid Kits
5 Automatic Fire Extinguishers
After 150 minutes:
9 Clan Rivals camouflages
15 Mark on History paints

2 Personal Reserves: +50% to Combat XP for 1 hour
From November 28 at 15:00 CET through 23:00 CET (UTC+1)
After 240 minutes:
1 day of WoT Premium Account

Receive Twitch Drops
Expand
Track your progress towards a Twitch Drop via the progress bar. The progress bar must reach 100% before you can claim the Drop (detailed in the next step).

Access it by clicking your profile picture in the upper-right corner of the Twitch page.

Claim the Drop within 24 hours of the end of the campaign

by clicking the button in the pop-up notification in the stream interface or in your personal

Twitch inventory. If you take no action, the Drop reward will disappear 24 hours after the campaign ends.
For more information on how to link your accounts, click the button below to take a look at our full Twitch Drops guide.
Collapse
---
Predict the Winner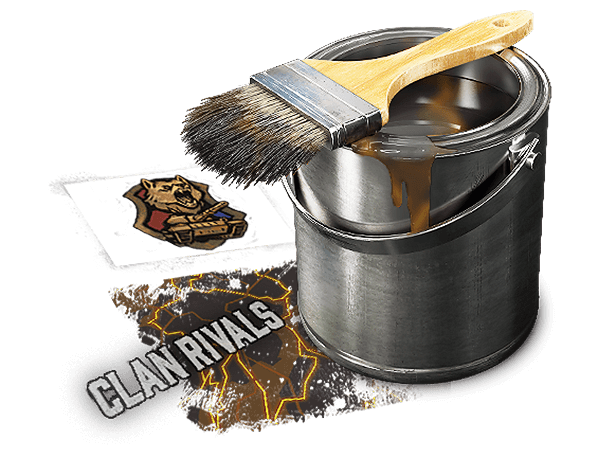 Do you trust your instincts? Have your say and predict which clan will take the Clan Showdown throne. Cast your vote now in our prediction game. The commanders with the most correct predictions will receive a Tier VIII Premium tank. Additionally, 10 randomly selected tank commanders with at least one correct prediction will receive the stunning Fan of Clan Tournaments 2D style. Try your luck now!
---
Clan Rewards
1st place

500,000 + 100,000 + €6,000 (team reward) + Tournament Gold badge

2nd place

250,000 + 75,000 + €3,000 (team reward) + Tournament Silver badge

3rd place

200,000

+

50,000

+

Tournament Bronze badge

4th place

150,000

+

50,000

5th and 6th places

125,000

+

25,000

7th and 8th places

75,000

+

25,000
---
Are you unsure about anything? Are you looking for teammates or further information? Head over to the Tournament Forum for extra info and updates, or take a look through our full Tournament Guide for a breakdown of the key things you need to know, including how to create or join a team, how to view results and rewards, as well as all the rules and glossary definitions.
Roll Out!