We all know the old adage: "It's not the winning that counts, it's the taking part." Well, that's just a load of rubbish… you want to prove your worth, be victorious and bask in your own glory. Well this summer, with our football mode, it's the perfect time to do battle on the pitch.
For those of with a competitive streak, we've got an array of tournaments (both to take part in solo and as a team) for you to participate in to show you're made of the right stuff. The best benefit: you could be in with a chance to win some amazing prizes (some of which are real rarities).
Rolling Steel
The national teams have started their month-long battle to be crowned world champions across Russia and we're ready to start ours. Rolling Steel will be a weekly affair and every Tuesday at 13:00 CEST (beginning 18 June), a new stage begins. The leaderboard tracks the 3 roles (Defender, Midfielder and Striker) within the game mode. Along the way, there will be plenty of missions for you to complete with some useful handouts, just make sure you take part in at least 15 battles to be in with a chance!
So what's so great about taking part? You mean you're not doing this for national pride? Well thank your lucky stars, we have a smorgasbord of rewards for you, including Medals to show off, Emblems and cool Styles to adorn your tank to show off your progress on the weekly leaderboards. Every stage will have its own specific Medals and Styles so why not participate in all of them!
Stage One Style

Stage Two Style

Stage Three Style

Stage Four Style

Striker

Midfielder

Defender

Participated in one stage

Participated in two stages

Participated in three stages

Participated in four stages
Alongside these special rewards, we have Personal Reserves, Bonds, Consumables, Experience, Credits and much more for you to win. Oh and this…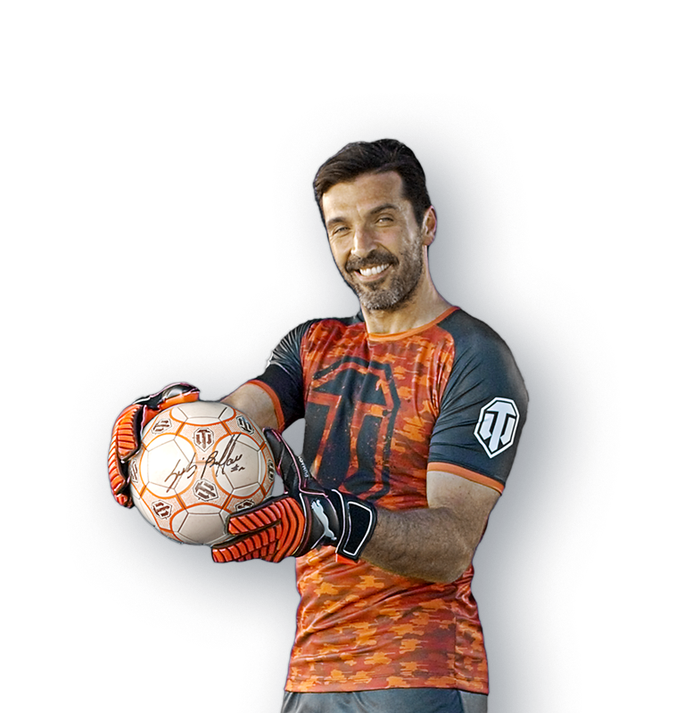 That's right, if you come first in any leaderboard, you will get this unique football, featuring the signature of none other than Italian icon Gianluigi "Gigi" Buffon.
Not so fast, by finishing as one of the best players in Rolling Steel, you will be made a Captain and invited to form a side to do battle in our Silver Cup.
You can find all the necessary information, rules and regulations here:
Silver Cup
As aforementioned a great performance in Rolling Steel will net you an invite to the Silver Cup, so if you're lucky enough to receive a call to arms you will be made Captain of the team, so make sure you have some surefire winners around you when you're scouting potential teammates.
Information regarding this and the password for the team will be sent via email or in-game notification.
Just by making it to the playoff bracket, you get a chance to earn some great in-game goodies including a t-shirt with Buffon's signature, special Medals and plenty of other Gold, days of Premium, Personal Reserves and much more. But we all know you're more interested in the glory that comes with being crowned champions.
Those who do the best within the Silver Cup will be straight seeded and secure their ticket to the Gold Cup finals where there's even more on offer.
You can find all the necessary information, rules and regulations here:
Gold Cup
The Gold Cup registration is just that, open to all even if you're not lucky enough to get yourself an invite through the Silver Cup.
We don't want to give too much away just now, but keep your beady eyes open in early July for more information.